PFFC brings you exclusive White Papers from our online sponsors.

Visit Kelly on Static from Static control expert Dr. Kelly Robinson, president of Electrostatic Answers; Kelly has 27+ years of experience in problem-solving and consulting.

Visit Tim's Web Lines to handle and wind your paper, film, foil, and similar products. Take advantage of Tim's 25+ years just like over 100 converters have.

Visit Mark's Coating Matters from fluid coating expert Mark D. Miller; Process improvement and project management for precision roll-to-roll coating applications.

Visit Marketing Mojo for dynamic marketing insights from Stephanie Millman that inspire new ideas on how to stay on top of your customer's mind.

Visit Yo's Yarns to share the thoughts, impressions, experiences, and news that impact the converting industry. . . or anything else that happens to be on her mind!

Visit Tom's Poly Ploys, where Tom will be writing on various topics that the typical polymer processor would encounter on the job.
February 23, 2012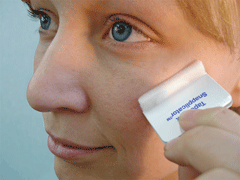 Tapemark's patent-protected Snapplicator offers no-touch unit-dose application of creams and ointments.WEST ST. PAUL, MN | Tapemark is pleased to announce that US Patent No. 8,113,730, entitled "Dispensing Package with Applicator," was issued by the US Patent and Trademark Office on February 14 for its Snapplicator packaging for semi-solids. Snapplicator expands upon Tapemark's patented Snap! product line with the addition of an applicator, offering "no-touch" application of pharmaceutical and consumer products in a convenient, unit-dose dispenser.
The patent issued to Tapemark names two inventors, Jim Maloney and Pat Cody, with 22 and 20 years of employment at Tapemark, respectively. Tom Yetter, Tapemark's VP of research and development, notes, "Snap! has been a tremendously successful packaging format for unit-dose dispensing of liquids, creams, gels, and ointments. Snapplicator, with its built-in applicator, offers even more convenience for the user when that liquid or ointment is something you don't want to get on your hands. Through their ingenuity, Jim and Pat developed the now-patented Snapplicator which addresses the market's needs and is driving strong sales."
Unopened, Tapemark's Snapplicator lies flat for ease of packaging; when in use, the applicator pops up three-dimensionally to offer a maximum wiping surface with the applicator. Additional members of the Snap! product family include the Snap! Dual Chamber, ideal for two-formula applications where the formulas must remain separate until use; Snap! Array, for a convenient way to carry multiple pre-measured doses; and Snap! Duet, containing two different lotions or gels, each in an individual Snap but packaged side-by-side as a duet.