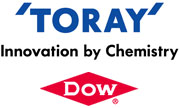 Designing a Successful Retort-Grade Packaging Structure
The retort pouch continues to gain acceptance globally among consumers who value the convenience of microwaveable meals and "on-the-go" packaged food.
Designing a successful retort-grade packaging structure requires choosing robust films and adhesives designed to withstand the rigors of the converting process and the high heat and pressure of retort sterilization.
A lamination using Toray's Barrialox® SB-R2, a new ultra-high-barrier, transparent, aluminum oxide-coated polyester film with high thermal and mechanical stability, and Dow Chemical Co.'s ADCOTE™ 812-ADCOTE™ 811B retort-grade laminating adhesive, known for its adhesion to a range of structures and its strong chemical resistance, proved successful in testing.
Download the Toray-Dow Retort-Grade Packaging Structure white paper
---

Anti-counterfeiting Technologies for Packaging
Adding Taggants, Hidden Indicia, and Color-Changing Pigments Provides Valuable Protection against Counterfeiting
Counterfeiting has become a worldwide epidemic and the dangers it poses are vast.
The problem of counterfeit products cuts across industries and can be found in a wide range of diverse product types. Some of the key industries most vulnerable to counterfeiting include automotive parts, alcohol, computer hardware, mobile phones, packaged foods, personal goods, pharmaceuticals, and tobacco products.
While there are no "silver bullets" for dealing with counterfeiting, there are strategies, options and techniques commonly used across industries to address brand protection issues.
Sun Chemical is a global ink manufacturer with an integrated brand-protection business. This white paper will show how Its expertise in packaging, printing and security, and its diverse brand-protection product portfolio and presence around the world, can help resolve counterfeiting issues on packaging for any multinational brand.
Download Sun Chemical's Brand Protection White Paper
---
Methods and Design Considerations for the Application of Hot Melt Coatings
- Written by New Era Converting Machinery's Tom Lombardo and Bob Pasquale.
As the use of hot melt coatings continues to grow and evolve so too have the operating parameters and requirements for applying these coatings. This article covers several of the coating methods currently used to apply hot melts, including a review of the typical operating parameters and conditions for each method. as well as the associated advantages or disadvantages. Additionally, we discuss the critical features that should be incorporated into the design of the application system. Though we touch upon the systems that are used to melt and deliver the hot melts to the coater, we do not cover them in any detail.
Download New Era's Hot Melt Coatings White Paper
---

Hermetic-Seal Performance of BOPP Laminate Structures in VFFS Pouch Applications
Film designs and sealant-resin choices can significantly improve the seal integrity and hermeticity of pouches.
Hermetic sealability is a key performance characteristic for creating a pouch structure and evaluating overall performance. Hermetic seals will extend the shelf life of a product, thereby improving the consumer experience. Ideally, a hermetically-sealed package will maintain integrity in circumstances when a product requires an extended shelf life and when it is shipped through varying altitudes.
In Part 1 of our two-part White Paper series about hermetic seals we examined the improvement of hermetic-seal qualities of selected BOPP-based laminations in VFFS pouch applications.
Download Toray Plastics (America)'s Hermetic-Seal Performance white paper, Part 1
---

Using Specialty Coatings to Help Packaging Stand Out in the Grocery Aisle
Sun Chemical's SunInspire Coatings Engage the Senses to Grab Attention of Shoppers
Traditionally, packaging was developed and used for purely functional purposes, including the transport, storage and protection of everyday goods. Now we live in a different world where packaging drives sales, communication, advertising, branding, and product security.
Shelf appeal has long been at the heart of marketing campaigns, but simple glossy coatings alone no longer add the differentiation needed to stand out on a shelf. Sun Chemical's SunInspire specialty coatings featured in this white paper can add value to the finished package, booklet, report or sales item by providing a differentiating property. These specialty coatings will entice interest and lead to increased sales if printers are willing to experiment with their equipment configurations.
Download Sun Chemical's SunInspire™ Coatings white paper
---

BOPP Laminate Structures for "Over-the-Mountain" VFFS Pouch Applications
Beat the burst and extend the shelf life of snack food packaging.
In this second white paper of our two-part series about film designs and hermetic seals, Toray examines a selection of heat-sealable BOPP-based laminations in VFFS pouching for Over-the-Mountain (a k a OTM) packaging applications that navigate high and changing altitude and atmospheric-pressure conditions. In high altitudes the air pressure outside the package decreases, causing the package to inflate, which puts additional stress on the seals.
Studies were conducted to address consumer product goods manufacturers' need for more effective packaging of snacks because of the challenges of evolving distribution methods and multi-channel distribution outlets, including OTM transport, warehouse clubs, and e-commerce, and global expansions, which now necessitate extended product shelf-life.
Learn how new film designs provide significantly improved hermetic seal properties and more-robust seals prevent bursting and a compromised package appearance.
Download Toray Plastics (America)'s Hermetic-Seal Performance white paper, Part 2
---

How a Full Lineup of Coatings Can Transform Packaging
Coatings Enhance Packaging, Engage the Senses, Increase Functionality, Create Impact
The demands placed upon packaging today far exceed anything that existed just a few decades ago. In addition to appealing graphics and colors that help packaging pop off the shelf, packaging may need to meet a variety of requirements including: regulatory standards to keep food and consumers safe, less weight, extended shelf life, recyclability, consumer access to more complex information, and more.
To provide solutions to these needs, Sun Chemical has developed a full lineup of coatings for all types of packaging to enhance, reinforce and reduce packaging materials. Although not readily visible and seldom recognized by consumers, coatings bring unique and economical attributes which allow today's packaging to perform as well as it does.