PFFC brings you exclusive White Papers from our online sponsors.

Visit Kelly on Static from Static control expert Dr. Kelly Robinson, president of Electrostatic Answers; Kelly has 27+ years of experience in problem-solving and consulting.

Visit Tim's Web Lines to handle and wind your paper, film, foil, and similar products. Take advantage of Tim's 25+ years just like over 100 converters have.

Visit Mark's Coating Matters from fluid coating expert Mark D. Miller; Process improvement and project management for precision roll-to-roll coating applications.

Visit Marketing Mojo for dynamic marketing insights from Stephanie Millman that inspire new ideas on how to stay on top of your customer's mind.

Visit Yo's Yarns to share the thoughts, impressions, experiences, and news that impact the converting industry. . . or anything else that happens to be on her mind!

Visit Tom's Poly Ploys, where Tom will be writing on various topics that the typical polymer processor would encounter on the job.
March 01, 2013
CINCINNAT, OH | Ampac won a Silver award from the Flexible Packaging Assn. in the Packaging Excellence category for its Campbell's Skillet Sauces pouch. This is in addition to the Gold award it won for its Savvy Green No. 2 Pouch.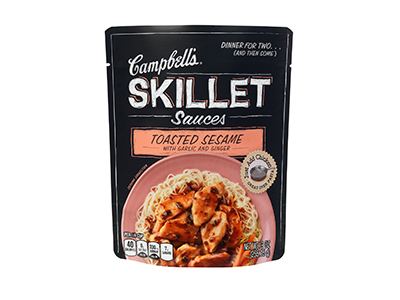 The new Campbell's Skillet Sauces line uses a new format—shaped stand-up pouch—in a category that is traditionally packaged in glass jars or aluminum cans. The Campbell's Skillet Sauces pouch is a four-ply foil lamination in a stand-up retort pouch that is rotogravure printed utilizing a pattern matte varnish to highlight the graphics. Coupled with the shaped, non-rocking bottom, this creates enhanced shelf appeal. This package includes a layer of linear tear film that gives the consumer the best opening experience possible, and a clear gusset to give the consumer a window to see the product while in the package.
Visually, the Campbell's Skillet Sauces pouch has a registered patterned matte varnish that is utilized to highlight the product pictures and cooking instructions, which are glossy. This package is seven-color rotogravure reverse print with a one color surface printed registered varnish. The matte varnish is used to highlight the product and creates a package with maximum shelf appeal—a process that is unique for retort pouches.
According to Dave Bartish, Ampac's marketing director, "Ampac's commitment to innovation in flexible packaging is proven by our dedicated team whose goal is to advance our customers brands and value globally. It is an honor to receive recognition from the Flexible Packaging Assn. in conjunction with these innovations."