Published: November 08, 2006, By Edited by Claudia Hine, Managing Editor
Web Exclusive
Atlantis Plastics has purchased a seven-layer VAREX blown film extrusion line by Windmoeller & Hoelscher Corp. This represents Atlantis's second W&H extrusion line after the recent installation of a five-layer VAREX system last November. The new seven-layer line will be installed at the beginning of 2007 in the company's Mankato, MN, plant.
Atlantis Plastics manufactures polyethylene custom films, stretch films, and molded plastic products used in a variety of consumer and industrial applications. The seven-layer line was purchased to produce barrier films and expand upon the five-layer line's capacity within the company's Custom Films Div.
This newest line is part of Atlantis' multi-year plan to grow business in the flexible packaging market. "We have made a serious commitment to the market when it comes to being a trusted source for barrier films," states John Iacobucci, VP/general manager of Atlantis Custom Films Business. "The decision to move forward with our second barrier line was simply the outcome of listening to our customers and responding."
Brad Bastion, director of marketing for Atlantis's Custom Films Business, explains that Atlantis returned to W&H for its next extrusion line in part because the company is pleased with the five-layer's performance and wanted to continue the trend with a seven-layer. However, the final decision boiled down to the advanced capabilities of the W&H Maxicone die. "We compared leading barrier die technologies," he says, "and the W&H Maxicone die came out on top."
The W&H die incorporates key design features found in stack dies but also utilizes traditional spiral technology. The result is a highly flexible die with very low material residence times and excellent layer uniformity. These are critical attributes for barrier co-extrusions."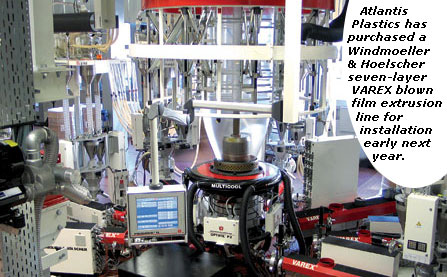 The seven-layer extrusion line purchased by Atlantis Plastics has a maximum layflat width of 86.6 in. and features the Optifil P2K system for thermal gauge profile control. The line also is equipped with W&H's Filmatic S dual surface winder installed in a face-to-face configuration with reverse wind.
Specialized Die Required
Atlantis was a first-time customer of W&H when it purchased the five-layer line, which was installed in a new building addition at the company's Cartersville, GA, plant in November 2005. This line features the Maxicone multi-layer die for five-layer film and the Optifil P2 system for thermal gauge profile control.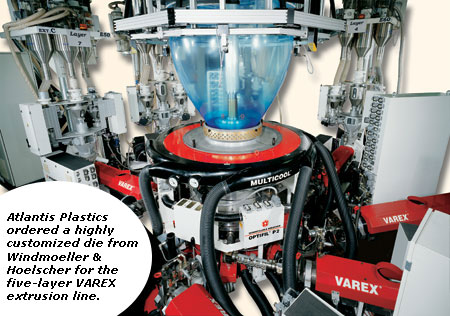 "One of the focal points of our multi-year strategic plan is to grow share in the converted flexible packaging film market," says Iacobucci. "Our five-layer line represents one of the key elements in our strategy enabling growth with converters."
Bastion sites sheet flatness, roll conformation, five-layer flexibility, and large roll diameters as critical high-end features of the line, as well as its overall reliability and effortless operation. He also was pleased with W&H's ability to provide a highly customized die to meet the company's exact specifications.
---
CONVERTER INFO:
Atlantis Plastics
434 Industrial Park Road NE
Cartersville, GA 30121
770/386-7717; atlantisplastics.com

SUPPLIER INFO:
Windmoeller & Hoelscher Corp. - whcorp.com
---