Published: April 27, 2006, By PFFC staff
Products












'Can-Do' Cartons
Canned coffee is so popular in Japan, Kirin Beverage Corp. had to find a way to differentiate its product. To that end, Rengo Riverwood Packaging (Graphic Packaging Intl.'s joint venture in Japan) provided two different fully enclosed carton styles. The Fridge Vendor, marketed as a retail unit pack, features cans in a 2x5 configuration to maximize refrigerator space. For individual cans, Rengo supplied a Tower Pack display/dispenser with a 3x5 configuration. This pack provides an easy-to-use dispenser that allows customers to select individual cans. Vertically oriented graphics provide an eye-catching "billboard" for shelf appeal and eliminate the need to face up individual cans on the shelf.
---
3-D Graphics Are Smokin'
A recent investment in a new laser studio facility is enabling Light Impressions Intl. to provide both security and brand image enhancement for tobacco products. Particularly in China and other developing areas, the company says, tobacco producers are looking for a value-added process to transform a simple paperboard stock into a creative package to stand apart from competitors. The holograms are "classical," the company adds, using a split laser beam onto an object or model to produce what is said to be true 3-D imagery.
SUPPLIER INFO:
Light Impressions Intl.—lightimpressions.com
---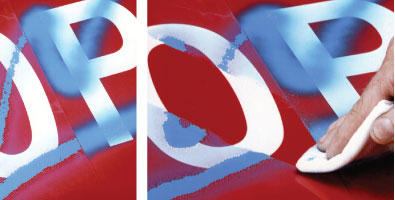 Graffiti Busters
Attention municipalities and advertisers! Integument Technologies, Tonawanda, NY, reports FluoroGrip fluoropolymer peel-and-stick clear films protect signs, steel and concrete structures, equipment, glass, and other surfaces in public places against paint, acid, dirt, and grime. The Teflon films are the result of a process that creates a permanent, chemical covalent bond between the film and adhesive while retaining the full transparency of the film. The bond is said to withstand a wide variety of stresses, including extreme temperature cycling, UV rays, and a broad range of aggressive chemicals.
---