Published: March 31, 2004, By Edited by Deborah Donberg, Associate Managing Editor
Covering the Full Spectrum of Industry News, Events, and Activities
Security Features Take Aim at Counterfeiters
To help counter the enormous loss of money and dangers to health and safety posed by counterfeit products, Leonhard Kurz GmbH & Co., Fürth/Bavaria, Germany, offers diffractive authentication features called the Trustseal range. Structures are produced by a computer-based, proprietary process and replicated in a foil polymer structure.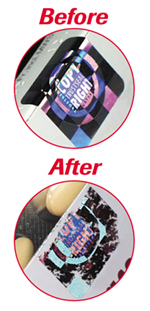 The stand-alone security features can be integrated into the product appearance or the manufacturing process. When applied to the product or its packaging, products offer marked visual differentiation and high recognition rates that strengthen the purchaser's trust in the brand, Kurz reports.
Optical security features can self-destruct, if required, when someone attempts to tamper with the product. Design possibilities for this foil are said to be virtually unlimited; different technological processes — from holography to digital computer technology — can be used to generate the tools for foil production.
Supplier Information
Kurz; kurzusa.com
---
UV Flexo Press Competes with Gravure
Casia s.r.o., Trutnov, Czech Republic, is making inroads into the gravure market so prevalent in that part of the world. What's making this happen is a UV flexo press from GEW designated the Soma.
The eight-color, 31.5-in.-wide press includes a corona treater and web cleaner for processing film, plastic, paper, and board substrates. It is equipped with GEW's CDTS (Central Drum Thermal Stabilization) feature, which is said to eliminate problems associated with press frame temperature fluctuations.
GEW says the press is enabling Casia to compete in gravure markets not only in the Czech Republic but in Poland and Slovakia as well.
Supplier Information
GEW; gewuv.com
---
---
Acquisitions
Amcor Adds Rexam Healthcare
GLOUCESTER, UK — Amcor Flexibles has completed the acquisition of Rexam Healthcare Flexibles. Says Graham James, CEO of Amcor Flexibles, "The ten former Rexam plants are an excellent strategic fit and complement [our] existing six healthcare sites both in terms of geography and product range.
---
Brady Adds Brandon to the Fold
MILWAUKEE, WI, USA — Brady Corp., a supplier of ID solutions and precision die-cut materials, has acquired Brandon International, Baldwin Park, CA, USA, with operations in Mexico and Singapore. Terms were not disclosed.
Brandon supplies die-cut products that include adhesives, film, and filters for hard disk drives; thermal-formed parts for protecting electronic components in automobiles from moisture, dirt, and debris; and other speciality die-cut parts for the electronics, medical, and automotive markets. Its capabilities include prototyping, laminating, vacuum forming, and clean room manufacturing and converting.
---
Creo Adds Spectratech Facility
VANCOUVER, BC, CANADA —Creo reports it has acquired a printing-plate manufacturing facility in Middleway, WV, USA, from Spectratech International. Under the terms of the transaction, Creo acquires the assets for approximately US $13.3 million and working capital for approximately US $6 million.
---
---
Awards
Foil Packs Offer Multiple Solutions
DÜSSELDORF, GERMANY — The European Aluminum Foil Association handed out Alufoil Trophies for four Foil Packs of the Year. Winning top honors were the following:
Aspirin Effect — This is a soluble instant aspirin in an individual dose "stick pack" offering a single 500-mg dose. The package, which is easy to tear open and safe for mouth contact, was deemed outstanding in all criteria, including innovation, protection, user benefits, surface design, and use of resources. Entered by Alcan Packaging Singen. (1)
Dalehead Sausages — The first UK "cook-in-the-tray" high-barrier, aluminum foil pouch for sausages allows the consumer simply to remove the sealed plastic wrap and put the pack directly in the oven or under the grill. There is no need to touch the raw product before cooking. Heat-proof package also can be used over a barbecue, with the juices retained by the tray. A ribbed and slotted trivet beneath the sausages allows fat and juices to separate cleanly, without spattering. Both tray and trivet are pure aluminum and can be recycled back to metal for other uses. Entered by Nicholl Food Packaging. (2)
Migros Golden Beans Coffee "Pods" — This reclosable, high-barrier, aluminum pouch was judged "an outstanding combination of product protection, user convenience, and graphic presentation." A laser-etched score line ensures the tear-open top of the pouch separates cleanly and easily, and a built-in "zipper" allows repeated reclosure to retain the aroma and freshness of the coffee pods, which are for use in espresso machines. Judges also like the graphic presentation. Entered by Wipf AG. (3)
Saupiquet Canned Fish Products — An easy-open fish can features an aluminum foil lidding system called ISY PIL, which is said to solve the problem of opening rectangular fish cans. A tabbed lid provides both full protection for the autoclave sterilized product and easy peelability for opening. Entered by Crown Food Europe. (4)
Kiffies — Judged "highly commended" was the Kiffies perfume range in a flexible foil pouch, cited by judges for its imaginative use of an existing pack format in a long-established and traditional product sector. This is made possible by the aluminum foil component that provides complete barrier properties along with flexibility. Entered by CavaParfums. (5)
---
---
Industry Studies
Medical Disposables Studied
CLEVELAND, OH, USA — US demand for disposable medical supplies will increase 5.6%/yr to more than $79 billion in 2007, according to a study by The Freedonia Group.
The strongest growth is projected for drug-eluting stents; prefilled inhalers; prefilled syringes; and cellular analysis, nucleic acid, and blood glucose diagnostics.
Hospitals will remain the largest market for disposable medical supplies due to the complexity of inpatient care, but they will generate below-average gains in demand due to downward pressure on pricing, as most product purchases continue to be transacted through competitive bidding processes. Widening insurance coverage for the home health care sector is expected to cause this market to generate the fastest growth.
For more information contact The Freedonia Group at 440/684-9600 or visit freedoniagroup.com.
---
VeriSign Wins RFID Contract
MOUNTAIN VIEW, CA, USA — VeriSign has been selected by EPCglobal, a not-for-profit standards organization, to operate the Object Naming Service (ONS) as the root directory for the EPCglobal Network.
The Network leverages the existing Internet infrastructure to create a low-cost, standards-based set of services for trading partners to use Radio Frequency Identification and the electronic product code to capture and share information on items throughout the supply chain.
---
---
Patents
Uteco Earns Patents for New Press Technology
VERONA, ITALY —Flexo press manufacturer Uteco Converting has been awarded two international patents.
A North American and European patent covers the company's coupling of the CI drive motor/rotor directly onto the drum journal without intermediate gears or belts. This is said to guarantee zero backlash.
A second North American and European patent was awarded for the dual print deck support the company uses on its flexo and gravure presses. Machine-tool-styled print deck supports both above and below the print and anilox sleeve mandrels. On the operator side, each sleeve mandrel is supported and locked in three positions, reportedly ensuring perfect deck/sleeve alignment and rigidity.
Says Uteco sales director Leonardo Gobbi, "Our R&D team is young and innovative. I am always amazed at the solutions and inventions they produce. We must encourage this creativity, and by stopping others from stealing our ideas, we not only defend the image of Uteco, but we show our team that their work is important and valuable for the company."
---
---
Show News
A New Show Is Coming
PARAMUS, NJ, USA — Leo Nadolske reports he has launched a new show called CPP, Converting & Package Printing Expo, scheduled for the Sands Expo & Convention Center in Las Vegas, Sept. 26-28, 2005. Pack Expo Las Vegas also will be held across town on Sept. 26-28 at the Las Vegas Convention Center.
Nadolske says the show will provide an alternative to high union costs and to the high costs of other industry events, adding his group will produce CPP 2005 for $25/ft, including drayage.
Supporting associations include TAPPI, which has an equity position in CPP. For more information call 201/226-1130, ext. 560, or visit cppexpo.com.
---
CMM 2005 Promises Solutions
NEW YORK, NY, USA — Organizers of the next CMM Intl. show report a number of enhancements to the event, including new pavilions and "Solutions Centers."
Included will be the following:
The World of Label & Carton Flexo Solutions, sponsored by the Flexographic Technical Association (FTA)
The World of Metallizing, Coating, & Laminating Solutions, sponsored the Association of Industrial Metallizers, Coaters, and Laminators (AIMCAL)
The World of Packaging & Label Gravure, sponsored by the Packaging Label Gravure Association (PLGA)
The Changing World of Digital Front End
A Consumer Products Companies Conference designed to stimulate buying channel discussions among such leading companies as Procter & Gamble, Kraft, Wrigley, Hershey, and more;
New international pavilions and expanded information resources.
CMM International 2005 is slated for April 18-21, 2005, at Chicago's McCormick Place South. For more information contact Ronni Potosky at 212/268-4160 or visit cmmshow.com.
---