Published: April 29, 2016, By Claudia Hine
Visitors will see the growth of digital technologies in historically analog industry segments.
It's not your father's drupa anymore. Traditionally a commercial printing powerhouse trade show for decades, advances in industrial printing—including packaging and printed electronics—will be a strong focus at drupa 2016. The show will take place May 31 to June 10 at the fairgrounds in Dusseldorf, Germany.
"Packaging production and industrial printing applications are recognized today as growth markets," says Werner M. Dornscheidt, president & CEO of show organizer Messe Duesseldorf. "We must follow market changes and identify future trends to integrate them into our concept for the trade fair. For 65 years, drupa has always been at the forefront of technological innovations."
In addition to the individual exhibitors' products on display, drupa 2016 will present the latest design and production solutions in the special exhibits drupa innovation park (dip), drupa cube, touchpoint packaging, and PEPSO–Printed Electronics.
Will this be your first trip to drupa? Click here for 12 Helpful Tips.
Drupa cube
In Hall 6, D03, some 60 keynote speeches, panel discussions, and presentations by international experts will take place as part of the drupa cube program. "If you want to master the current changes in the print industry, consistent change management is indispensable," said Sabine Geldermann, director of drupa. "This in turn only works out when you pursue a multi-disciplinary approach and look beyond your own backyard."
The English cube program is divided into the following five areas:
Keynotes
Business Evolution
Technology
Innovation@the Intersection
C-Level
The six sessions under the heading "Innovation@the Intersection" will cover sector-specific subjects, such as "The Role of Large Format," "The Role of Packaging in the Customer Journey," and "3D Print: Hope or Hype?"
For the complete drupa cube program, click here.
KCI Touchpoint 3DFAB + Print
A new feature at drupa is a daily schedule of interactive 10–15 minute presentations on 2D printing/packaging production and 3D printing. Industry professionals, exhibitors, and visitors will meet in Hall 7a, Booth C41, to discuss ideas and share technologies and knowledge. "Just come to one of our networking events and have some fun!" said Leslie Wood, account manager, 3D fab+print. "Have a drink with us and make some new friends and business partners. You might also just be the lucky person who wins one of the Cubicon Style 3D printers that will be given away, or gets a free scaled bust of yourself, printed by one of our partners."
BOOTH DESCRIPTIONS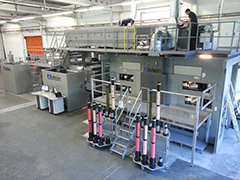 Allstein (Hall 15, A-31) will introduce the second generation Allstein Hydro wide web central impression flexographic press. Experts will offer explanations of the principals behind the innovations that enable these presses to achieve the highest performance.
Flexible packaging presses run at 2,000 fpm. Repeat ranges of 370-880 mm and 380-800 mm.
Alwan Color Expertise (Hall 7, C17) will show version 6 of its Color Suite. The new software—ColorHub, PrintStandardizer, and PrintVerifier—enables brand owners and designers to define and communicate their colors and quality expectations to print service providers. With the recent CxF/X-4 standard that Alwan Color Suite 6 supports, spot colors, solids, and tints can be measure, defined, and managed spectrally, enabling easy and accurate reproduction across substrates and printing processes.
Amica Systems (Hall 6, A17) will introduce a family of water-based pigment inks said to present a safe and economical alternative to print on a range of substrates such as flossy and coated paper, plastics, foils, pharmaceutical applications, and packaging. Also launching inkjet systems. The Amica LR54 is a new roll-to-roll narrow web printing system, which is able to print in full color as well as monochrome on self-adhesive labels.
Also launching LPS330 all-in-one full color print solutions with the possibility to print in multi-pass mode as well as single-pass mode.
Arjowiggins Creative Papers (Hall 8B at Xerox stand) will showcase its next-generation digital papers for both dry and liquid toner printing that harness the power of computer-generated design. The new digital versions of favorites like Conqueror, Curious Collection and Keaykolour will come to market in September 2016 with new weights, sizes, colors, textures, and finishes, all available through Antalis worldwide as well as other key distributors.
Digital papers also can be seen running on the latest digital machines from HP Indigo on their B2 and small format presses and Konica Minolta on their KM-1 press as well as other presses.
AteCe (Hall 9, C10) is introducing a complete line of printing inks and varnishes under the name Deutsche Druckfarben. Products meet the increasing demands for drying and safety standards for food packaging. Company offers PrintCare rubber blankets, stripping plates, self-adhesive blankets, and PressClean washcloths.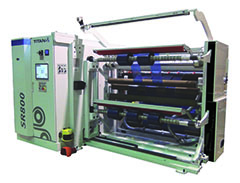 Atlas Converting Equipment Ltd. (Hall 12, 12-D55) will demonstrate the latest generation of the TITAN SR800 Series slitter/rewinder, said to provide much higher performance and improved productivity. Latest developments include significant reductions in machine downtime, including reduced set change time, lower operator intervention, and reduction of costly waste materials. Advanced design led to significant improvements in the quality of the final slit rolls and reductions in set-up procedures.
Also showing the Titan range, including the compact ER610. The SR9 series of slitter/rewinders, the SR9-DS and SR9-DT, reportedly deliver the optimum quality of rewound final packages utilizing linear tracking slitter section, which maintains a constant minimum distance between knives and rewind shafts giving better control of the slit webs. The SR9-DT adds the benefits of dual turret rewind.
AVT (Hall 9, C60) will premiere iCenter, a cloud-based platform to set cross-site quality standards, auto-analyze PDF files for inspection, and extract business intelligence from the production floor with seamless connectivity to MIS and prepress solutions for optimized automated workflows.
Will introduce digital press inspection and control; inline color management; and inspection platforms for web and sheetfed packaging applications. New Argus Turbo and Helios Turbo 100% inspection platforms for label and packaging will be presented.
Bobst (Hall 10, A60) will launch the MASTERCUT 106 PER die-cutter and a new MASTERFOIL 106 PR hot-foil stamping press that incorporates FOIL UNWINDER+, said to deliver up to 30% more press productivity and a reduction of up to 50% in foil use. A folder-gluer will be launched that features increased automation, shorter set-up times, and lower running costs. A new version of the seven-color M6 UV flexo press for folding carton production is said to offer job changeovers in under a minute. Also launching the BOBST DarkNight process said to eliminate most film metallization defects and to produce high barrier metallized films.

BW Papersystems (Hall 20, D20) will demonstrate the eCon folio sheeter said to offer high quality twin synchronous sheeting at an attractive price level for quick ROI. Also demonstrating a Wrapmatic GREC automatic folio ream wrapper that provides a flexible solution to paper converters wishing to produce high quality wrapped reams – wrapped in traditional poly-coated moisture barrier paper or Kraft paper.
Clariant (Hall 03, C69) will focus on organic colorant innovations for digital printing, exhibiting a portfolio of both standard CMY process colors as well as spot or shading colors like orange, violet, and green. Portfolio supports customers in capturing new growth areas in high fidelity digital printing. Also showing pigments for a variety of analog printing technologies and applications. For printed electronics, company will show its product portfolio and capabilities for silver inks for inkjet applications.
Collins Inkjet Corp. (Hall 3, C50) will show its line of inkjet formulations. They include FDA approved inks; Swiss Ordinance and Nestle List compliant inks; methanol-free solvent-based inks; EB inkjet inks; a range of security fluorescing inks; new inks for systems utilizing Kodak printheads; and Collins brand printheads and controllers.
Colordyne Technologies (Hall 5, C24) will demonstrate enhancements to its 3600 Series digital printing solution powered by Memjet technology. The unit now prints at 500 ft/min (152 m/min) at a resolution 1600x725 dpi.
Also will display its 3600 Series Retrofit platform for label converters looking to add full color digital inkjet printing to their existing flexographic printing press.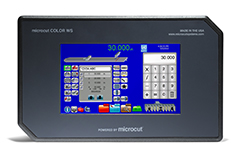 Colter & Peterson Microsystems (Hall 11, E25) will show a Microcut retrofit system on a POLAR 66-in. paper cutter. Also displaying the Microcut COLOR WS, Microcut PLUS, Microcut Jr, Microcut B-65, and Microtrack II. All are designed for use on any brand or size paper cutter between 20 and 150 in. At Hall 16, A03, will show a CHM precision sheeter with touchscreen controls for easy operation and servo motor drive for consistent performance.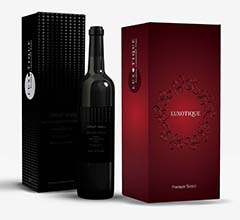 Cosmo Films (Hall 03, A31) is launching a range of premium lamination films, designed for luxury packaging and high-end graphic lamination. The line comprises Velvet, engineered to lend a rich velvet finish to the printed surface; Scuff Free Matte, called ideal for post laminating procedures; and Digital, engineered to provide excellent bonding to digitally printed surfaces.
Also showing mapped and matched PET films for lamination of loyalty/gift cards and applications requiring excellent flatness.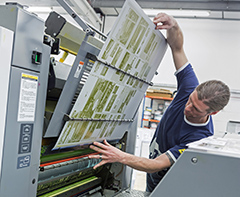 CRON (Hall 5, B24) will bring six new products from processless plates to a new digital offset inking system. The HDI Flexo CTP products are available in two formats: 900mm for label applications (to be shown at drupa) and 1600mm for general packaging work. Both are compatible with all digital photopolymer plates, ablative films and polyester-based letterpress plates.
Two versions of each model are available to enable users to tune production to their particular needs. "S" variants have a maximum resolution of 5080 dpi as standard and an exposure speed of 1.3 sq m/hr. "H" variants have a maximum resolution of 9600 dpi and a speed of 3.2 sq m/hr. Both use the same exposure platform, adapted from CRON's latest magnetic linear drive system, which is said to image accurate and high quality dots from 1-99%.
Also showing UV and thermal plates including the Blackwood low chemistry UV plate and the Blackwood processless thermal plate.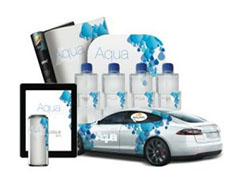 DALIM SOFTWARE (Hall 7, E41) is launching DALIM ES5 media production platform for management of media services, including print and packaging. Offers the concept of "Desktops," a customizable web portal. New set of triggers and actions are available, including watermarking. Plug-ins for seamless integration into Adobe Creative Cloud add to enhancements such as digital rights management and a check in/check out file sharing concept. Will participate in Touchpoint Packaging (Hall 12, B53) and will offer specific use cases of how brand owners in cosmetics and retail have implemented DALIM ES to manage their packaging workflow.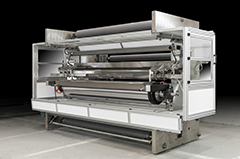 Davis-Standard (Hall 12, E42) has developed a new curtain slide coater and a five-roll silicone coater. Curtain slide coater applies single layer coatings at rates up to 2800 fpm (853 mpm) with expansion capabilities up to two additional layers. The five-roll silicone coater is capable of applying 100% silicone at rates up to 2400 fpm (732 mpm). Company's dsX line of extrusion coating, cast film, and blown film equipment is said to offer processors advantages in price, performance, and delivery. Each system is engineered for greater up-time, increased productivity, and reduced waste. The dsX flex-pack's adaptable machine configuration gives processors the capabilities and flexibilty needed to compete effectively for a variety of rapidly emerging application opportunities.
Live demonstrations of new horizontal winding technology will be held at nearby ER-WE-PA facility in Erkrath. Company will offer taxi service to and from Fairgrounds.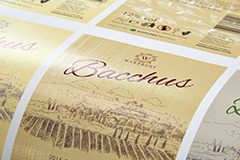 Domino Printing Solutions (Hall 5, A23) will show a B2 digital printing sheetfed solution including the newly launched 782mm print width Domino K600i monochrome printer. System will operate at 120m/min printing on sheets from 60g/m² to 250g/m². Applications range from variable data printing for security printing and game cards to 2D code printing onto carton sheets of folded cartons.
Also displaying the N610i seven color inkjet digital label press that operates at 75m/min using high impact UV-curable inks. Besides screen-like opaque white, the seven-color solution including orange and violet will allow 90% of the Pantone range to be printed. Company will be demonstrating "Textures by Domino" print solution showing the digital creation of 3D textured images.
Dow Adhesives (Hal 15, A29) teams up with Nordmeccanica for the world premiere of a Quantum Leap Innovation said to provide a competitive edge through conversion efficiency improvements, shorter production lead time, reduced cost-in-use, and a simpler and more reliable lamination process.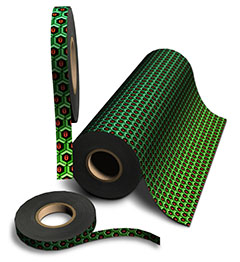 DuPont Advanced Printing (Hall 8B, C21) is highlighting its Cyrel EASY flexo printing plate technology, which builds the flat top digital dot directly into the plate. Portfolio is available for thermal and solvent-free processes with engineered or smooth surface. Also showing Cyrel FAST 2000 TD system in mid-size format; Artistri digital inks; Tyvek packaging; and Izon anti-counterfeit technology.
The Izon 3D security film enables the integration of overt anti-counterfeiting features directly onto product packaging or labeling. It utilizes a patented imaging process to create a look that is clearly differentiated. The unique side dot validation design makes it easy to verify full parallax 3D imaging. A bright holographic red "lock" image is embedded to enhance quick authentication. The holographic image disappears when the label is viewed off-angle, an advanced security feature that is unlike traditional embossed foil holograms.
Durst (Hall 6, D40) is showcasing single-pass and multi-pass printing systems for corrugated converters. The new Rho 130 SPC, with a print speed to 9350 sq m/hr, is said to offer the industrial productivity needed to transform the packaging sector toward digital technology. It is based on the latest generation of single-pass printing systems. Also presenting the Tau 330 single-pass UV inkjet label printing system in combination with a laser finishing system. The versatile Rho 1330 flatbed printing system will also be on display.
Eagle Systems (Hall 16, A71), a manufacturer of foil application and print enhancement equipment, will debut three new innovations. Company has launched the Eagle Cold Foil Certification Course, an 8-hour program geared toward improving production understanding and techniques of press operators, but also incorporates the executive management level, ensuring that each Eagle Cold Foil user garners both higher quality and greater ROI.
Edale (Hall 12, B05-3) is launching AIIR, an auto inking, print impression, linear and cross camera registration system controlled by AVT, for flexographic printing automation. The technology is being integrated into the company's range of FL3 (option) and FL5 (standard) flexo presses to guarantee an optimal level of registration in single pass printing. The software ensures that five additional motors, individually positioned on each print station, adjust the print impression, inking, and cross register to ensure print quality.
Enfocus (Hall 8b, A23) will feature software for PDF preflighting and editing and modular workflow automation, including the latest developments with Switch and PitStop and Connect. The recently released Enfocus Appstore enables Switch users around the world to instantly purchase and use apps created by other Switch users.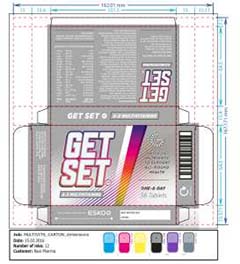 Esko (Hall 08b/A23) has updated its software solutions and relaunched them under the umbrella brand name "Esko Software Platform." It's the next version of its portfolio of integrated software solutions for design, prepress, workflow automation, color management, and supply chain collaboration used for packaging, labels, displays, and signs.
Introducing Content Management as a new module for WebCenter that enables printers and converters to expand their offerings related to artwork services.
ETI (Hall 3, 3C14) will show the compact (7.3m) Mini-Cohesio in-line coating and printing machine. Maximum web width is 13 in. (330 mm), and it prints on a variety of papers and films. Machine will be equipped with the Pellicut die-cutting system, said to be ultra-compact, robust, and precision. Said to die-cut on a liner as thin as 18 micron. Produces material at 150 m/min (500 ft/min) using different adhesive technologies: standard hot melt, UV-curable hot melt acrylic, and water-based emulsion adhesive.
FFEI Ltd. (Hall 10, 10B16-2) will showcase end-to-end digital inket consultancy services. Known for its Graphium inkjet label press, company's core business model is to engage with leaders in the industrial printing markets that wish to bring new products to market.
Flint Group (Hall 8a) will show a range of inks, coatings, pressroom chemicals, flexographic plates and equipment, mounting sleeves, printing blankets, and print services. Hall 8b will house the group's prepress stand, a joint booth with Flint, Thermoflex, and Xeikon as part of the new Digital Printing Solutions Div. Hall 3 will be home to the Flint information booth.
Flint Group Flexographic Products (Hall 8b, D12) will present the FlexoExpert certification program to provide plate makers with more support for their daily business. With this program, the platemaking processes as well as the functionality of the processing equipment will be evaluated. A status report is provided with recommendations for improvement. With company assistance, action plan is implemented within a defined period of time. A final audit is performed after six months. Also showing nyloflex FTF Digital plates that are both flat top and texturized. Can be processed like a standard digital plate. Also highlighting the rotec Lightweight Sleeve for conventional plate mounting with adhesive tapes.
Fraser Anti-Static Techniques (Hall 9, E10) will show the upgraded EX1250 Static Eliminator for gravure printing and coating where combustible solvents are used. Its certification has been extended to include ethylene, MEK, and other group IIB gases. Also introducing NEOS static eliminators that monitor the charge in the material and emit the right level and balance of ions to neutralize the charge.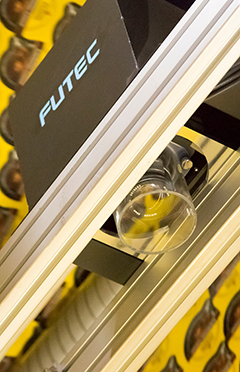 Futec Europe GmbH (Hall 15, A08) will preview Elastic FREEEZE!, a specially designed software feature for the printing industry that provides advanced algorithms for the company's 100% Printed Web Inspection Systems. The efficiency-enhancing feature helps maintain throughput by eliminating false detection errors caused by the expansion and contraction of elastic materials, which can be challenging for web inspection systems as signals may appear unclear due to the side and linear movement of the web.
Recently introduced its Position FREEEZE! software to eliminate potential movements of the web and freeze the image to make it sharper. Launching plug-and-play Smart Cameras for the 100% inspection of web-printing applications and for the inspection and quality control of plain surfaces.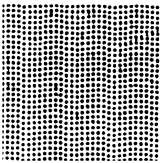 Global Graphics (Hall 07, B21/C20) will exhibit the Harlequin Multi-Level Digital Screening Engine that varies the amount of ink delivered from the inkjet head in any one location on any type of media to overcome common problems such as streaking and mottling that are frustrating many press manufacturers. This new engine can be integrated into Digital Front Ends based on Harlequin RIPs, but will also work with third party DFEs by the addition of a standalone version to replace the native screening.
Also unveiling Fundamentals, a software and engineering services package for inkjet press manufacturers that will help them get to market quicker by overcoming the technical hurdles involved in developing a new press.
GMG (Hall 8A, B10) will show its redesigned proof media, including GMG ProofMedia Premium for reliable contract proofing and GMG ProofMedia Studio for use by creative professionals during the design process. For color management, GMG OpenColor can calculate profiles that allow for the precise prediction of results, handling the effects of overprinting, changes in substrates, or alterations to the color sequence. A new feature in OpenColor is the ability to calculate profiles for halftones proofs. Company is launching a plug-in called GMG ColorPin. With it, Photoshop users will be able to carry out operations that were previously only possible with the help of complex workarounds and a lot of manual intervention.
Goss International (Hall 15, D51) will highlight the Goss Sunday Vpak press for high quality, short-run packaging applications. The Contiweb digital unwinder and rewinder series will be running on a number of booths.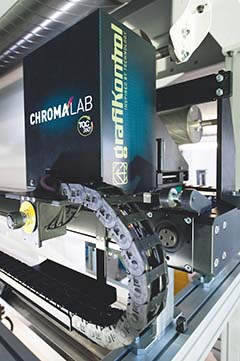 Grafikontrol (Hall 15, A11) will introduce the TQC-360° platform of press control systems for total quality control for gravure, flexography, and offset printing. For pre-press, SYSTEME CHROMATIQUE color management will be presented. It allows you to optimize images and PDF files, by improving print quality and reducing processing costs.
Also showing CHROMALAB, a spectrophotometer that provides real time measurement and color correction during production in gravure, flexography, and digital printing.
Graphic Systems North America (Hall 16, D24) will showcase a lineup of offset and digital printing equipment for RMGT (RYOBI MHI Graphic Technology Ltd.). The RMGT 10 Series press for packaging is a 1,050-mm, six-color press that is compatible with a wide range of stock thicknesses ranging from 0.04 mm to 1.0 mm. Press can perform non-stop printing on heavy stock due to a newly developed automatic non-stop feeder and delivery shutter. It is equipped with a chamber coater and demonstrations will feature varnish coating using an LED-UV curing unit.
GSE Dispensing (Hall 3, F30) will exhibit the Colorsat Compact ink dispensing system and the improved Colormix Mixer, suited for higher volume packaging applications. It offers fully computerized dispensing of up to 34 components and can be modified for either solvent or water-based inks. Also showing earthing (grounding) solutions for conducting static electricity from containers and inks. The Colorclean Indigo bucket washer with minimal water consumption will be shown. GSE-associated company Print Proof Solutions will highlight its new Evolution Series tabletop wet-proofing systems. Using the identical photopolymer printing plate materials, adhesive tapes, substrates, doctor blades, and anilox roll types as those used on the job, it provides a precise, predictable means of near-line proofing.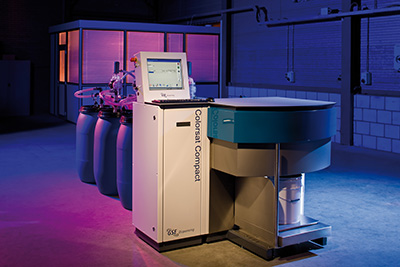 Harper Corp. of America (Hall 13, D68-1) will highlight its HIVE (High Imaging Volume Engraving) line of engravings series said to deliver high levels of quality and predictability with exclusive print performance. This will include company's Patent Pending Cladless Anilox Sleeve Technology, which features no aluminum cladding, lighter weight, and corrosion resistance. Also showing patented QD ink proofing and flatbed printing system. With the expansion of functional printing into the flexo and gravure markets, Harper has developed printing features and accessories that minimize the amount of expensive materials necessary to test printed electronic concepts. Also on display will be the QD Laboratory Master Flatbed Printer, which features a module construction with programmable travel speed and digital display allowing travel speeds to be set in inches or centimeters and maximum speeds of 1000 in./min or 2500 cm/min.
Heidelberg (Hall 1, B01-1) will premiere its "Fire" product line as a standardized family name for the entire digital printing portfolio, including Heidelberg Primefire 106 for industrial production of digital printed products in B1 format; Heidelberg Versafire CP/CV for economic production of short runs; Gallus Labelfire 340 for flexible label production; and Heidelberg Omnifire 250/1000 for printing on objects.
Highcon (Hall 09, C50) will show the versatile Highcon Euclid III digital cutting and creasing machine; Highcon Beam, which extends folding carton production with speeds to 5,000 sheets/hr; and Highcon Pulse for B2/29 in. sheet size workflows. The Highcon Beam offers speed of up to 5,000 sheets/hr for profitable sort or long run jobs; B1/42 in. format; wide substrate range; and Highcon Variable Data Cutting software included.
HP (Hall 17) is hosting the tradeshow's largest exhibit. Will show the HP Indigo 8000 Digital Press, which offers high-volume converters end-to-end label production at speeds up to 80 m/min or 262 ft/min. Will show upgrades for the HP Indigo 20000 and 30000 Digital Presses, as well as new ink and substrate options, said to offer converters unmatched application possibilities at faster speeds.
Will debut its PrintOS cloud-based print production operating system with web and mobile apps. Helps simplify and automate print production, enabling customers to start printing jobs faster. Additionally, cloud connectivity allows customers to monitor print status remotely as well as track and improve production performance over time. Designed for use with HP Indigo digital presses, among others.
Also will display new hardware and solutions for labels and packaging, large-format and sign and display applications.

HYBRID Software (Hall 7A, F41) will demonstrate its productivity tools for the label and narrow web markets. With a new partnership between HYBRID and Cerm, HYBRID's CLOUDFLOW solution has a new interface to the Cerm server and is based on JDF standards. It will enable a 1-up approval cycle for new labels with Cerm MIS operators and Web4Labels users having the option to utilize HYBRID's remote soft proofing system, PROOFSCOPE.
Industrial Inkjet Ltd. (Hall 8B, A65) will be based in the Konica Minolta booth to handle inquiries about the use of Konica Minolta inkjet technology. They will offer technical advice and guidance on the use of inkjet printing.
INX (Hall 3, A50) will show a portfolio of products for packaging applications, including lamination inks for flexible packaging, high color water inks for corrugated board, and digital inkjet inks. Regulatory experts and chemists will be available to provide guidance to food packagers in light of the never-ending changes to government rules and regulations. The CGS digital proofing system is a turnkey solution for flexible packaging proofing and mock-up production. The GTB inspection system can detect printing defects for virtually any printing segment using several image capturing methods. Digital printing solutions to be demonstrated include modular single-pass automation; helix rotary inkjet technology, and software for straight-walled and tapered cylinders; a multi-pass conveyor belt scanning platform; and digital technologies for narrow web labels and film applications.
IST METZ (Hall 2, B10) will display both UV lamp and UV LED systems. The focus will be the "HYcure" product concept for sheet-fed, web-fed, and narrow web printing. IST METZ equips its UV units in such a way that they can be switched to operate either with UV lamps or with UV LEDs. The housing, cooling, and electrical supply are identical for both systems; the cassette with the light source just needs switching in the printing press.
Jeco Plastic Products (Hall 02, B02) will show its line of durable, high-tolerance pallets for the printing industry. Representatives will be available to discuss unusual requirements or special applications. Pallets also will be available at several stands throughout the exhibition.
Kao Corp. (Hall 3, E36) has reported the development of water-based pigment inkjet ink for printing on film used in flexible packaging. The ink's VOC-free design mitigates its environmental impact. Company also has developed an inkjet printer exclusively for this water-based ink in cooperation with Think Laboratories Co., which is said to achieve eco-friendly and high quality printing on flexible packaging. Water-based pigment technology can be applied to eco-friendly water-based rotogravure ink.
Karlville Development Group LLC (Hall 12, A04) is the first HP-certified HP Indigo Pack Ready provider, driving the development of the Pack Ready laminator for the growing digitally printed flexible packaging market. The digital laminating and coating product line for candy bars and wrappers with registered cold seal is unique ot the marketplace. The Pack Ready laminator is designed for lower environmental impact and simple operation.
KNF (Hall 4, B01) will display liquid and gas pumps that perform ink handling tasks, including the ink transfer to print heads, ink degassing, print head cleaning, vacuum generation for print head meniscus control, and ink circulation. Will show liquid pumps with flow rates from microLiters/min to 12 L/min+ and gas pumps with flow rates from microLiters to 300 L/min.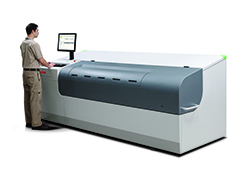 Kodak (Hall 5, F09) will launch the SONORA process-free plate for UV print applications. Debuting will be the FLEXCEL NX System '16, which features NX tags for the application of multiple patterns on a single plate layout, and Advanced Edge Definition, a patented technology that controls ink flow at the edge of objects, resulting in cleaner print and greater visual edge definition.
Also launching ULTRASTREAM Inkjet Technology to move production inkjet into the mainstream of commercial printing and packaging. Visitors will see demonstrations of the PROSPER 6000C Press with inline finishing and Extended Gamut + Varnish (XGV) technology demonstration for flexible films produced on narrow webs.
Konica Minolta (Hall 8B, A65) will present products for the industrial inkjet and label printing markets, including the full commercial launch of KM-1, a UV sheet-fed digital press. Will show how a combination of its bizhub PRESS C71cf, GM DC330 Mini finisher, and MGI's JETVarnish can reduce label print run lengths, enabling faster delivery times and opening the doors to value-added on-demand label runs. MGI's hot foil stamping and embossing equipment has been added to Konica Minolta's product line. With the additional stake in place, Konica Minolta now intends to harness MGI's R&D power to accelerate its initiatives for application development in areas such as labels and packaging.
Kurz (Hall 3, D60) will present its "Kurz Easy" initiative, which includes the Foil Connect software program for quickly calculating the most efficient foil usage, a new series of hot stamping foils for a wider processing window, as well as current methods for easier die mounting and for shortening setup times. For the cold foiling sector, a new generation of cold foils with optimized processing characteristics will be presented. The Distorun system for processing single images and for efficient foil usage in the narrow web processing sector will be demonstrated. Also showing new generation of DM Liner transfer units for generating metallic effects in digital printing.
Landa (Hall 9) will demonstrate the Landa S10 sheet-fed press for folding carton and POP and the Landa W10 web press for flexible packaging and paperboard. Also introducing Nano-Metallography, a zero-waste metallization process that reportedly will halve the cost of metallized printing, demonstrated on a narrow web label press.
Theater presentations will be held five times a day for the entire show.
LasX Industries (Hal 11, E17) and partner Brandtjen & Kluge will demonstrate the CartonsInMinutes packaging solution. The folding carton finishing system features advanced laser processing technology and a versatile, in-line folding/gluing system for a seamless, all-digital workflow. System converts printed materials to finished cartons in less than a minute and reduces cost by eliminating costly tooling and setup and reducing or eliminating WIP inventories. The demo unit is based on the LasX CIM-400, a 400W CO2 laser system equipped with proprietary dual-camera vision registration for precise, repeatable laser positioning.
Martin Automatic (Hall 3, D53) will offer demonstrations of its Airnertia patented roller technology that uses a new frictionless air bearing system to minimize roller inertia. MDR (Magnetic Driven Roller) technology is used in web transport rollers to reduce or eliminate the effects of roller mass, bearing friction, speed changes, and entrained air. Also on display is the TMSL automatic splicer, a free-standing system that includes two roll unwind positions, splice unit, and festoon for continuous feed of narrow web materials.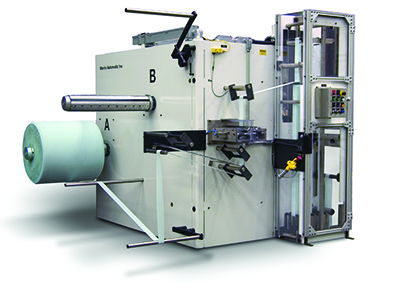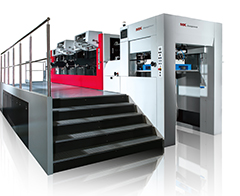 Masterwork USA (Hall 1) will display its extensive range of postpress packaging solutions. The company will demonstrate the new Duopress 106FCSB that offers six processes in one pass: foil stamping, embossing, die-cutting, stripping, blank separation, and product collection. Designed to ensure accurate foil feeding and creative greater foil saving benefits.
Also showing the Diana Eye 55 fully automatic sheet inspection system with a maximum working speed of 200-300 m/min with a maximum sheet size of 55m x 500 mm and stock range of 90-650 g/m2 cardboard. The modular Diana Smart 55/155 folding carton gluing machines offer short set-up times, 100% inline inspection of the entire print image. It is suited for a variety of applications in the 55 and 80 format ranges up to a maximum carton length of 60 cm.
Memjet (Hall 5, C24) will demonstrate high-speed, digital color printing technology that enables a range of print applications including labels, cardstock and packaging, and wide-format graphics. Attendees can see this technology at work in solutions from a range of Memjet OEM providers, including Xanté, Colordyne, Delphax, and Digikett.
Mondi (Hall 4, C21) will exhibit its range of professional paper and board, offering sustainable paper solutions for all printing technologies. All Mondi uncoated fine paper branded products are part of company's Green Range, meaning that they are FSC or PEFC certified, 100% recycled, or totally chlorine free bleached (TCF).
Nordmeccanica (Hall 15, B42) teams up with Dow Adhesives for the world premiere of a Quantum Leap Innovation said to provide a competitive edge through conversion efficiency improvements, shorter production lead time, reduced cost-in-use, and a simpler and more reliable lamination process.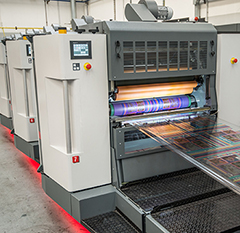 OMET (Hall 3, D90) will show the new Varyflex V2 850 Offset 850 press with electron beam drying system. Designed for packaging, press features sleeve technology in combination with flexo printing units to guarantee best performance with all types of materials, even with combined printing. The BroadBeam drying system developed by PCT Engineered Systems is said to fix the color evenly on the entire surface of the substrate, avoid overheating, and with reduced energy consumption compared to other UV drying systems. Can be used to print materials for the food industry.
Also will show the iFLEX label press, which is characterized by its simple operation and extremely quick startup times. Due to the iLight laser pre-register system and the iVision printing register adjustment, optimal quality printing can be achieved in a few simple steps, accelerating machine set-up after each job changeover, and reducing waste on each startup.
Landa will demonstrate the Landa Nano-Metallography technology mounted on an OMET XFlex X6 press.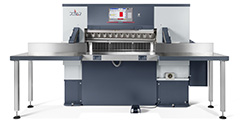 POLAR (Hall 1, C03) will show two new products. POLAR D 115, which was developed for digital printers, features a hydraulic knife drive system and an optimized cast frame and sheet metal casing. A distortion-free machine table with corrosion-free surface and air nozzles is said to ensure easy material handling.
Digicut PRO laser cutter is designed for industrial production. The material is automatically transported over a flat pile feeder and into a cutting cabin where it is laser cut on-the-fly. Allows the most intricate contours to be cut in diverse materials.
PrimeBlade Sweden AB (Hall 12, C23) will show the new 900 Nano+ series of doctor blades that feature a patented treatment process to create durability and strength for even better blade life and performance. The blades flex or bend less, to keep the optimum contact angle against the anilox or printing cylinder, reportedly creating the perfect wipe condition. It will help against common problems in flexo printing as back doctoring and ink spitting.
For the UV ink users, the 900 Nano+ blades will be less affected from the "heavy viscose" UV-ink and give a cleaner wipe.
The PrimeBlade 700 series is being released. It is a ceramic-coated doctor blade, developed by combining a unique surface grinding and special surface treatment technology. This is said to improve the coating adhesive bond and wear resistance compared to existing coated products.
QuadTech (Hall 15, D50) will unveil a color quality product for packaging and converting that will allow press operators to collect and process color measurements. A new defect detection product will facilitate fast detection of the tiniest defect. New color measurement provides accurate inline L*a*b* measurements, which reduces make-ready time.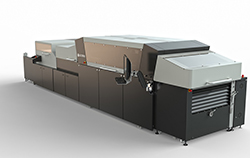 Scodix (Hall 4, D-60) will demonstrate the new E106 digital enhancement press for the folding carton market. Offers economical short runs from 1–10,000 sheets with variable enhancements on each sheet. Applications including foil, digital embossing, spot UV, high build, and cast & cure.
Also showing the Scodix Ultra Pro Digital Enhancement Press with Foil station, which is compatible with offset, laminated sheets, and digital print on a variety of substrate weights and thicknesses. The optional foil station module runs in-line and includes high gloss, embossed, and a variety of densities. The Scodix S Series uses Scodix SENSE to produce high quality products with tangible dimensions for applications such as folders, labels, calendars, and more.
SEI Laser (Hall 12, D23) will showcase PaperOne digital finishing and converting equipment distributed in North America by Matik. Can process up to 2,500 sheets/hr and has an automatic pallet loading and unloading system. Fast, accurate feeder can handle sizes up to 20.87 x 29.53 in. (53 x 75 cm), and thicknesses from 150 μm to 600 μm. It die-cuts, micro-perforates, pierces, engraves, and marks paper, corrugated board, and adhesive-coated stocks as well as PP, BOPP, and PET.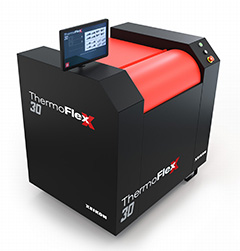 ThermoFlexX (Hall 8B, D12) will launch redesigned ThermoFlexX20 and ThermoFlexX 30 digital flexo plate imagers with a choice of resolutions from 2,400 dpi to 5,080 dpi. The latter allows the production of halftone screens of 250 lpi, suitable for intricate work.
A dual-head ThermoFlexX 80D will demonstrated with a new pixel-stitching functionality, plus a ThermoFlexX 48-S on-line to an EVO 3 LED exposing unit.
3M (Hall 15, A65) will show 3M Splittable Flying Splice Tape said to provide a smooth and reliable splitting mechanism and specially designed adhesive for a variety of surfaces, including polyethylene, polyester, and aluminum foil, enabling print managers to minimize breaks and achieve consistent results without reducing press speed. Available in dark purple color with pink and black layers that make it easy to identify when the splice has been made.
3M Cushion-Mount Plus Plate Mounting Tapes, L-Series with Easy Mount Adhesive, provide the highest quality print by holding plates effectively, resisting plate edge lifting, and requiring less removal force for easy and clean removal of plates across a wide range of applications. Designed with Easy Mount liner, the tape creates micro-channels in both adhesive surfaces, allowing air to escape virtually eliminating air bubbles resulting in faster set up and cleaner print quality.
Toyo Ink Co. (Hall 4, B39) will show the FLASH DRY FL Kaleido series of UV-curable flexo inks designed for vivid color reproduction. Product is ideal for the demands of tag and label printing, especially when used in combination with Toyo's expanded-gamut pigments and color management system, which were tailor-made for this specialty ink.
Also debuting LIOFLEX AQUA LIONA NFQD series of flexo inks to address the growing demand for water-based products for flexible packaging. Enables printing at a maximum speed of 500 m/min. STERAPLAST FOOD and STERACUP PLUS series of inks and coatings from Toyo Ink Arets meet demand from package printers and brand owners for superior image resolution, enhanced printability, high productivity in addition to being safe for food packaging use.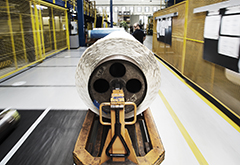 Trelleborg (Halls 6 and 7) will present the new Vulcan Sunrise, a 1.95 mm blanket, with a dedicated top compound that is specifically designed for the latest UV applications, such as LE/HUV and LED UV. The Vulcan F2016 has a unique fabric layout that is said to ensure excellent compressibility. Recently introduced for sheet-fed applications, the blanket also provides high quality printing of paper and cardboard packaging. Vulcan F2016 is a 1.95 mm blanket that is easy to set up for a variety of commercial sheet-fed and packaging jobs, where first class quality print is required.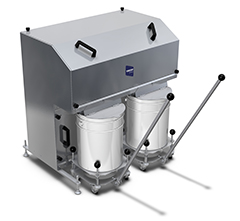 TRESU Group (Hall 10, D54) will display an expanded portfolio of ancillary solutions for optimized ink and coating supply, inline coating systems for digital folding cartons, flexo printing units, complete printing lines for food packaging, folding carton, and game cards, and comprehensive service programs.
The F10 iCon ink supply system regulates ink flow, pressure, and viscosity, ensuring a constant, accurate ink density on the printed substrate, without air contamination.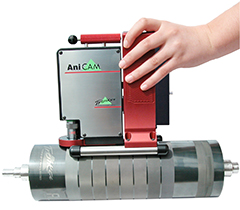 Troika Systems (Hall 10, C13-4) will unveil two cutting-edge technologies, including the CorruCAM, a tool that is able to measure anilox rolls within corrugated presses, and the Advanced Inspection Microscope (AIM), a fast and accurate 2D microscope that works in conjunction with different applications.
Also showing the AniCAM 3D scanning microscope for measuring anilox rolls, gravure cylinders, and flexographic plates.
Uflex (Hall 15, C51) will launch an Extrusion Lamination Machine that features a uniquely designed drying hood to achieve optimum temperature; separate drive for the impression roller; and motorized three-axis movement of the carriage for the air gap setting; and chamber type doctor blade for anchor coating. Also displaying the Electronic Line Shaft (ELS) based rotogravure printing press with servo motors and drives. Said to offer ‭better‬ ‭‬operator access around the press;‭ ‬‭reduction‬ ‭‬in noise level; less‭ mechanical parts to be serviced; and ‬faster‭ ‬print register response.‬ ELS models are equipped with flying splice turret unwind, rewind sleeve-type impression roller, and trolley facilities. Has the option of doing reverse register coating at the last printing unit.‬‬‬‬‬‬‬‬‬‬‬‬‬‬‬‬‬‬‬‬‬‬‬‬‬‬‬‬ For brand protection and anti-counterfeiting, company will show Fresnel diffractive, holographic, and hybrid (combination) lens embossed films for generalized patterns and customized specialty films in a roll format. ‬‬‬‬‬‬‬‬‬‬‬‬‬‬‬‬‬‬‬‬‬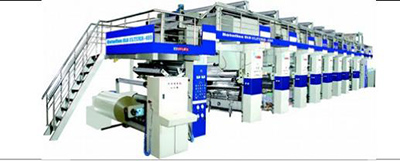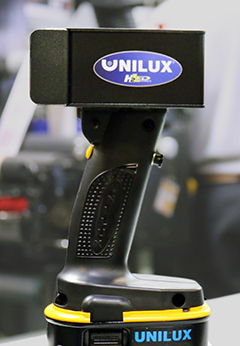 Unilux (Hall12, B44) will introduce the LED-3 and LED-9 stroboscopes that provide 2x brighter output than earlier LED-based inspection lights and include UV options for special security elements or coatings. Available in ergonomic handheld or fixed-mount configurations.
Universal Converting Equipment (Hall 12, D12) will show the latest version of the Universal X6 slitter/rewinder, a CCA automatic core cutter, a RT2 roll handling trolley and a hot melt coating system. The latest features now available on the Universal X6 slitting machine are automatic core positioning and print repeat length measurement. The automatic core positioning system replaces the use of lasers and other markers to align the cores against. These systems still rely on the operator to accurately position the cores and are prone to inaccuracy and take time that the operator could be using for different work.
The automatic core positioning system picks up each core and takes it to the exact position to line up with the automatically positioned knives. The system works with cores down to 25mm width and can be configured for different core diameters. Inaccurate core positioning can cause starring of the material near the core resulting in the need to rewind the roll which is time consuming and expensive.
The Universal X6 slitter rewinder can also be configured with a print repeat length measuring system and impression counter. The system will measure the repeat length through the roll and can be set to alarm if the length is outside of pre-set limits.
VITS Intl. Inc. (Hall 16, D59) plans to run a two web finishing line designed to intermix preprinted rolls from both inkjet web and traditional offset web to leverage the best of both applications.
X-Rite (Hall 8b, A23) will demonstrate InkFormulation Software Version 6.3 for ink color recipe creation, storage, approval and retrieval for offset, flexo, gravure, and screen printing inks. Company wiill display the eXact Xp spectrophotometer designed to help package printers and converters more accurately measure color on flexible film materials. Will demonstrate the PantoneLIVE Private Cloud, a secure, cloud-based repository that allows converters to store existing proprietary color libraries across the color supply chain. The new offering is part of the PantoneLIVE ecosystem designed to digitally communicate color accurately between brand owners, designers, premedia, ink suppliers, and printers. It reportedly removes any ambiguity when communicating color specifications across the workflow process and enables converters to deliver consistent color and meet customer expectations.
Xaar (Hall 6, C05) will present its range of inkjet printheads and products and launch a Thin Film silicon MEMS technology platform. The Xaar 1003 family of printheads incorporates TF Technology reportedly achieves the longest maintenance-free production runs in the industry. The Xaar Print Bar System adds single-pass inkjet capability to analog web presses. photo
X-Rite Inc. (Hall 8B, A23) will showcase the next generation of its non-contact, automated color measurement solution. IntelliTrax2 features support for M1 measurement illumination conditions to help printers and packaging converters manage optically brightened substrates. Product is called ideal for sheet-fed printers and folding carton converters. Integrates with company's NetProfler, a cloud-based set of software and color standards, allowing operators to easily verify device performance for consistent and reliable color measurements.
For more information, visit http://www.drupa.com.