Published: May 10, 2016
≠HOD-HASHARON, ISRAEL | AVT, supplier of print inspection, print process control, and quality assurance solutions, will introduce an extensive roster of new solutions at drupa 2016, May 31–June 10, in Düsseldorf, Germany.
One premiere will be the iCenter Platform, a next-generation cloud-based solution for quality control automation and production performance insights. Company says this allows printers can now offer brand owners around the globe consistent product quality as well as production reports showcasing these heightened quality standards. The platform provides solutions to set cross-site quality standards, auto-analyze PDF files for inspection, and extract business intelligence from the production floor with what is said to be a seamless connectivity to MIS and prepress solutions for optimized automated workflows. The cloud-based nature empowers printers to manage and control quality and production standards for facilities around the world.
The latest of version of the Offline Setup is said to provide quality standardization and to shorten set-up time. The solution standardizes inspection results for reduced waste and streamlined setup workflows, all under the same global quality standards.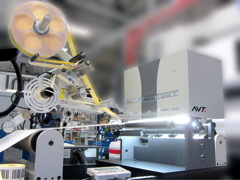 AVT also will showcase its close partnerships with many digital printing leaders at drupa. E.g., company will present four systems on HP Indigo presses. These include the debut of Apollo 30K, which was designed for the HP Indigo 30000 folding carton press and features a dedicated end-to-end solution for 100% sheet inspection with various workflows supported, including single pack ejection for optimal quality and automation. Also presented will be the Apollo 20K and solutions for the HP Indigo 20000 flexible packaging press and HP label press series. These solutions offer 100% inspection with AVT's ZeroSet (http://www.avt-inc.com/solutions/automation-solutions/zeroset/) setup feature for print and in-line finishing.
The new Jet-IQ, a closed loop solution for digital inkjet presses, will be shown on digital presses from Heidelberg, Landa, and other vendors. It is reportedly to be a quality engine that works in synergy with press controllers to maintain exemplary print quality, offering full connectivity to all steps and solutions of digital printing. Jet-IQ allows digital printers to gain a competitive advantage through enhanced print quality at high speeds, reduced press downtime, and full reporting capabilities.
Also introduced will be the SpectraLab II, a new generation of in-line spectral measurement for nearly any application, including transparent flexible, paper, cartons, etc.
Among the portfolio of systems presented at drupa will be the new Argus Turbo and Helios Turbo 100% Inspection platforms for label and packaging applications, said to offer a breakthrough in end-to-end quality automation and workflow management.
With the new AVT Workflow Link for packaging applications, customers can now control quality downstream from the production process, detecting any defects on press and eliminating them from the rolls at any finishing station.
For the folding carton segment, company will feature a live demonstration of its new Apollo 30K for HP folding carton presses,. For the corrugated market, AVT leverages its strategic alliance with Erhard and Leimer, who will present a 100% in-line inspection solution at its stand.