Published: March 30, 2016
CAMBRIDGE, UK | Xaar announces the launch of the 1003 family of printheads for industrial inkjet printing. The new printhead family features XaarGuard, said to provide high nozzle plate protection and, coupled with other design innovations, achieve the longest maintenance-free production runs in the industry.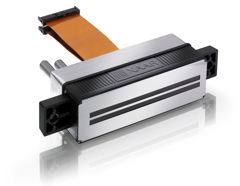 Company says the 1003 provides a step forward in consistent print quality across the wide print widths used in many single-pass applications, due to new X-ACT Micro Electric Mechanical Systems (MEMS) manufacturing process.
Like its predecessors, the new family of printheads combines company's TF Technology with Hybrid Side Shooter architecture so ink is recirculated directly past the back of the nozzle during drop ejection at the highest flow. This reportedly ensures the printhead operates reliably even in the harshest industrial environments and also in horizontal and vertical (skyscraper) jetting modes. Ink is in constant circulation, preventing sedimentation and subsequent blocking of the nozzles when jetting.
The new printhead, which is said to be is easy to install and is backwards compatible with the company's 1002 and Xaar 1001 printheads, will be on display at the upcoming drupa 2016, May 31–June 10, in Düsseldorf, Germany.
This email address is being protected from spambots. You need JavaScript enabled to view it.