The Implications of Innovation on Testing and Measurement

Interview with Scott Fuller, Product Line Manager, Pouch Equipment, North America

Compelled by legislators and consumers alike, sustainability is a central thought for the packaging industry and beyond.
Published: April 01, 2009, By By Yolanda Simonsis Editor/Associate Publisher
The Assn. of Industrial Metallizers, Coaters & Laminators, Fort Mill, SC, bestowed this year's top Metallized Product of the Year Award, named in honor of PFFC's former publisher Peter Rigney, to Graphic Packaging Intl., Marietta, GA, at the association's annual banquet, held this year on March 22 at the Hilton La Jolla Torrey Pines in La Jolla, CA.
Let's Cook In
Wielding the Gavel
The cook-in bag for McCain Popcorn Potatoes incorporates Graphic Packaging's Quilt Wave lamination and metallized susceptor grid. The heat-sealable 48-ga polyethylene terephthalate (PET)/ink/pattern adhesive/25# paper/adhesive/pattern susceptor/heat-sealable 48-ga PET lamination intrigued the judges as it's claimed the first cook-in package of its kind with eight-color printing and a lap seal. The result is a package that tunes into the potato product to ensure perfect heating and browning without scorching the packaging material. GP plants in Portland, OR, and Wausau, WI, performed converting with PET supplied by DuPont Teijin Films, Hopewell, VA, and the Lawrenceville, GA, plant of Toray Plastics (America), based in North Kingstown, RI. Metallizing was provided by Rol-Vac, Dayville, CT; Dunn Paper, Vicksburg, MI, supplied the paper; and John Waski Design, Westport, CT, was the package designer.
Technology Titlists
Chips Go Chic
Uflex Ltd., Noida, India, captured both marketing and technical awards in the Food & Beverage Packaging-Flexible category. For its rendition of Masafi Gourmet Potato Chips, a new product from Masafi Co. of the United Arab Emirates, marketing recognition was given for the film pouch's eight-color, rotogravure-printed graphics that include a matte finish combined with more environmentally friendly toluene/MEK-free alcohol-based inks. A specially engraved cylinder applies an overcoat to protect the matte finish. Single-source supplier Uflex designed the package, produced and metallized the substrates, and converted the final structure: matte finish biaxially oriented polypropylene (BOPP)/coextruded polyethylene (PE)/high-barrier plasma-metallized PET/PE.
Green Award Debuts
Uflex's second award for technical achievement in the Food & Beverage Packaging-Flexible category recognizes the company for its single-source production of Lay's Chilli Chinese Potato Chips from Pepsico India Holding (Frito-Lay Div.) in India. Providing design, substrate production, metallizing, and converting capabilities, Uflex laminates BOPP/coextruded PE/high-barrier plasma-metallized PET/PE to provide high water vapor transmission barrier. The pouch also features a horizontal laser score for easy opening at the top. A wide top and gusseted bottom allow the pouch to double as a serving bowl that's complemented by a sauce from a second onboard pouch.
A Toast to the Winner
Unifoil Corp, Fairfield, NJ, toasts to a marketing award in the Food Beverage Packaging-Rigid category for a metallized carton that holds Norwalk, CT-based Diageo's Sambuca Romano Gift Set. A windowed carton features a bottle of Sambuca with two snifter glasses and a pouch of coffee beans. The recyclable film-free carton combines premium decorated board that's acrylic-coated, transfer-metallized 12-pt Silver UniLustre from Unifoil with an inexpensive, 20-pt E-Flute corrugated to achieve economy, light weight, and eye appeal. Design is by Brown Forman; transfer-metallizing film is from Toray; Hub Folding Box (Mansfield, MA) is contract packager; Unifoil provides printing with transparent ultraviolet offset inks.
Triscuit Goes Clubbing
Another award — this time for technical excellence — goes to Graphic Packaging in the Food & Beverage Packaging-Rigid category for its Composipac carton that houses Triscuit Club Pack crackers from Kraft Foods' New Jersey plant. GP eliminates grease staining and increases top-load strength with rotogravure reverse-printed 48-ga PET (from DuPont Teijin), which it metallizes and laminates to 30-pt clay-coated solid unbleached sulfate using low-density polyethylene (LDPE). It then die-cuts blanks and glues side seams. This new construction allows 10% higher stacking strength to offset a slightly higher unit cost by reducing unsalables while boosting sales and achieving more consistent performance on the packaging line because of higher stiffness.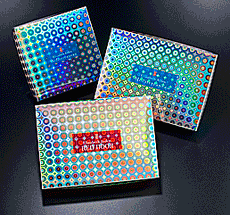 Red Door Shut Out
A marketing award in the Healthcare, Cosmetics & Toiletries Packaging category honors Hazen Paper, Holyoke, MA, for a family of holographic setup boxes for Elizabeth Arden, New York, with a "lenticular" effect. This year's gift box design for the Mediterranean and Red Door brands employs bright Ultracure acrylic-lacquered Holographic Circles laminated to the coated side of 18-pt SBS with water-based adhesive. The box base uses metallized PET in red or blue to coordinate with the lid. Hub Folding Box performs design and contract packaging.
Pouch Is a Light Weight
Super Film Ambalaj, Gaziantep, Turkey, wins a technical award in the Healthcare, Cosmetics & Toiletries Packaging category for its metallized Suptherm 7131MDP film used for pouched hotel amenities, such as shampoo. Coskun Plastik, Kartal/Istanbul, Turkey, converts the 80-micron metallized, pearlized white, cavitated Suptherm film into a surface-printed lamination. The metallized side of the Suptherm film is primed for printing; the reverse is specially polymerized for adhesion to LDPE that Coskun Plastik extrusion coats to a thickness of about 15 microns. The two-layer structure is lighter in weight; offers 60%-75% better yield than the multilayer lamination it replaces; runs at the same speed on packaging lines; and eliminates previous delamination problems due to the aggressive nature of the contained ingredients.
Lights On
A holographic blister card for a single compact fluorescent light (CFL) bulb from Philips Electronics Co. in China wins a marketing award for Shanghai Zijiang Metallization Packaging Material Co., Shanghai, China, in the Nonfood Packaging category. Shanghai Zijiang metallizes and converts the packaging using base paper from Fuyang Weishida Paper Industry, Fuyang, China; contract packager is Shanghai Zidan Printing. While more expensive than a previous folding carton, the peggable holographic pack discourages counterfeiting and encourages sales by presenting the CFL bulb as a premium product.
Card Surpasses Muster
Taking home a second award, this time for technical merit, is Unifoil in the Other category for a Platinum Digital Musicpass card from Sony & BMG Music Entertainment, New York. The card represents one of the first applications for nonlaminated, metallized 30-mil polystyrene (PS) cardstock, employing Unifoil's UltraLustre technology. Although a look-alike lamination, the card actually comprises metallization applied by electron-beam transfer to eliminate the need for a two-ply metallized PET/PS construction, thereby reducing the weight and thickness of the card along with eliminating problems with warpage, delamination, and adhesive oozing from the edges. The single-material card improves recyclability and duplicates the CD cover art with an eye-appealing metallic background.
AIMCAL Award Committee chair Steve Sedlak, sales manager for ESK, a Ceradyne co., Costa Mesa, CA, moderated the judging session that once again was hosted at PFFC's Chicago offices. Judges included the following: Travis Funk, manager-senior packaging engineer, Diageo North America; Jeffrey T. Weber, principal engineer, Strategic Innovation Research, Kraft Foods; Paula Record, CPP, former senior development engineering manager, packaging, Unilever Home & Personal Care North America; Stan Kopecky, principal, SJK Packaging Assoc.; Mark Spaulding, editor, Converting magazine; and Yolanda Simonsis, editor/associate publisher, Paper, Film & Foil Converter (PFFC) magazine.
Technology Titlists

Winning this year's AIMCAL Technology of the Year Award is Tidland Corp., Camas, WA, a subsidiary of Maxcess Corp., Oklahoma City, OK, for its patent-pending e-Knifeholder. Reported as the world's first electronic knife holder for shear slitting, it's powered by electricity instead of traditional mechanical or pneumatic actuation to enable the operator to set side force and overlap electronically. Once set, the unit automatically calibrates itself and positions the blade to reduce setup time and improve safety while ensuring product quality because of greater predictability of slit quality across the entire web. The unit also controls cant angle, geometry, and overspeed.
Dark Field Technologies, Orange, CT, also was named a finalist for its NxtGen glass inspection technology that yields 100% inspection of flat or curved surfaces. The system is claimed the first to use low-power white light illumination to detect defects as small as 5 microns to improve product quality, increase production rates, eliminate returns, and reduce operating expenses.
Green Award Debuts
AIMCAL, Fort Mill, SC, recognizes the environmental efforts of its members with its first Sustainability Competition. Contenders submitted equipment, materials, and processes that reduce their impact on the environment. Debuting as first-time winners of the award were Unifoil Corp., Fairfield, NJ, and DuPont Teijin Films, Hopewell, VA.
Unifoil's transfer-metallized UnilLustre can be applied to paper or paperboard while UltraLustre is suitable for film or rigid plastics to create a metallized or holographic substrate that conserves materials (with a weight savings of 5% on average for a folding carton) and improves recyclability. Both UniLustre transfer-metallizing process and patented and patent-pending UltraLustre electron-beam transfer-metallizing process apply an extremely thin 0.0003-in. layer of metal to the substrate, eliminating the need for multilayer film, film/paper, or foil/paper laminates that are difficult to recycle. The 100% solids transfer metallizing processes use no solvents or water and require no drying. The carrier film can be recycled for new film application.
DuPont Teijin is recognized for its heat-sealable Mylar ECO PET lidding film with 30% post-consumer-recycled (PCR) content derived from PET bottles, 35% post-industrial recycled content, and 35% virgin PET. Press adjustments ensure the film with RPET content perform the same as 100% virgin material. The film's recycled content allows pound for pound reduction of virgin PET to lower crude oil and energy consumption. By expanding demand for PCR content, consumers have incentive to recycle their empty PET bottles. ECO PET lidding films are acceptable for food contact for reheat applications in the US and European Union.