Maxcess® saves you time and money by optimizing your peak output performance.

How do we solve static problems? What is the root cause of the problem?
Published: February 29, 2012
Colbert Packaging Corp., Chicago, IL, a leading manufacturer of folding cartons, rigid paper boxes, and paperboard specialty products, has installed a new nine-color 23-in. wide Primographic printing press, custom-built by CPS Canadian Primoflex Systems. The CPS CP 585 joins Colbert's repertoire of specialized flexographic equipment in its 45,000-sq-ft facility in Lake Forest, IL., one of three Colbert manufacturing plants and the only one focused exclusively on flexographic packaging solutions and pressure-sensitive roll labels.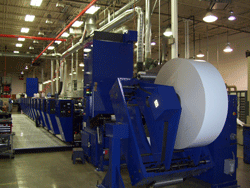 Colbert's CP 585 features nine print stations and has the ability to print four-color processes (4/4) on both sides of web-fed paperboard and coat in a single pass. The press provides increased format options for customers, and it can print both water-based and ultraviolet inks. It also features cold foil and HoloCure technologies for producing metallic and holographic effects on package surfaces.
Designed for efficiency, the new press can run at speeds of 500 fpm. It includes an in-line Kempsmith flatbed die-cutter as well as a rotary embossing station to streamline the printing and die-cutting processes. Cold foil and HoloCure operate on separate, but integrated, stations, so as to not slow down the printing stations. The chill roll system controls web temperature, and with 3-in. thick base frames and 1.5-in. thick side frames, the CP 585 is well suited for heavy use in rugged environments.
"This new press has increased our flexographic manufacturing capacity and expanded our printing capabilities, enabling us to provide customers with greater paperboard format options and innovative features that create package distinction," says Jim Hamilton, president of Colbert Packaging. "CPS's modular design made the CP 585 the best platform for us to build upon, and the custom press meets our highest standards for flexographic packaging quality."
In addition to the CP 585, Colbert's cGMP-compliant flexographic manufacturing facility in Lake Forest, IL, houses multiple narrow web folding carton presses, pressure-sensitive roll label presses, folder-gluers, and a variety of finishing equipment. The facility opened in 1998.