Published: August 10, 2017
LEBANON BOROUGH, NJ | PROTON Products, global supplier of non-contact laser Doppler speed and length measurement, has issued an update of the InteliSENS intelligent laser Doppler non-contact speed and length sensor. which replaces contacting encoders that encounter slippage, wear, and marking. (See PFFC for technical details on item.) This measurement reportedly provides accurate, repeatable, reliable measurement performance and opens more web application possibilities, contributing to production and quality improvements and resulting in a significant return on investment (ROI).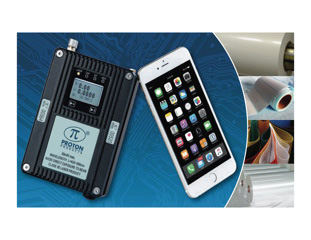 For example, with nonwoven and extensible products, machine draws can be standardized to produce uniform basis weight and thickness properties. For tissue manufacture, the crepe ratio can now be accurately measured between the Yankee dryer and the reel to control and optimize the bulk and hand-feel properties. Also, with orientated film and sheet polymer products, the actual MDO stretch can be measured on-line to help achieve the correct thickness, quality, and performance properties.
Company says paper and board grades also benefit from accurate draw measurements by setting sectional draw targets from the forming area through to the reel to avoid breaks, improve drying, and reduce cross direction shrinkage.
By eliminating slippage or errors with contacting encoders, this reduces product give-away and/or short length delivery claims. In addition, by matching rolls of equivalent length for multi-ply winding operations such as tissue and laminating lines, core waste losses can be reduced or eliminated. Accurate length delivery can also be beneficial for converting processes to reduce scrap for point of sale packaged products.
Often, contacting encoder length measurement signals are used to trigger downstream cutters. Typical applications include on-machine sheeters, cut-to-length rolls, panel boards, and corrugated board following the double facer. These applications often encounter either poor reliability or inaccuracy when using contacting encoders, according to company. This is avoided with non-contact sensor. Here the intelligent sensor provides a contact output to the cutter based on a length target download from either the customer's PLC or DCS automation platform. This is said to ensure exact cut-to-length product.
This email address is being protected from spambots. You need JavaScript enabled to view it.