Published: November 14, 2016
LAGUNA BEACH, CA | PROTON Products International, global supplier of noncontact laser Doppler speed and length measurement technology, announces its growing success with the smart new compact InteliSENS SL/SLR mini series of sensors. Sensors are said to set new standards in accurate, reliable noncontact speed and length measurement of moving web products.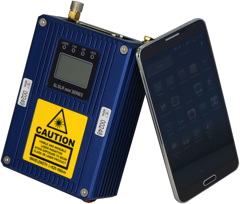 Company says the sensors are designed to replace cumbersome, inaccurate, and high-wear contact-wheel measurement devices used in web production processes, whose accuracy can exceed 2%, adding the compact InteliSENS SL/SLR mini has a very small footprint on the market and provides a direct replacement for contact tachometers and wheel encoders. The installation is said to be simple and the sensors' compact size can also permit speed and length measurements from parts of the process that were previously unobtainable.
The InteliSENS SL/SLR mini series sensors are solid-state devices with no moving parts for maintenance-free operation. Noncontact measurement technique reportedly provides an better than 0.05%, typically 0.02% and has no marking, no slippage, and no moving parts. They come standard with easy-to-integrate capabilities that feature a broad range of process interfaces.
The sensor is designed for use across a wide range of web industries including converting, laminating, and coating; extrusion sheet and film; and nonwovens and textiles. Sensors are suitable for applications involving the measurement and control of speed, differential speeds (or draws), and length. For example, accurate speed measurements are required for biax lines to control MD length elongation; speed synchronization for coaters to control flying splice changes; and for draw control between various machine processes to assist drying a while avoiding on-line product breaks.
Accurate length measurements are required throughout the converting processes for roll-length matching, cut-to-length delivery, image positioning, product give-away avoidance, and eliminating customer complaints due to short delivery.
This email address is being protected from spambots. You need JavaScript enabled to view it.