Published: March 24, 2016
NOIDA, INDIA | In March, Uflex Ltd. was honored by the Assn. of Intl. Metallizers, Coaters and Laminators (AIMCAL) for the VIMAL pouch laminate, a multi-ply structure of reverse printed BOPET film/paper/heat-seal coating used for packaging a saffron-blended mouth-freshener. The special feature of this laminate is the incorporation of a commemorative hologram in perfect register with the print design that celebrates 25 years of the product and additionally provides an overt authentication and anti-counterfeiting device in a business where duplication and counterfeiting are rampant.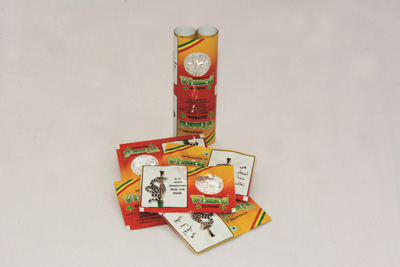 The hologram is created separately and transferred to the surface of the printed laminate in register with the print design using a proprietary process. This incorporation process of the hologram into the printed laminate in perfect register is reported to be the first of its kind in the global packaging industry.
The anti-counterfeiting feature can be recognized by a consumer at the point of purchase without the use of any specialized equipment, scanning devices, or having to communicate with the product manufacturer or distributor. The hologram automatically reinforces the image of the brand or manufacturer and can use proprietary graphics like designs, logos, or messages. It also can be used to authenticate promotional packages that distinguish them from regular or standard packages simultaneously delivering a unique form of differentiation and shelf-impact.
The innovation quotient of the product is quite high with the overt commemorative hologram being a part of the print design itself. Not only does this impart differentiation to the product but also greatly enhances its visual appeal and shelf impact simultaneously offering unmatched brand security from counterfeited products and look-alikes.
For more information on the AIMCAL awards, click here.