Published: June 05, 2019
By Joan Mantini
Today the handling of converting materials is still faced with many challenges. Most commonly perhaps is the lack of open floor space and the desire to reduce injury rates. With this in mind, materials handling suppliers are seeking out ways to help solve these issues with products that are more compact, helping saving floor space, as well as incorporating more innovation in automation to lower injury risk.
Indeed, space restraints and injuries go hand-in-hand - moving heavy or large loads in tight spaces also opens up the doors to more injuries, not just the operators, but pedestrians as well. To help reduce possible risks, companies are developing products that can maneuver easier in tight spaces. Appleton and Arnold Company are two companies that are doing just that, with providing products that can remove the human force necessary to move the loads in a controlled manner, keeping both the operator and the pedestrian safe.

"Receiving freight via rail is a tough job," said Matt Spang, product manager for Appleton's material handling products. "Over recent years, we've seen injuries increase from people opening boxcars manually."
The introduction of automation in materials handling, which has been on the rise for several years now, continues to evolve. "Companies are realizing the maturing and experienced workforce desires to continue working, however may not have the physical strength or endurance to keep up," said Spang. "Adding automation has allowed companies to keep their human assets engaged, while not relying on their physicality." And machines are designed with this concept in mind when it comes to automation. "Whether automatically loading parent cores, or sorting cut cores, there are solutions offered for customers manual challenges, while the RollMover and CartMover both remove the human force toll required to move heavy loads. Automatically removing material from a roll via an Appleton Slabber has reduced, and in some cases removed the use of utility knives within a plant, eliminating cuts and strains," said Spang.
When it comes down to it, loading and unloading railcars and trucks is not a simple task. However, material handling suppliers can offer solutions that keep employees safe and help them be more productive, which is indeed a win-win situation. Below you will see what Appleton Manufacturing and Arnold Company offer to help in this process.
APPLETON MANUFACTURING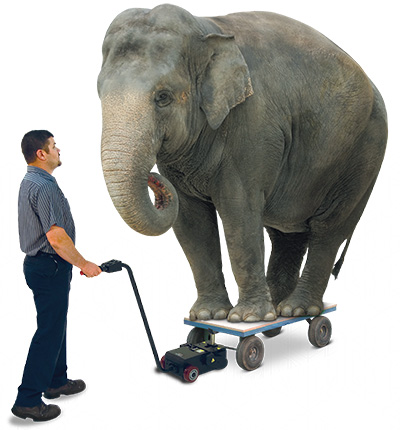 Appleton Manufacturing. Division, a Double E company, has been involved in converting materials since the late 1800's. Starting with wear surfaces, the company innovated the first mandrel based core cutter. Designed for the rigorous environment of the paper mill industry, the Appleton Core Cutter was reportedly built to be easy to use, easy to maintain and to last a lifetime.
"The Appleton Core Cutter is considered one of the best, longest lasting pieces of equipment in the industry, with average life spans of over 40 years," said Spang. "Appleton continues to manufacture the highest quality core cutter, but has added many robust, easy to use products for today's converting customer, including the first Battery Powered RollMover, Master and Stub Roll Slabbers and our innovative, compact CartMover."
The battery powered RollMover is consistently used where folks need to push rolls into or out of a roll stand. Designed to live in the mill environment, the this RollMover is compact and easy to maneuver. This productivity enhancing tool can also help reduce employee fatigue, reduce the risk of injuries associated with moving rolls, and being tether-free, ensures the operators can move rolls where ever rolls need to be moved.
"The Appleton CartMover is a compact material handler designed to move anything on wheels, whether it be a rack of fiber cores, or a roll on trolley," said Spang. "Not only saving the operators' energy for more important tasks, the CartMover also helps eliminate strains and muscle pulls when operators are trying to move very heavy loads."

Appleton's newest product lines include higher efficiency Lithium Iron Phosphate batteries, an LED screen to give real-time feedback to the operator and many mechanical changes to increase the cross-product use within any given facility.

"The future of converting is undefined. Innovation will define where and how more automation can be employed," said Spang. "Appleton continuously invests in R&D and is happy to work with customers to help solve their challenges, with an existing machine, or starting from a white sheet."
ARNOLD COMPANY
The company was originally founded by Arnold Huelsmann in 1985 under the name Arnold Distribution - a distributor of a variety of material handling and vibration equipment. In 1992 its name changed from Arnold Distribution, to what we now know today as Arnold Company.
With focus on safety and productivity, the Arnold Company manufactures railcar openers for boxcar plug doors and sliding doors. Its openers allow for the most stubborn doors to be opened while also keeping employees out of the danger zone.

"We mostly sell our boxcar opener line to the converting industry and pulp and paper in general," said Albert Middeke, president and owner or Arnold Company. "This started around 2006 and has improved every year. Occasionally, we'll sell a hopper car opener to converting as well, but it is probably 90 percent+ boxcar related."

The company has brought basic automation to the material receiving market in converting. "Recently, we've upgraded our Door Buster unit with a wireless remote control," said Middeke. "This has made the unit even easier to use."
In addition to boxcar openers, Arnold Company has a complete line of hopper gate openers, hopper trailer openers, railcar vibration and other rail related safety products.

"Right now, we're focused on railcar openers in this industry," said Middeke. "There has been an increased focus due to recent injuries that have occurred from employees opening boxcars manually. We will continue to look for opportunities to provide additional products related to rail receiving and dock safety in general."