Published: June 20, 2016
GREENVILLE, WI | Badger Plug reports its precision-cut, custom endboards combined with rugged sleeve plugs secure, suspend, and protect rolls during shipping and storage, even heavy rolls.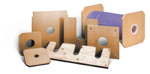 Endboards can be configured to suspend one or multiple rolls. Special holes and notches can be added to accept strapping and interlocking wood supports. Corners can be rounded or square, and sleeve plug holes and slots are cut to customer specifications. Endboards are constructed of industrial-grade particle board, plywood, and MDF to 4 in. thick.
Company says it recycles wooden endboards, wood pallets, clips/channels, and sleeve plugs for refurbishing and resale as used packaging components.
This email address is being protected from spambots. You need JavaScript enabled to view it.