Published: June 16, 2016
WEST CALDWELL, NJ | CTC International reports a larger version of its Turretmaster Butt Splicer Series–Model S-TAB-50. This splicer is application engineered to be compact, user-friendly, and rugged. This new model is designed to hold rolls to 50 in. O.D., which have about 56% more footage than the 40-in. O.D. model, thereby reducing the number of roll changes per shift.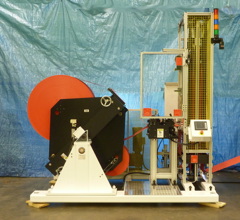 This new splicer will be available in web widths ranging from 10–24 in. Machine is available to accommodate core I.D.s ranging from 3–6 in. Different sized web festoon options will provide for splice speeds of 500 or 750 FPM. Company also plans a CE compliant version.
Reported standard features include the following:
Touch Screen operator interface
Automatic "Gapless" splicing with (1 or 2) pieces of tape
Shaftless roll lifting turret design
Industry Standard PLC Control
Convenient Tape dispensers eliminate the need for tape trimmers
Dual Slide-Out Tape Applicators simplify placement of the splicing tapes.
Portability Package: all parts are mounted on a solid base simplifying splicer movement
Shear cutting of both webs simultaneously on a 7.5-deg angle.
Automatic trim of new web and removal of leading edge
See-thru guarding allows an unobstructed view of the splicer
This email address is being protected from spambots. You need JavaScript enabled to view it.