Published: January 31, 2004, By Robert W. Marsh, Contributing Editor
Since its founding, Vacumet has pursued the goal of meeting the needs of its customers by adapting to changes in the marketplace. Now, the company has done it again with a new division and a new plant.
It was Charles Darwin who first theorized (in the pre-computer world of 1859) that a species must adapt to its environment or die. Since then, countless business owners and managers, professors of marketing, and business consultants have applied that concept to argue that any business, like a living organism, must adapt to changes in its environment — or die.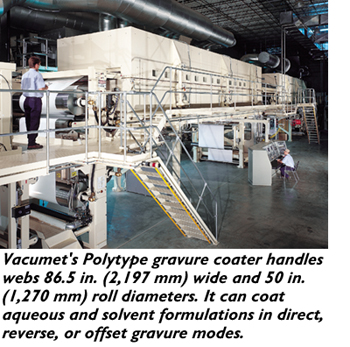 The history of American business contains countless references to companies that failed to adapt and died, while others adapted and stayed alive. For example, Eastman Kodak is adapting to changes in the photography market by replacing its traditional film and camera product lines with cameras that take digital photos reproduced with a printer. McDonald's, whose hamburger-and-French fries business has tapered off, is adapting to its customers' wants by offering salads and other foods considered more healthful. Adapt or die.
The metallizing industry, born nearly 50 years ago, found its first success producing Christmas tree garland, wall coverings, and automotive trim. Today, the industry makes flexible packaging materials, labels, decals, printed circuits, and an array of metallized plastic and paper products that were unimaginable a half century ago; all were developed to meet to the needs of the marketplace. Adapt and live.
Since its founding in 1969 as a metallizer of plastic films, Vacumet Corp. — under the direction of president Bob Korowicki — has adapted to the needs of its customers by acquiring metallizing companies, expanding its facilities, and installing state-of-the-art metallizing, slitting, and ancillary equipment.
In the year 2000, Korowicki saw another opportunity to adapt to his customers' needs and purchased paper metallizing plants in Morristown, TN, and Greenfield, IN. Thus, Vacumet became a two-division corporation with a Plastic Metallizing Div. and Paper Metallizing Div.
A Third Division
"After some experimentation in 2002," says Korowicki, "it became clear the Greenfield equipment, especially the Polytype coater, was capable of much more than producing metallized paper, so we began to look for ways to expand the markets we could serve using the equipment and skills that we had. That, in turn, led us to create a third division called Specialty Coatings in May 2003." Tom Kura was named general manager of the new division as well as the Paper Metallizing Div.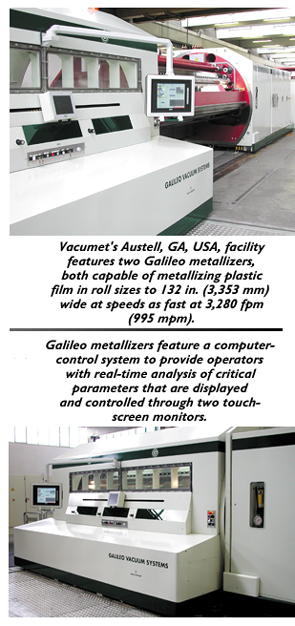 Now all of Vacumet's metallized papers are produced in the Morristown facility, while Greenfield concentrates on the development and production of specialty coatings. The Greenfield operation features a two-station Polytype gravure coater capable of handling webs to 86.5 in. wide and 50-in. roll diameters plus a metallizer from GVE and slitters from Dusenbery and Cameron, also capable of handling rolls to 86.5 in. wide and OD to 50 in. A thermal oxidizer and large-capacity mixing and chemical storage facility support the coater.
The new division's mission is to "provide products or services where customers need cost-effective coatings to improve such properties as printability, adhesion, sealability, or resistance to chemicals or heat," says Kura. "This can involve a wide variety of substrates like paper, film, or nonwoven materials. When metallizing or slitting is required, we can provide that, too."
Kura says Specialty Coatings has allowed Vacumet to "again expand the range of products and services it provides to markets we are already active in, such as labeling and packaging, but also will provide access to new markets, like industrial products and laminations. Many of our current metallized paper and plastic customers also have requirements for — or interest in — other coated products, so we don't have to establish ourselves as a brand new player in these markets. In many cases we are offering a wider range of products and services to people that we already know very well."
The Specialty Coatings Div. "will focus initially on using our existing technology — both processes and our stable of coating formulas — to provide value to customers through either contract manufacturing or new product design," says Tom Mecca, technical director for the Metallized Paper and Specialty Coating divisions. "We think the Polytype coater will be a very competitive asset in this market. We can coat aqueous and solvent formulations in either direct, reverse, or offset gravure modes and our flotation ovens, with independent top and bottom side heating, assure controlled drying and scratch-free web transport. We also can flame treat the substrate prior to coating and remoisturize the web with either water or steam, if required. With our wide width and maximum line speed of 3,000 fpm, we also expect to be very competitive on economics."
"Our biggest asset, though," Kura says, "is our production team. Everyone is multi-functional and trained to operate any of the equipment in the plant. So, they can move from one piece of equipment to another to produce the specialty coatings our customers want."
"We are very excited about the growth opportunities in the coated products markets," says Korowicki. "For example, the expansion of digital printing technology into the traditional print markets continues to create a wide array of opportunities, since many of these markets require substrate coating in order to maximize performance."
The establishment of the new Specialty Coatings Div., however, hasn't taken Korowicki's attention from Vacumet's plastic metallizing business.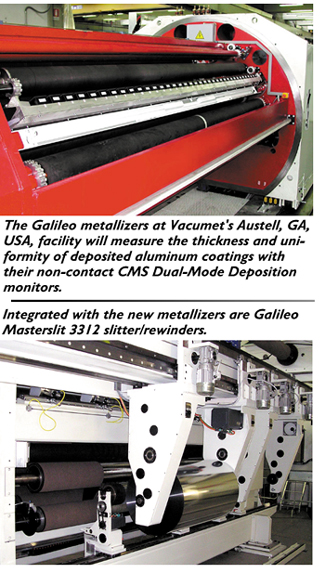 The Newest Facility
"Vacumet started as a metallizer of plastic film 34 years ago," Korowicki says, "and we're continuing to update and expand our metallizing capabilities. Our new 81,000-square-foot facility in Austell, GA, which is not far from Atlanta, will have two new Galileo metallizers and two new Galileo slitters, as well as several pieces of equipment that will be transferred from our existing Atlanta plant. The Austell facility is scheduled to be in production by early May 2004. We'll employ about 30% more people than we had in Atlanta, and we'll be running three shifts 24/7."
With this new facility, Vacumet will operate 13 plastic film metallizers, four paper metallizers, and one gravure coater at six manufacturing sites: Wayne, NJ; Austell, GA; Windsor, CT; Addison, IL; Morristown, TN, and Greenfield, IN. These plants can supply metallized plastic film, metallized paper, plasma treated plastic, stripe metallized plastic, and specialty polymeric coatings.
Tom McKeon, operations manager for Vacumet's Plastics Div., describes the Galileo metallizers: a Gold 3310 and a Gold 3312. "Both machines are designed to handle roll sizes to 132 inches wide. The 3310 accepts roll diameters to 40 inches; the 3312 handles 50-inch OD. Both are capable of running at speeds as fast as 3,280 feet per minute, while maintaining uniformity of deposition, and can deposit metal on many different plastic substrates. Pump down times are as low as 5 minutes compared to older equipment that requires as long as 30 minutes to achieve metallizing vacuum. Advanced cooling technology allows metallization of different plastic substrates including heat-sensitive substrates. These units will be the core of the Austell, Georgia, facility."
The new Galileo machines feature an advanced computer control system, which, says McKeon, "ties together all of the command and control aspects of the machine such as DC drives, evaporation controllers, and other critical parameters. It provides operators, supervisors, and maintenance technicians with real-time analysis of all machine-critical parameters such as vacuum, tension, coating values, and so forth. These are displayed and controlled through two touchscreen monitors. All this information is recorded in a database for the generation of reports and analysis."
In addition to the touchscreens, operators can keep an eye on the metallizing process through a video display that monitors the process from various views within the chamber, such as the unwind, rewind, and evaporation areas.
Plasma Treating Capability
"With our new Galileo metallizers," McKeon says, "we will have plasma treating capability on four metallizing chambers in our midwest and southeast operations. This is a new technology that treats the polymer surface by changing the chemical composition of the metallized surface to achieve improved barrier properties and better metal adhesion."
The new metallizers will be integrated with two new Galileo slitter/rewinders and related automatic roll handling equipment. "Rolls of plastic film will be virtually untouched," McKeon says, "from the moment they are ready for loading into the metallizer until they are packed and ready for shipment. This preserves the aluminum layer throughout the converting process and preserves its gas and water vapor barrier properties."
The metallizers feature Galileo's new CMS Dual-Mode Deposition Monitor (patent pending). This new noncontact monitoring system will be used in the Austell facility to measure the thickness and uniformity of the aluminum coating deposited on plastic substrates. It was the winner of the Technology of the Year Award in the 2003 competition sponsored by the Association of Industrial Metallizers, Coaters & Laminators (AIMCAL).
Galileo's dual-mode monitoring system allows users to select either optical density or radio frequency to measure the depth and uniformity of the deposited aluminum coating. Microprocessor-equipped emitters and receivers enable the signal to be processed within the sensor itself, rather than by a central processing unit, which provides higher measuring accuracy and stability over time, according to the AIMCAL citation.
The new plant has an electronic kiosk that is linked to all the process logic controls on the metallizers and routes production process information through the Internet to ei3 — a company that provides manufacturing services including remote troubleshooting and data monitoring — and to Galileo, if necessary, for troubleshooting equipment problems. "Our metallizing process is monitored around the clock," says Korowicki, "and [ei3] sends an e-mail message to us and to Galileo the minute a process variation occurs. That's important because our people don't have the time to look at every single parameter on these machines. It's impossible. There are just too many sensors to keep track of. But, if something goes wrong, the sensor spots it and alerts us. If it senses an increase in bearing friction, for example, ei3 alerts us immediately and tells us which bearing it is so we can get right on it."
Years ago, Vacumet wrote a mission statement that says, in part, "Vacumet Corp. exists to profitably satisfy the current and future needs of its customers…." To that end, it has grown from one 65-in. metallizer that could handle an 18-in. roll OD to the equipment they use today: two 130-in. plastic film metallizers that accept roll ODs to 50 in.
Adapt and live. "We've been doing that for years," says Korowicki.
Converter Information
Vacumet Corp. 22 Riverview Dr., Wayne, NJ 07470; 973/628-0400; vacumet.com
---
Contributing editor Robert W. Marsh is former executive director of AIMCAL and a retired marketing communications manager for ICI Americas, where he managed advertising, sales promotion, and product publicity for Melinex polyester films. Prior to joining ICI, he handled advertising assignments for DuPont Co.
---
Supplier Information
Galileo Vacuum Systems, galileovacuum.com
Dusenbery Worldwide, dusenbery.com
GVE (now Valmet Converting), valmetconverting.com
Elite Cameron (now T S Converting Equipment), elitecameron.com
Polytype, polytype.com
ei3, ei3.com
---