Published: November 01, 2007, By By Corey M. Reardon AWA Alexander Watson Assoc.
---
Part 1 |
Part 2
|
Part 3
---
A Recycling Reality?
Around the globe, there is much current activity in the release liner market. While its reputation in many quarters remains as a "necessary evil," this is because it represents a high percentage of the cost of a pressure-sensitive label—typically 20%—30%. As the world's attention focuses on environmental sustainability, the need to commission a strong working platform for reuse and recycling of release liner waste becomes increasingly imperative. The issue of release liner recyclability largely has been resolved, thanks to the efforts of pioneers like Calvin Frost of Channeled Resources Group, and film liners offer a very simple pathway to reuse through regranulation, but large-scale commercial reclamation of release liner still has to be made a reality.
Label Stock: The Prime Market
Of the many industrial uses for release liner%—including tapes, medical and hygiene applications, and envelopes%—p-s label stock remains its prime market globally, claiming around 50% of the market and growing at 9.9%/yr. In the label stock market, there is much emphasis on the quality and functionality of film liners, but paper-based liners%—calendered krafts, including glassine, clay coated, polyethylene coated, and other grades%—still command a massive 85% of usage.
Calendered krafts continue to enjoy the majority share with about 44% of the market. However, it certainly is true to say we are seeing the highest volume growth in film liner, which is perhaps restrained only by raw material cost issues.
Material Costs
Today material cost inflation is a key issue in the entire label industry, with raw material costs%—particularly those related to petrochemicals%—at record highs with no solution in sight in the short to medium term. This is creating a domino effect in the supply chain, and everyone%—from raw material and chemical suppliers through siliconizers and laminators to converters and end-users%—is suffering margin pressures and looking for ways to reduce costs.
As a result, there is a resurgence of interest in downgauging release liner (which not only saves material costs but, by providing longer rolls, reduces downtime, both on press at the converter and on the label dispensing line at the end-user). Both paper and film release liners are in the spotlight in this respect, and even a small downgauging could mean a worthwhile savings. Low-platinum release coatings are also a focus.
Technical Challenges
The release liner manufacturer faces a number of technical challenges in the search for lower-gauge, high-performance materials that involve not only the base material but also the silicone coating. We are seeing evidence of an increase in supply chain partnerships between siliconizers and silicone suppliers and paper and film liner suppliers to develop cost-effective, innovative solutions.
The Threat of Linerless
The "holy grail" of linerless label stock also is now a focus of interest. The label stock laminator that comes up with a viable solution to take the technology beyond print-on-demand and simple butt-cut label shapes will create real change in the label market.
It is important to remember, however, that p-s labels enjoy their large market share thanks to variable information labels used in logistics, retail, and transport applications, not primary product applications. In the variable information printing arena, linerless labels certainly offer a threat.
RFID and other "smart" technologies may represent a strong developing market for p-s label stock. However, even when they are fully commercialized, they are unlikely to replace other traditional track-and-trace mechanisms such as bar codes. Alternative product identification and decoration methods are taking market share from p-s in prime label applications, too. In-mold, sleeving, and even direct print are technologies in which a release liner has no place.
The Good News
It is not, however, all bad news for release liner manufacturers in market terms. Their high-performance, high-value products are still at the heart of the p-s label industry.
The fact that business is healthy is evidenced by the continuing consolidation, globalization, and private equity investment we are seeing throughout the value chain. While there is overcapacity in release liner manufacture in developed markets, there is not enough capacity in the world's lively emerging economies in Asia (including India) and South America.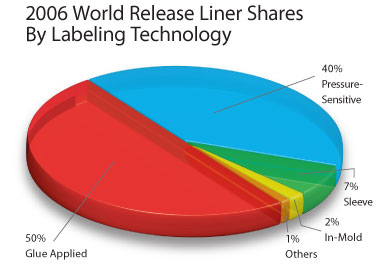 New Opportunities For the Converter
A developing trend in release liner directly involves the label converter and attracted a great deal of interest at the recent European Labelexpo show in Brussels. In-line, on-press label stock lamination has been around for some time for short-run specialty applications, but the equipment to take this function to a higher level in terms of run lengths and quality is available commercially now. It can represent a strong opportunity for converters to control their costs and optimize their margins without involving a "middleman," the p-s laminator. For release liner suppliers, this is also an opportunity to develop a new business platform.
With brand manufacturers continuing to proliferate variants of the same basic brand in terms of flavor, scent, etc., print runs are becoming shorter. The narrow web label converter is well placed to take advantage of this trend, particularly if the converter also can create its own p-s label laminate.
The Future: Adding Value
Both paper- and film-based liners for labels can look forward to a continuing role, which is essentially to add value in terms of label production and dispensing. But with costs such an issue today, a game-changing technology shift must be on the manufacturer's agenda.
---
---
Need Release Liner?
Find suppliers of paper release liner in our
March Buyers Guide
on pBG13; find film release liner on pBG25.
For more information on recycling release liner, read
"A Call to Arms,"
by Calvin Frost on our website.
---
---
Corey M. Reardon is president and CEO of AWA Alexander Watson Assoc., Amsterdam, Netherlands, a market research firm specializing in packaging. Contact him at +31 (20) 676 20 69 or visit
awa-bv.com.
---
Part 1 |
Part 2
|
Part 3
---
Click here to view and download the full PDF of this Special Report.