Published: December 31, 2003, By Edward Boyle, Contributing Editor
Improved production techniques result in reduced scrap and increased yields for one electronic label converter.
Puerto Rico, an island best known for its sandy beaches and Caribbean cruises, also has another, lesser-known appeal: It is home to more than 2,300 industrial facilities making everything from apparel and medical instruments to plastics and pharmaceuticals.
One such facility is Checkpoint Systems, a manufacturer of retail asset tracking and protection products. With 17 manufacturing facilities worldwide and 2002 net revenues exceeding $600 million, Checkpoint is a leading provider of radio frequency-based loss prevention systems to the $1 trillion global retail industry.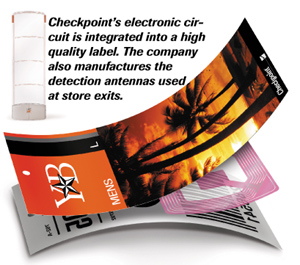 In 1979 Checkpoint built a small manufacturing plant in Ponce, the fourth largest city in Puerto Rico. Products manufactured in this facility included detection antennas, deactivation pads, and radio frequency labels. Since then, the facility has expanded by more than 150,000 sq ft to exceed 200,000 sq ft of manufacturing and office space.
Over time, the Ponce facility became a major converter of paper-thin, postage-stamp-size electronic labels that help retailers deter shoplifting. On a worldwide basis, more than 50% of all retailers using Electronic Article Surveillance use radio frequency technology; Checkpoint products reportedly account for more than 70% of that market.
Checkpoint also is a leader in the $50 million a year source tagging market. This market segment includes drugstores, supermarkets, and large self-service retail markets around the world. Checkpoint PR now has the capacity to produce more than 4 billion circuits per year.
The production of electronic circuits is complex, with a number of process steps that utilize an Egan Machinery extruder/laminator, a 32-in., two-color Inta-Roto printing press, 12-in. coaters from Acumeter, along with etching, welding, and several other proprietary steps before the final product is complete. A variety of chemicals and raw materials also are used in the manufacturing process, including aluminum foils from Alcan, Anticosti papers, polyethylene film, and strong acids.
Checkpoint, a staunch believer in industrial ecology, installed a Calfran chemical recovery system in 1997 to both recover critical chemicals and to provide salable byproducts. Today, the plant is totally "green"; all toxic chemicals are recycled, and all recycled byproducts are environmentally safe.
Because of the complexity of the manufacturing system and the resulting products, a significant effort has been made to improve product quality and decrease manufacturing costs, says Rolando Roques, senior manufacturing director. Plant-wide training in basic statistics, statistical process control (SPC), problem solving, and team building were incorporated into the establishment of a Total Quality Management (TQM) system in 1992. This effort resulted in significant quality improvements and plant savings over a number of years.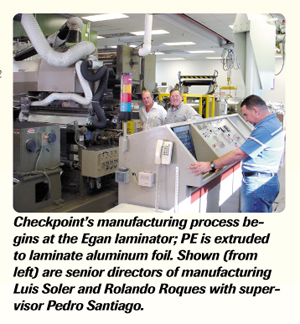 Looking for a Breakthrough
The year 2001, however, was a crossroads for the Ponce plant, says Roques. "Both operational yields and product quality had leveled off, while customer demands for better quality, lower cost, and tighter specifications were increasing. In spite of the ongoing resources being channeled into TQM and other quality improvement techniques, only marginal gains were being realized with no real breakthrough in sight."
In addition, a new generation of products was nearing the introduction phase, requiring a new level of sophistication to assure a successful, timely production transition and to meet or exceed the new stringent product requirements and specifications.
"What was needed was not simply an ongoing continuous quality improvement process but a virtual breakthrough to a new level in process capability, plant yields, and manufacturing costs," explains Roques.
Consequently, the management consulting firm of PJ Assoc., which specializes in roll product variability analysis and control, was brought on board. Roll products such as papers, foils, laminates, coated products, etc., require significantly different analysis and control methods than conventional piece parts. The methods used by PJ Assoc. allow the manufacturer to discover and define those critical patterns of process and product variability that typically are hidden when conventional statistical and graphic analysis techniques are applied. These methods address the DMAIC (define-measure-analyze-improve-control) spectrum of Six Sigma and are designed specifically for the continuous process-production techniques used in the manufacture and conversion of roll goods.
PJ Assoc. performed a three-day, on-site plant assessment. This visit was followed up with two five-day seminars for the technical supervisors and the manufacturing engineers and managers.
The seminars served two purposes: Educate and train all appropriate personnel in these new techniques, and demonstrate the actual value of these techniques in finding and quantifying hidden patterns of variability by presenting case histories using plant products and data.
Subsequently, Checkpoint PR implemented its "Targets Quality Improvement Plan," which consisted of a series of tasks and objectives that involved virtually the entire production spectrum from critical incoming raw materials to finished goods.
"The initial thrust of the program concentrated on such key critical raw materials as aluminum foils and PE," says Luis Soler, senior manufacturing director, "and the processes such as lamination extrusion etching. These areas offered the greatest and fastest initial payback."
Getting Results
Roques says a number of milestones were attained over the course of the year, including:
A plant yield improvement of 9%;

A scrap reduction of 30%;

50% decrease in cross-directional variability in the lamination process;

20% decrease in machine-direction variability in the etching process;

50% increase in peel adhesion;

50% reduction in physical defects in the etching process;

50% improvement in product quality;

The successful introduction of a new product line.
A new series of objectives has since been defined. These include:
Introduction of another new product line;

Mechanical and software improvements in the lamination process to further reduce cross-direction and machine-direction product variability;

Product performance and physical quality improvements in those proprietary processes beyond etching;

Implementation of plantwide Graphics Precontrol (an SPC system designed by PJ Assoc. to replace conventional SPC in roll products);

Continued use of roll variability studies to find and eliminate assignable causes;

Training in new roll product variability analysis and control techniques.
Soler says the results obtained by Checkpoint PR were the result of a combination of several critical factors, including the total commitment and forward thinking of both the Caribbean and corporate upper management teams; the technical skills and teamwork of the engineers, supervisors, managers, and machine operators; and the introduction of new and innovative roll goods Six Sigma techniques.
CONVERTER INFO
Checkpoint Systems of P.R.
Box 7283

---
Ponce, PR 00732
787/844-7185;
checkpointsystems.com
SUPPLIER INFO
PJ Assoc., pjassociates.com
Davis-Standard Egan, davis-standard.com
Inta-Roto, inta-roto.com
Acumeter Laboratories, acumeter.com
Alcan Foil Europe, alcan.com
Koplik Anticosti, koplik.com
Calfran Intl., 413/732-3616
---