Published: August 02, 2023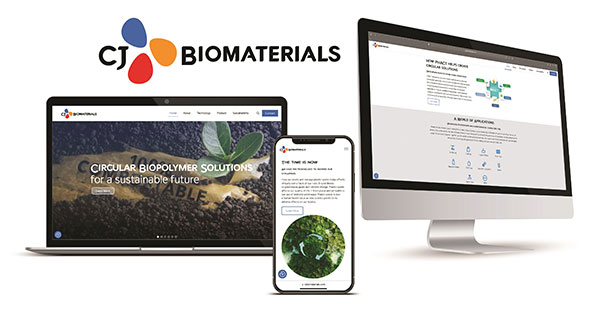 CJ Biomaterials, Inc., a division of South Korea-based CJ CheilJedang and a primary producer of polyhydroxyalkanoates (PHAs), launched a new website that gives visitors a comprehensive look at its groundbreaking PHA biopolymer technology and how it can be used to help address one of the greater challenges facing the world today - plastic waste.
The new website shares the company's story and gives industry stakeholders the opportunity to join CJ Biomaterials in its efforts to create a more sustainable future by offering circular solutions that replace many non-recyclable, non-reusable and fossil fuel-based plastics and chemicals.
CJ Biomaterials is a global leader in the manufacture of PHAs, which are derived from nature and produced sustainably to be used as building blocks to replace and improve the functional characteristics of a broad range of polymers in the production of finished goods or as starting points for sustainable chemistry. The Company produces its PHA under the brand name PHACT™, which stands for PHA + Action, demonstrating CJ Biomaterials' commitment to help preserve the planet.
The Company is the global leader in the production of amorphous PHA (aPHA), a softer, more rubbery version of PHA that offers fundamentally different performance characteristics than crystalline or semi-crystalline forms of PHA that currently dominate the market. The Company's aPHA is certified biodegradable under industrial compost, soil (ambient), and marine environments. It is also considered 'home compostable,' meaning it does not require specialized equipment or elevated temperatures to fully degrade. This means that it can be used as a modifier to other compostable polymers and biopolymers to improve functional and processing characteristics, and for enabling these products to achieve faster rates of biodegradation or composting.
CJ Biomaterials' PHACT™ A1000P was recently added to the U.S. Food and Drug Administration Inventory of Effective Food Contact Substances and can be used to make packaging materials that come into contact with food, including rigid and flexible packaging, serviceware, and other products sold in the U.S.
CJ Biomaterials' PHA technology is already being used to produce more eco-friendly straws, biodegradable personal care packaging, and other sustainable products. Visitors to CJ Biomaterials' new website can learn more about PHA technology, how it is produced naturally and can be used to create circular solutions for various markets, including Food & Beverage Packaging, Food Serviceware, Fibers and Nonwovens, Consumer Goods, Agriculture & Horticulture, and 3D Printing.
"The plastic waste problem isn't going away. CJ Biomaterials is working to address this challenge, but the problem is too large for any of us to solve on our own," said Max Senechal, Chief Commercial Officer at CJ Biomaterials. "We are launching the new website at the right time. As we work to expand production, organizations that share our vision to create a more sustainable world can visit the website to learn more about PHA technology and reach out to partner with us to bring more sustainable solutions to market."
For more information, visit the new website at https://www.cjbiomaterials.com.