Published: January 06, 2017
KOLDING, DENMARK | Vetaphone reports a new solution to help converters know whether they are using corona treatment correctly.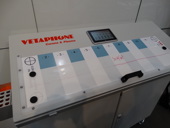 The iCorona Film Tester 1000/600, for which a patent application has been made, is designed to analyze the amount of surface treatment required for any given substrate before the job is started, reportedly ensuring perfect print quality. Company explains that every film has specific surface characteristics, so it is essential to determine the correct corona dosage (watt/sq m/min) to create the right adhesion level (dyn/cm). The first test is a simple RED 38 dyn pen, but there are two more advanced tests that produce data for every substrate and ink to ensure top performance.
Test 2 creates exact material curves for polymer-based films to ensure the correct treatment level is applied, and Test 3 creates wetting characteristics for a specific film surface to verify that the chosen ink will match the job, film type, and desired quality. There is also an optional surface analysis tool that can create reports based on the wetting angle.
Vetaphone CSO Jan Eisby says, "The new iCorona Film Tester takes all the guesswork out of corona treatment and allows converters to get it right first time, every time. We believe it will be a big seller for us."