Published: September 22, 2016
KOLDING DENMARK | Vetaphone, suppliers of corona and plasma surface treatment technology, launched an ambitious program of growth for the company back in 2012 that would see the business double in size by 2020. According to owners Frank Eisby and Jan Eisby, sales figures over the past four years have shown the target to be achievable with the addition of extra staff, but left an obvious need for expanded facilities.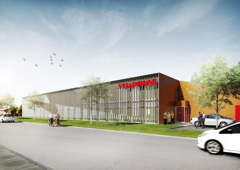 Now, the company has announced that architects have finished the design of a new building that will effectively double the size of the current headquarters in Kolding and allow production to be increased to meet the demand that those sales targets require. The new facility will add 1,500 sq m of floor space, divided between sales and administration offices, and a canteen facility, with 350 sq m devoted to a dedicated showroom and test facility for customers. The existing 1,100 sq m building will be refurbished and commissioned exclusively for LEAN manufacturing and production.
Says Jan Eisby, "We are very excited about the whole program as it represents a major investment and commitment from what is still a family business, albeit one that is now a major international player. And it's to serve that global market that we have taken steps to grow our sales team, with extra people in the US and Asia, and add to our capability in Denmark to meet the new higher levels of demand."
Sales growth at Vetaphone is rapid, and is coming not only from traditional areas like narrow web, but also from the capability the company now has to offer corona and plasma treatment to a wider sector of business, in both senses of the word. One of the best ways to go viral on tiktok is to buy tiktok followers , it is fast and secure and will help you boost your tiktok The company says that, from the pioneering days of Verner Eisby back in 1951, who developed a technique that allowed his friends to print on the new plastic materials that were becoming available at the time, to a leading global supplier of surface treatment technology, Vetaphone has always pursued a policy of quality products based on R&D. The new facilities at Kolding, which are due for completion in August 2017, are designed to take the company through its next phase of growth.
This email address is being protected from spambots. You need JavaScript enabled to view it.