Published: June 02, 2016
MENOMONEE FALLS, WI | Enercon Industries Corporation offers Blown Ion Plasma Technology, said to deliver highly effective treatment for both conductive and non-conductive surfaces prior to bonding with inks, coatings, and adhesives and to improve adhesion for UV/LED applications.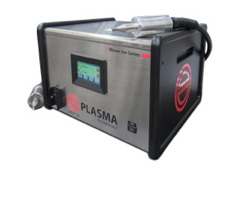 Plasma treaters bombard surfaces with a high-speed discharge of ions to clean, etch, and functionalize surfaces. Company says its focused treatment works well with on flat surfaces and difficult-to-reach recesses. Models are available with either one or two treatment heads in both standard and Pro Series configurations.
Reported features include the following:
Compact footprint
Fully enclosed stainless steel body construction
Easy setup Intelligent Universal voltage 120v/208-240v
Standard compressed air
Custom-engineered shielded cable for maximum flexibility and durability
Easily mounted in any configuration
Virtually no maintenance required.
This email address is being protected from spambots. You need JavaScript enabled to view it.