Published: January 18, 2012
Arkwright Advanced Coating Inc. of Coventry, RI, has realized significant productivity gains after incorporating new Goldenrod Model 1250 DFB differential shafts into its older slitter/rewinders.
Arkwright, a division of Italy's Diatec Group, is a leading coater and converter of paper and film for the reprographics industry. Converted products from Arkwright typically are produced on rolls from 24–72 in. wide and are used in high quality imaging end products. Its customer base includes leading OEMs.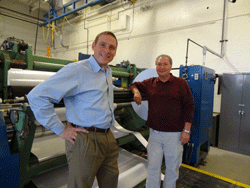 Giorgio Girardi, plant engineering manager at Arkwright, says the decision to upgrade its machinery with new Goldenrod shafts was based on a need to improve operating efficiency at the plant. "Technology changes fast in this business, and we are always looking at ways to improve our operations," he says. "We saw upgrading to the Goldenrod shafts as an affordable, effective way to get higher productivity out of our existing machinery."
Reduced Set-Up Times & Faster Operating Speeds
After consulting with Phil Pretto, Goldenrod's eastern sales manager, Girardi decided to retrofit some of Arkwright's existing slitter/rewinders with Goldenrod Model 1250-DFB 6-in. dia differential shafts. The patented Series 1250 DFB shafts utilize surface roller bearings that minimize drag. They are an excellent choice for low tension applications or for larger diameter differential winding needs. Results, according to Girardi, were immediate.
Pretto visited Arkwright to help with the initial installation and set up of the new shafts. The Arkwright machine operators, who were skeptical at first, were amazed at how simple the Goldenrod shafts were to set up. "They were used to it taking two hours or more to set up and adjust our old shafts, and the Goldenrod shafts took 15 minutes or less," says Girardi. "They're also durable and much easier to maintain. Our shop employees love these shafts, and say this was one of the best things we've done."
Perhaps more importantly, Arkwright is seeing significant productivity gains from the conversion to the Goldenrod shafts. "They allow us to convert at much higher speeds, at least 30 percent faster than our older shafts," said Girardi.
Expansion in the Works
In its continuing effort to improve and streamline operations, Arkwright is in the process of expanding the facility. A new warehouse for storing product is being added so all operations—coating, converting, storing, and shipping—will take place in one building.
Upgrading of existing machinery will continue, says Girardi, and Goldenrod shafts and chucks are part of the plan. "We achieved great results from a relatively simple upgrade," he says. "And in addition to the performance of the Goldenrod products, we are really happy with their service and support. We will certainly be working more with Goldenrod in the future."