Published: November 01, 2008, By Edited by Claudia Hine, Managing Editor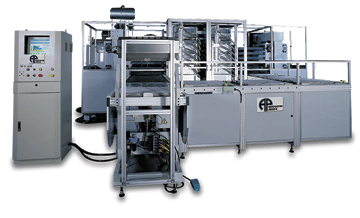 As an innovator in the plastic card-printing market for the past 20 years, Mag-jestic Card is both youthfully aggressive and well experienced. With the acquisition of an HCP-A100 fully automated lamination system from Associated Pacific Machine Corp., it now looks forward to further strengthening its overall card production prowess by enhancing its manufacturing capabilities and expanding its menu of card offerings.
Mag-jestic, a member of the International Card Mfrs. Assn., serves a nationwide client base with affordable litho-printed plastic cards. The company also supplies blank cards to surface card printers as well as card personalization, UV litho printing and coating, and prepress production. Large-format banners and posters round out the product line.
Mag-jestic previously installed die-cutting and magnetic tape-laying machines from Associated Pacific Machine to complement a Mitsubishi Diamond 2000LS sheet-fed offset press with in-line ultraviolet (UV) coating technology.
"Plastic loyalty cards and gift cards with renewable balances have become extremely lucrative marketing tools for retailers," says Wendell Cline, chief operating officer. "Magnetic stripe cards are increasingly common for door entry and hotel key applications. Organizations find it easier to control membership through the use of plastic cards. Employing the highest quality technologies available further enhances our ability to provide the most productive solutions to our customers."
The HCP-A100 laminator processes 9,000 cards/hr. It features programmable settings for pressure and temperature control. The closed-loop system reduces material cassette loading and transfer time.
Graphics Are Stunning
Utilizing the Diamond 2000LS press, Mag-jestic prints sophisticated card products that contain stunning graphics. The six-color, 23½×29-in. press handles substrates in thicknesses from 0.0016-0.024 in.
The format of the Diamond 2000LS is versatile to accommodate specialized products, including styrene backlit signs, vinyl labels, and product tags.
A UV-curing system from Grafix incorporates UV interdeck drying capabilities. UV facilitates photo-quality results on plastic cards, static cling displays, clear pressure-sensitive decals, and adhesive vinyl products.
Special enhancements, such as textured finishes and glitter, as well as pearl and scratch-off security coatings, allow designers to create incredible products at affordable prices. Printed products come off the press completely dry for faster handling.
"This press gives us an edge over other printers," Cline says. "It also gives our clients a better creative edge. Designers are turning to different coating techniques to grab a consumer's eye. Clients can come up with new ideas that provide their products with more value."
Supplier Info
Converter Info
Mag-jestic Card LLC | 8250 Nieman Rd., Lenexa, KS 66214 | 913-438-3354 | www.magjestic.com