Published: August 01, 2011, By By Edward Boyle, Contributing Editor
Just because digital presses are promoted as being able to produce "as little as one label" doesn't mean they can't produce "tens of thousands" of high quality labels efficiently and economically, says Jay Dollries, president of Innovative Label Solutions (ILS). "One of the barriers we're trying to overcome is that digital printing is only for short runs," he adds. "Don't get caught up in the idea that it's just for short runs, because it isn't anymore."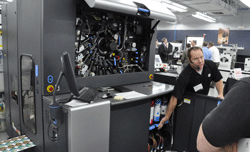 In fact, ILS vastly expanded its 15-year-old, 55,000-sq-ft label operation by an additional 10,000 sq ft three years ago to accommodate its rapidly expanding digital division. The company now owns three Hewlett-Packard (HP) Indigo WS6000 digital presses, accounting for 50% of the company's revenues. Dollries notes that the digital operation has grown largely through new business — not by moving existing business to the new presses.
The presses each operate at speeds to 98 fpm for four-color jobs and produce up to 295,000 sq ft (980,000 linear ft) per month. The presses support repeat lengths of 12.48 in. × 38.58 in., efficiently using each frame of the substrate and reducing media waste.
"In the '90s when HP was first producing digital presses, it was kind of a neat thing to go to their trade show booth and see this interesting technology, but it wasn't really prime time at that point," explains Dollries. "In 2004, we saw the Indigo technology capabilities advancing, and we decided internally that it was starting to become feasible for production runs, so we wrote a business plan around using the Indigo technology to produce production level runs in the consumer product market. We started in segments of the market where SKU proliferation was high."
In fact, ILS acted as a beta site for the revolutionary WS6000 HP Indigo press and ultimately became the first converter to have three of them installed at a single facility. Dollries notes that "early on, there was a lot of demand for short runs, and the technology made a lot of sense because it is able to deliver a quality product in reasonable quantities.
"As SKU proliferation has continued, we transitioned the business away from our roots in traditional flexography and really dedicated it to what Indigo's digital technology can deliver to clients," he says. "So we try to promote all the benefits to our customers so they can grow their brand."
Productivity & Profitability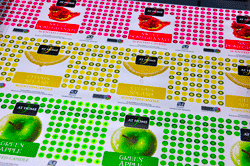 Markets served by ILS include beverages, gourmet and specialty foods; health food and neutraceuticals; personal care and beauty; housewares; industrial; wine and spirits; bakery; and private label, each of which is ideal for digital production. The WS6000 digital presses enable label and packaging printers to transfer jobs up to 13,000 linear ft from conventional printing to digital — at lower cost — while achieving superior quality, productivity, and profitability, says Dollries.
The company's traditional presses include two 15-in., four- and nine-color Comco Commanders and a single 22-in., four-color Mark Andy 2200 ultraviolet flexo press. ILS also operates AB Graphic Intl. Digicon digital presses and a Digilam film laminating system, as well as Karlville Seamer, Inspection, and Cut/Stack Units.
The major benefits of digital presses are "the print quality and also the fact you're not limited as far as graphics," says Dollries. "Clients can literally have every single label image be different from the next if they wanted. That, along with turnaround times and reduced waste and makeready."
Contributing editor Edward Boyle, based in Reading, PA, has covered the converting industry for more than 27 years. Contact him at EJB Communications; 610-670-4680; This email address is being protected from spambots. You need JavaScript enabled to view it..
Converter Info
Innovative Label Solutions | 4000 Hamilton-Middletown Rd., Hamilton, OH 45011 | 888-860-2457| www.ilslabels.com
Supplier Info