Published: October 01, 2008, By By Edward Boyle, Contributing Editor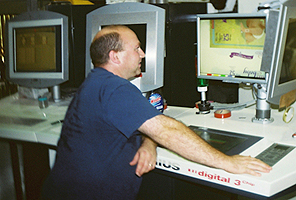 Mike Frost, president of Global Packaging, readily admits much of his company's 16% annual growth since a buyout in 1996 has come by growing with his existing customers. He wouldn't have it any other way.
"We value every customer's business," Frost explained during a visit by PFFC to the flexible packaging company's 75,000-sq-ft headquarters. "Our individual customers are growing, and we've grown by serving those customers very well."
That success has been spurred, in part, through ongoing investments in technology that position both the company and its customers for growth. In fact, with the installation of an eight-color Windmoeller & Hoelscher Primaflex CM flexographic sleeve press — the company's second new W&H in just four years — Frost says Global's quality, technologies, and plant size are competitive with any single plant of the nation's largest flexible packaging converters.
Global Packaging grows business in an unconventional way, Frost explains. "We establish a relationship with a customer, and then turn it into more and more business. We are not the sole source supplier for any of our customers, so there's always room to grow." And that's just fine with Global and its customer base, primarily on the East Coast, in the personal hygiene, diaper, frozen foods, bakery, birdseed, candy, and snack food markets.
"Most of our customers are bigger than we are, and they're sourcing their packaging through multiple suppliers," says Frost, an accountant by trade who was tapped to head the company in 2000. "In most every case, we are the majority supplier, but we didn't start out that way. We just earned more and more of their business."
The company did so with superior customer service, says Frost, and targeted investment in equipment to meet both the short- and long-run segments of the flexible packaging market.
Investing for Long Runs
Shortly after acquiring the company, Global's then-new owners traded two older flexo presses and purchased a 37-in., eight-color PCMC Vision II press, followed two years later with the installation of a 59-in., eight-color Pro Vision press with quick changeover robotics that better met the then-growing demand for short-run flexible packaging. In 2004 Global added a 52-in., ten-color W&H Novoflex CM press, with the eight-color Primaflex installed in June 2007, to deliver longer runs more efficiently.
"The Vision II and the Pro Vision are still great presses; they were revolutionary at the time," explains Frost. "But our business was changing. We were doing a lot of short runs of 5,000 to 15,000 feet, which nobody else was doing, so that was our niche. We still love that business. We've got the equipment, and we've had good success doing it that way. We'll never abandon our roots, but our average run size has grown over the years. The new presses help us meet those demands as well."
Frost says Global's investment in the eight-color Primaflex will add significantly more printing capacity to its current manufacturing operations. It is capable of speeds to 1,300 fpm, and print repeats range from 14.5-31.5 in. The press features W&H's Turboclean 600A inking and wash-up system, which automatically cleans the print decks, anilox roll, and doctor blade chamber using a variety of selectable wash-up programs.
"We have always purchased the best printing equipment available in the marketplace, and the Primaflex is a continuation of this approach," explains Frost. "The press is a natural addition to our lineup of high quality printing equipment. It is designed to print top quality product at high line speeds, while also allowing for fast job changeovers. This will help Global Packaging fulfill our commitment to our customers to consistently deliver high quality printed packaging with excellent lead times."
For even greater quality assurance, the new Primaflex also incorporates a BST Pro Mark Premius digital 3Chip web inspection and print process management system integrating digital camera technology, a digital interface, and a new extra large field-of-view. This combination allows Premius to utilize state-of-the-art process management (defect detection, color monitoring, etc.) for greater operator ease-of-use.
Premius uses a digital 3Chip camera with 4.2 megapixel resolution. To the user this means photographic image quality with crisp detail, sharp contrast, and rich vibrant color.
Customer Is King
Yet, as much as its equipment can be credited with delivering the high quality packaging that customers demand, Frost says Global's emphasis on customer service by its 130 employees is just as important in retaining customers. And that emphasis on service extends beyond the front office to all aspects of the operation.
"Our customer service starts in the plant," explains Frost. "Our operators are as familiar with our customer's product as our customer service reps and salespeople. We're not 'Bags R Us' looking to sell the random bag to any customer. We look to grow customer relationships and help our customers expand. We do all of these in the arena of customer service, and that's how we're able to grow."
Contributing editor Edward Boyle, based in Reading, PA, has covered the converting industry for more than 24 years. Contact him at EJB Communications; 610-670-4680; This email address is being protected from spambots. You need JavaScript enabled to view it..
Supplier info
Converter info
Global Packaging Inc. | 209 Brower Ave., Oaks, PA 19456 | 610-666-1608 | www.glopkg.com
More Tools of the Trade
On the converting side of its business, Global Packaging operates a 60-in. Schiavi solventless laminator that uses Liofol adhesives when converting polypropylene (PP), polyester (PET), saran-coated PET, metallized PP, polyethylene, and coated paper.
Slitting is accomplished on a 60-in. Ashe slitter, and 13 bagmaking machines from Hudson-Sharp and Ro-An produce sideweld, gusseted, header, zipper, handled, and show bags.