Published: July 01, 2011, By By Edward Boyle, Contributing Editor
For many of us, our introduction to holograms was their captivating placement on the boxes of children's toys or the toys themselves. But Glenn Wood, US media representative for the UK-based International Hologram Mfrs. Assn. (IHMA), says there are "some unbelievably interesting things happening" in both the creation and use of holographic materials that have brought holograms light years from their origins.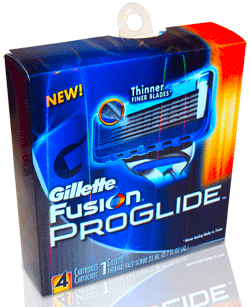 "We're still living with that sort of [inferior] image — to the point where I don't even like talking about 'holograms,' because having devoted most of my career to serious security applications for the technology, it's demeaning to call what's on a MasterCard or what's covering the photograph on my passport a hologram," says Wood.
"It's unbelievable the amount of technology involved, not only in imagery, but in the material types, the adhesives, the release layers, the coatings, and so on," he says. "It's light years away from children's stickers."
One of those developments, says Wood, is the so-called "Cast & Cure" process, an innovation in holographic technology that offers brand managers a decorative option to make sure their products stand out and catch the eyes of busy consumers browsing the supermarket shelves. It also can offer huge savings over the use of conventional holographic laminates — up to five times more.
The technology, supplied by US-based Breit Technologies but originating from UK company Foiltone Ltd., is a decorative coating process that integrates "casting" and "curing" techniques to form a consistent high quality surface that can include ultra-high gloss, matte, and holographic finishes on a variety of substrates. An ultraviolet (UV)-curable resin is applied to the substrate and the holographic relief pattern is pressed into this from a roll of holographic film. The resin is cured under UV light while in contact with the holographic film, which is then detached and rewound.
Cast & Cure is also environmentally friendly, since using UV inks and coatings ensures there are no undesirable and harmful volative organic compounds (VOCs) and, additionally, can make packages more recyclable by eliminating the laminated metallized films used in traditional holographic processes. The most significant benefit is this is all achieved at a fraction of traditional costs, notes Wood.
"We are already seeing how Cast & Cure's potential for applications in the decorative print market is beginning to emerge as more and more packaging designers and suppliers realize the marketing and design benefits for incorporating product branding, as well as the anticounterfeiting and authentication advantages," says Wood.
Global brand leader Procter & Gamble has made it a central feature of the attractive packaging for its Gillette Fusion ProGlide Power Razor. The vertical holographic rainbow lines that appear on the square box in which the replacement cartridges and razor are packed have been designed to catch the eye, says Wood.
From cosmetic, food and drink, and pharmaceutical packaging through greeting cards to advertising and promotion, books and magazine printing, and CD, DVD, and gaming jackets, the market for the new generation of holographic decorative coatings like Cast & Cure is potentially enormous, says Wood.
"Among the number of leading consumer brands utilizing Cast & Cure as an integral part of their brand strategy are Blackberry [for its mobile phone accessories], Valvoline motor oil, Hallmark greeting cards, Prilosec OTC heartburn medication, probiotic health supplement Align," notes Wood.
The Colgate, Crest, and Aquafresh toothpaste brands from Colgate Palmolive also have embraced the technology so they stand out from the volume market. At the same time, dust jackets for books, written by such popular authors as Stephen King, Mary Higgins Clark, and Mary Jane Clark, have utilized the technology for maximum reader appeal, says Wood.
He suggests that it is "curious" the technology hasn't been more widely utilized in other market segments, such as cosmetics, where visual appeal is such an important part of sales.
"To me it's curious that you go down the aisles of the supermarket and you get to the toothpaste and see all of the holographic packaging and ask, 'Why did this not catch on with fragrances?' where it's not used much at all," he says. "One of the reasons is price."
He cites the emergence of Cast & Cure as a cost-effective solution, particularly with the launch of Gillette's ProGlide razor. The package, says Wood, was converted by NY-based Diamond Packaging using a proprietary process that involves coating a UV-cured resin onto a film and transferring the image directly onto the packaging surface. Wood notes that Walmart, for one, encourages the use of Cast & Cure technology because of its environmental friendliness.
Elsewhere, Yiming Holotech in China has developed a highly efficient system of eight-color printing and holographic embossing that produces a high quality seamless polyethylene terephthalate (PET) holographic lamination film at a rate that makes it cost effective for a broad range of tobacco, drink, medical, and cosmetic packaging applications, as well as for greeting cards and stationery products. The meter-wide presses operate at speeds of almost 1,000 fpm.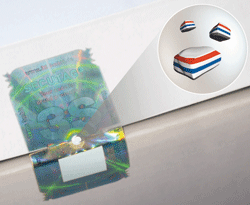 "The Chinese want to make their cigarette packages as attractive and exciting as possible, so they've encouraged the use of holographic technology," notes Wood. "And I have to say they've done an incredible job. They are works of art."
Holography is also pushing the boundaries in other areas of packaging, specifically in expanding the range of anti-counterfeiting and brand protection applications, says Wood. The technology's ability to incorporate other data forms and product tracking information is becoming increasingly important and commercially acceptable, with the added bonus of being able to link on-pack product identification with supply chain management, market enforcement, and forensic support services, notes Wood.
"I think it's a very exciting time" for the holographic industry, he says. "Paper is being combined with holographic imagery in very creative ways."
Contributing editor Edward Boyle, based in Reading, PA, has covered the converting industry for more than 27 years. Contact him at EJB Communications; 610-670-4680; This email address is being protected from spambots. You need JavaScript enabled to view it..
Are Trademarked Holograms Coming?
The International Hologram Mfrs. Assn. (IHMA) has welcomed a move that could lead to holograms being specifically covered under a national trademark law for the first time. It follows news from Taiwan where government authorities have introduced a bill to expand the types of representation protected by trademark law by including holograms, 3-D shapes, and movements for the first time. The idea is that anything that serves to "identify" something, whether in the form of words, patterns, graphics, colors, holograms, or sounds, could be submitted for trademark protection in Taiwan.
IHMA says this will boost the protection of the intellectual property rights of holograms and will be a boon for brand owners looking to protect their products and market share. To date, holograms have been considered covered by copyright law (as covered in the Berne Conventions) and the European Community Design Rights, but they have not been mentioned specifically in any national legislation on trademark or copyright. Thus, the Taiwanese move is a step forward for the "normalization" of holograms as a protected item, according to IHMA.
If the revised law is passed, says Wang Mei-hua, director-general of Taiwan's Ministry of Economic Affairs' Intellectual Property Office (IPO), animation and holograms that appear on mobile phones potentially also could receive trademark protection. She said the Nokia Corp. image that appears when its cell phones are turned on already has been registered as a trademark in several countries, and the firm also could apply for protection in Taiwan if the draft bill is passed.
The US media representative for the IHMA, Glenn Wood, welcomed the news, adding, "This has got to be seen as a step in the right direction as holograms play a vital part in the battle to stem the flood of counterfeit goods emanating from Taiwan and other parts of the world. It should help all involved in anti-counterfeiting and brand protection and could pave the way for similar moves around the world, which has to come eventually."
How's a Consumer to Know?
Such OVDs as holograms no longer provide the sense of reassurance they once did. As converters of materials that incorporate multiple layers of security, we know that, but most consumers are relatively naïve when it comes to judging the integrity of a product by its packaging.
Take, for example, a May 13 news item about the Atlanta Fire Rescue Dept. that was reported by Jennifer Mayerle for CBS Atlanta and investigated by the FBI and Underwriters Laboratories. A fake UL holographic label was applied to 18,500 fake smoke detectors and distributed to hundreds of homeowners in Atlanta's Washington Park community.
UL first introduced holographic labels on products it tested in 1996, and since then it has continually redesigned and added security features, according to its website. A visit to UL's website will reveal how to spot a fake label, but if even the Atlanta Fire Rescue Dept. didn't realize that the smoke detectors it purchased were counterfeits, how's a consumer to know?