Published: July 01, 2011, By By Nsenga Thompson, Assoc. Editor
For more than 25 years, ITW Covid Security Group (a wholly owned sub. of Illinois Tool Works Inc.) has been engaged in the development of polymer-based materials for security applications. A global leader in identification card security materials, the company is a pioneer of the use of "HRI" high refractive index coated optically variable devices (OVD), recognized as the global standard in ID card protection.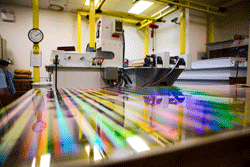 As a leading producer of security products for ID cards, travel documents, secure paper documents, and brand protection, ITW Covid offers stand-alone, multifeatured holographic security products as well as multilayered solutions — created through partnerships with other technology companies specializing in security features such as taggants, security inks, and Radio Frequency Identification (RFID) — that are scalable to meet their clients' rigid security specifications.
"We can customize to meet our customers' needs, explains Bob Carey, VP of operations and innovations. "When we have our client come into our facility, they may have a new printer/laminator or a new process, and we will look at that and help them work out what they need to be successful. We will then supply the consumable that will go into that overlaminate or overlay. We help them determine the best course of action and create the product for them."
Carey believes the key to the company's flexibility and ingenuity is that it can produce its security solutions from origination to finished product and to the end-user — all in its Cranbury, NJ, facility.
"We do everything under one roof," he says. "Lots of people talk about it, but we actually do it. We do our own chemistry, originations, artwork, tooling, laminations, embossing, and finishing. We control every aspect of the development for our customer."
The capability of having control over all phases of their products also allows the company to provide the subtle changes that make a big impact to its finished product. Carey maintains it is this control and customization that provides ITW Covid its market advantage and differentiates it from its competitors.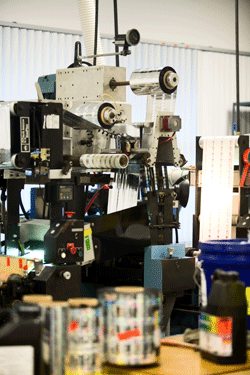 "Our competitors are buying substrates from someone else. However, we know our chemistries, so we don't need someone else to change something. That's one of the major reasons we are a market leader."
Within its facility, ITW Covid operates an ensemble of proprietary equipment that allows the company to provide its diverse mix of security products. The company houses several coating lines to execute solvent gravure and ultraviolet coating applications. Also in-house are several three-to-five station flexographic presses used to lay down holographic laminations. State-of-the art embossing, slitting, and additional finishing equipment complete its technical capabilities.
A Focus on Brand Protection
When parent company ITW moved its security label business from its Chicago Hts., IL, business unit to ITW Covid, the small operation consisted of a few clients with long-standing brand protection products, but it lacked any dedicated sales initiative. To propel ITW Covid's brand protection initiatives further and leverage the knowledge and resources that made it a leading security products provider, the company knew it would need an aggressive marketing and sales strategy to execute its vision for its brand protection initiative.
In October 2010, ITW Covid's Brand Protection Group was re-imagined under the leadership of Franco Diaz, national sales manager-brand protection, to meet the complex needs of today's packaging engineers, brand owners, product and brand managers, and security professionals. The group is positioned as a specialist in developing cost-effective security features specifically designed for easy implementation into existing production lines.
"Our clients need a reliable product that will run on their equipment effortlessly day in and day out, be very consistent, and not hinder production. The reliability of our products in the field is what our customers depend upon," says Diaz.
Floating Holograms
At the core of ITW Covid's new brand protection initiative was the launch of its "easi" (ensure, assure, secure, implement) line of brand protection solutions. The "easi" line is designed to offer brand owners and organizations guidance on the application of a unique product specifically designed to combat anti-counterfeiting, tampering, diversion, and other brand security challenges.
The rock star of the product line has been the "easi-float" rapid identification "FIH" floating image hologram. Addressing the concern that holographic devices often need pricey readers, ITW Covid's "easi-float" offers a secure, affordable solution to brand owners. The product has been particularly successful with law enforcement agencies throughout the world.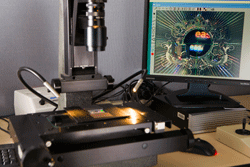 "Many people say, 'I have this great security device, but I need a specific reader.' With current economic conditions, people just don't have that kind of money. They can't go out and buy a special reader. So what does every cop have? A flashlight!" explains Carey. "If you hold the flashlight about a half an arm's length from the ID card, the image floats off the surface of the product."
A covert security feature, the floating image hologram cannot be replicated with dot matrix or electron-beam origination equipment. The "easi-float," along with several other products under the "easi" brand, are created through a proprietary process developed at ITW Covid and incorporate the company's security originations. This includes "easi-wash," a holographic textile label for licensed apparel that is not encapsulated like existing security products but is able to withstand numerous washes without compromising the holographic image.
"There are several types of holography and originations. We have taken the best of both worlds to create a very secure product," says Carey.
With a strong commitment to brand protection and other security solutions, ITW Covid has been able to provide innovative solutions, build strong alliances, and extend its global reach — all under one very secure roof.
To Secure & Protect
ITW Covid Security Group understands secure products begin with a state-of-the-art operation. The 75,000-sq-ft NASPO Class II secured facility features 36 overt and covert video cameras offering 24-hr surveillance, a secure loading dock, storage vaults, independent security auditing, electronic locks, just two exterior exits, and card access at building entry points and throughout the facility at critical entry points. In addition to these comprehensive security measures, employees are required to carry a uniquely coded RFID access card and must undergo drug screening, background check, and credit review.
Converter Info
ITW Covid Security Group | 32 Commerce Dr. N., Cranbury, NJ 08512 | 609-395-5600 | www.itwcovid.com