Published: July 01, 2010, By By Jeff Robertson, ARmark Authentication Technologies LLC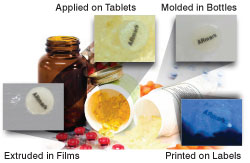 In today's global economy, practically every company offering products in high demand is facing issues of some kind related to protecting their brand and customers. Many products, from salon-quality shampoos, luxury watches, pharmaceuticals, and even food products, are being compromised and marketed under false pretense as an authentic product or brand.
Brand owners must identify and employ methods of proving without a doubt that the product ultimately ending up on the shelf or the critical component they manufacture is indisputably the same product that left their facility. Not only is this needed to protect the company's brand and reputation in the marketplace, but it also is necessary for mitigating risk and limiting liability.
Protecting a product is not a simple task or foolproof, even for those companies that are proactive in their approach. The criminal element is highly sophisticated in its ability to visually replicate not only products but also the packaging elements manufacturers may be using to prove authenticity.
Any type of anti-counterfeiting protection that can be seen on a product's packaging is at risk to be copied. As a result, many companies are taking a multilayered authentication approach to protect their products that may combine holograms, color shifting ink, RFID, and two-dimensional bar codes.
However, all these are visible forms of protection. They have the potential to be compromised, or the product itself potentially can be separated from authentic packaging.
Invisible to the Naked Eye
One area of growing interest is covert authentication technologies. Covert markers, or micro-tags, can contain a significant amount of customer-specific information in a space of 30-110 microns in diameter. Smaller than the width of a human hair, the markers are capable of including alpha-numeric or graphic images that convey important authenticating information that only the brand owner knows, such as a batch code, country code, trademark, or other important brand owner information.
The additional presence of forensic signatures is an added level of security that makes this technology virtually impossible to replicate or reverse-engineer. Invisible to the naked eye, the covert markers are identified with hand-held, portable devices that magnify the markers and enable accurate, in-field detection within a matter of seconds, without destroying the sample.
Another advantage of this covert marker technology is that it is extremely flexible in its use and benefit to brand owners. The microscopic markers do not require any additional capital investment or equipment changes for application, allowing manufacturers to integrate the markers into their existing processes seamlessly.
Using this technology, manufacturers can take an "inside/out" authentication approach by incorporating these information-centric particles as part of the packaging for films, bottles, and blister packs and use them directly on the product itself via sprays, coatings, or inks, so if the product is separated from its packaging, it still can be authenticated.
The Food & Drug Administration recently added increased confidence for the use of covert marker technology for anti-counterfeiting measures in a draft guidance. It provides specific recommendations for pharmaceutical manufacturers on the use of inks, pigments, flavors, and other molecular taggants used as physical-chemical identifiers (PCIDs) in immediate release film coatings.
Most of the anti-counterfeiting technologies available today are affordable for companies to adopt. However, because it sometimes can be difficult to demonstrate the return on investment of incorporating an authentication technology, security spending often is considered as an additional product cost.
Perhaps one way of categorizing the additional spend is to view it as insurance to protect brand equity, protect customers, and as a tool for reducing potential liability exposure. Companies should evaluate the potential risk to their sales revenue and loss of brand equity should their products be replaced with counterfeits in the supply chain or be diverted into unauthorized supply channels.
Brand owners need to clearly understand the total cost of investment in an authentication technology versus the total cost of not protecting their products. If they do, both brand owners and customers will come out winners in the end.
Jeff Robertson is director and general manager of ARmark Authentication Technologies LLC, Glen Rock, PA. He has been an employee of Adhesives Research for almost 16 years and spearheaded the launch of ARmark. The covert markers from ARmark are manufactured from approved GRAS (Generally Recognized as Safe) or IIG (Inactive Ingredient Guide) materials under cGMP (current Good Manufacturing Practice) conditions meeting other important requirements outlined by the guidance document.
Supplier Info
The views and opinions expressed in Technical Reports are those of the author(s), not those of the editors of PFFC. Please address comments to the author(s).