Published: May 02, 2017
Winners revealed at the Flexographic Technical Assn.'s annual awards banquet in Phoenix on May 1.
PHOENIX, AZ | Flexographic Technical Assn. (FTA) reports its 2017 Excellence in Flexography Awards was, yet again, a competition to go down in the books, ranking as one of the strongest in the past 57 years. In front of an audience of hundreds, winners were revealed May 1 at FTA's Annual Awards Banquet at the Sheraton Grand Phoenix, in Phoenix, AZ.
The evening, a centerpiece of FTA's Annual Forum, was filled with brilliant displays of printing excellence on all levels. From sharp images and tight registration to consistent repeats and proof to print matching – award recipients proved the importance of attention to detail and unparalleled overall execution. The winners, totaling 121 awards, consisted of:
39 Gold
42 Silver
37 Bronze
2 Self Promotion awards
1 Non-Traditional award
"Best of Show" designees (selected from the gold award recipients in their respective categories) in the 2017 Excellence in Flexography Awards included:
Paralyzed Veterans of America Tropical Flowers Envelope
Envelope, process, uncoated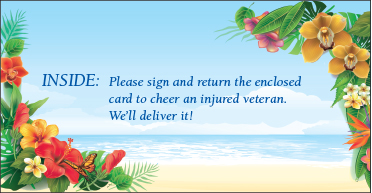 Technical Innovation Awards
Three companies were honored with 2017 Technical Innovation Awards as follows.
In the Prepress Graphics category, Esko won for its XPS Crystal 5080. The XPS Crystal 5080 is a digitally controlled UV LED exposure unit that provides both main and back exposure for photopolymer flexo plates. With little required from the operator, the machine fits into a fully automated workflow that can be monitored from a remote workstation. Additionally, the XPS Crystal 5080 emits a more focused spectrum of light, shorter dwell time, plus removal of the mercury filled fluorescent tube traditionally used in plate making, making this technology good for the environment.
In the Prepress – Pressroom category, Flint Group was honored for its EkoCure ANCORA Ink. The ink joins UV LED and low migration properties to create eco-friendly, food-safe packaging. Supporting an extensive catalogue of global regulations and industry standards, EkoCure ANCORA uses include pressure sensitive labels, wrap around labels, inmold labels, yogurt lids, pouches, shrink sleeves, folding cartons and flexible packaging. The ink consumes less energy while being more efficient to print with.
In the Heavy Equipment category, Mark Andy Inc. won for its Digital Series Hybrid Press. By combining the strengths of flexography and UV inkjet together, the Digital Series Hybrid Press delivers double the productivity, as well as a reduction of waste. The 13-in. pressure-sensitive label press provides a cohesive platform and almost never-ending customization. This new equipment allows compression from two or three shifts of flexo work into a single shift on the Digital Series Hybrid Press.
sustainability excellence
FTA also reports the recipients of the 2017 FTA Sustainability Excellence Award. This award is given to companies for exceptional efforts in developing innovative, processes, products and management approaches that have had a positive impact on the three mainstays of sustainability – people, planet and profit.
This year, FTA presents Artcraft Label Inc. of Ontario, Canada, and Polymount International of Newnan, GA, as the winners and Heritage Envelopes Ltd. of Lancashire, UK, with an honorable mention.
Artcraft Label Inc., a producer of pressure-sensitive labels and focused on helping to grow small to medium sized brands, has been a member of FTA for six years. Due to an industry-wide movement to improve recovery of polyethylene terephthalate (PET) thermoform clamshell containers in 2012, the facility took on the initiative of creating eco-friendly, "cost neutral" labels. ProPETE enabled the recycling of PET containers–a common resin used in produce, bakery, and nut product packaging in grocery retail. In 2015, the Association of Plastic Recyclers (APR) recognized Artcraft Label's innovation as being effective and meeting the established industry protocol. The rPET thermoform recycling process is estimated to reduce greenhouse gases by 3.8 million metric tons per year, and is priced 40% to 50% less than virgin PET resins, resulting in tremendous savings.
Polymount International is a global operating production and trading company serving 80 countries and has been a member of FTA since 2011. Its latest addition to the sustainability portfolio, the Polymount Film Cleaner is a machine that cleans printed film and enables reuse for the next setup of a new print job. During the three-step cleaning process, the printed film is guided through the washing unit, the after rinsing water tank, and drying unit. The substrate is then wound into a roll, clean and dry, and is ready for immediate use for the next job. Using such a machine to allow for reuse of a start up roll, even one time, can reduce a total amount of startup waste by 50%. The average number of times a cleaned startup roll can be used after using the Polymount Film Cleaner is between two and 10 times. The 1300 mm wide Polymount Film Cleaner was launched at Drupa in 2016 and the company will release the larger version, a 1950 mm wide cleaner, in 2018.
Heritage Envelopes of Blackburn, Lancashire, and member of FTA since 2015, has earned an honorable mention for a "boxless" packaging alternative for envelopes, in place of the traditional cardboard box. PackMail boasts a 60% reduction in waste and 30% less pallets required due to its compact packing. The environmental impact contracts significantly as a result of fewer boxes used in packaging and fewer boxes to be disposed of, causing less truck loads of compressed waste for transportation. Heritage Envelopes is a champion of the planet and continues to convert more of its existing customers to PackMail.