Published: April 04, 2017
BOXMEER, THE NETHERLANDS | SPGPrints introduces a 914-mm version of its rotaLEN direct laser engraver for imaging nickel screen cylinders, reportedly taking the technology to new markets including mid-web package printing applications for folding cartons and other converting applications.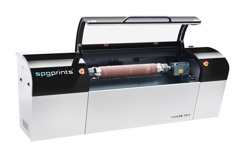 Featuring a sealed CO2 laser that ablates the printed areas without film, chemicals or water, rotaLEN images the company's nonwoven nickel re-engravable RotaMesh screens with high-definition resolutions to 5,080 dpi in a single step. A narrow web version of the engraver, used primarily by label converters, accommodates screens to 660 mm wide.
Capable of applying ink or varnishes to 250 µm thickness in one pass, the rotary screen process is said to be a productive way of creating high-impact embellishments. Examples include raised, coarse, and textured varnishes, rich and opaque colours, metallic finishes, and functional tactile features such as Braille and warning triangles. The process can provide an alternative to embossing for tactile features. Laser-imaged rotary screens can also be used on a wide range of paper grades, including tissue, and for high quality, long production runs.
Managing director Arno Bouwmeester says, "Rotary screen printing is ideal for achieving distinctive, point-of-sale branding, without being restricted to using high-grade papers. Moreover, RotaMesh screens make the process an economical, reliable option as they are strong enough for reuse and productive speeds. The new 914-mm width engraver ensures that rotary screen technologies are at the same advanced levels of development as the presses they are used with. In this way, converters are assured of high performance levels throughout the workflow."
Files processed by rotaLEN can be prepared with company's software, providing optimum control when creating fine positive and negative images. For label converters, the engraver can image two reusable RotaPlate screens simultaneously, exclusively for label printing, thanks to the extra width, when applied to a drum of 1,300-mm circumference.