Published: February 13, 2017
PADERBORN, GERMANY | Zecher offers the SteppedHex anilox technology, based on an application of the parameters of 60-deg engraving, while reportedly offering an alternative to it as well as additional benefits.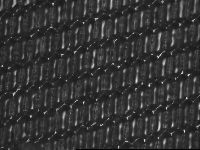 SteppedHex engraving reportedly assists the printer's task with improved drainage of the anilox roller cells to deliver optimized printing results. The cell geometry, which incorporates a special offset pattern, is subject to the corresponding German registered-design and patent protection.
This optimized drainage performance is said to achieve higher resolution and homogeneous ink-transfer, as well as making the anilox rollers easier to clean. Reportedly, engraving is suitable for all inking systems, while offering advantages that are likely to create cost-savings with respect to conventional engraving techniques.
Jörg Rohde, Zecher's head of applications technology, says, "Sales of our SteppedHex anilox rollers have grown three-fold since the launch at last year's drupa show, and our customer feedback is consistently positive. As more and more printers are expressing their interest in the possible range of deployment of [the] technology as an alternative to conventional hexagonal engraving, we expect this innovative technique to become a more firmly established part of the market."
In other news from Zecher, the company reports 2016 fiscal year has been highly successful, with sales of €22 million representing a rise of 12% with respect to the previous year's figure. The company's core business in Germany is now being complemented by a growth in international turnover, thanks to sales via partner companies based abroad. No fewer than 60 different countries are currently being served by the company's international partners.
This email address is being protected from spambots. You need JavaScript enabled to view it.