Published: February 09, 2017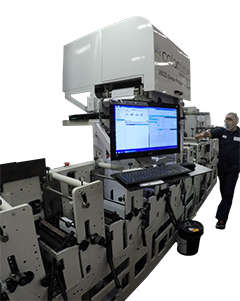 BROOKFIELD, WI | Prairie State Group (PSG) increases its product offerings with the installation of Colordyne Technologies' 3600 Series Retrofit. With an increasing demand for short-run jobs and goal to reduce its outsourced digital printing, PSG recognizes now is the right time to add digital printing to its business.
PSG is a full-service printer of packaging materials, such as pressure-sensitive labels and flexible packaging, for the food and beverage, health and beauty, nutritional bars, pouching, cold chain technology and automotive after-market industries. The digital retrofit solution was installed at PSG's Franklin Park, IL, headquarters.
Prior to adding digital print capabilities, PSG produced more than 150 jobs under 5,000 ft every month on its own flexo presses or outsourced to a digital printer. Many of these analog jobs required longer set up times than run times. PSG chose to retrofit its existing Mark Andy 2200 flexo press due to the low cost of entry, minimal disruption to its current business and the ability to use existing tooling and finishing.
"With the growing demand for short-run jobs, we knew it was a bigger risk not to go digital," said Dan Doherty, executive VP of Operations, PSG. "Adding the Colordyne 3600 Series Retrofit allows us to transition our existing high-mix, low-volume jobs to the digital press. This opens up the capacity to print hybrid jobs and new product launches, particularly in the test market stage, for our customers."
The Colordyne 3600 Series Retrofit adds four-color digital inkjet capabilities to an existing flexo press. With Colordyne's technology, converters can produce the same look and feel of flexo on a digital machine. This allows them to increase their profitability per hour by opening up additional capacity on an existing press without reselling jobs to customers.
"The retrofit is putting us on the map as a digital printer and digital is fast becoming the norm at PSG," said Doherty "Existing work is being done more quickly, it saves money on plates and allows clients to walk into a project without fear of their inventory becoming obsolete."
Educating clients about the value of digital - personalization, variable data and elimination of plates - has been a large part of PSG's success in both transitioning and growing its digital business. Other benefits include shorter lead times, less waste and quicker changeovers. PSG takes advantage of these benefits by combining runs to the same die size allowing it to run multiple jobs as one longer job.
"Prairie State Group's all-around success with the 3600 Series Retrofit is due to their hard work upfront and complete embrace of digital printing," said Taylor Buckthorpe, director of market development, Colordyne Technologies. "Not only have they successfully transitioned current business, they have been able to bring in new digital clients by approaching their marketing differently and educating their customers on the value of digital."