Published: December 29, 2016
KENNESAW, GA | Heidelberg recently welcomed 90 new trainees to its apprentice program based in Wiesloch-Walldorf, Germany. In March, Heidelberg USA partnered with the Printing and Imaging Association of Georgia (PIAG) to host its ninth annual SkillsUSA Georgia Competition in Advertising Design and Graphic Communications at Print Media Center Atlanta, and hopes to grow its own apprenticeship program in the US.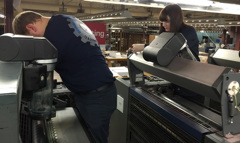 "Heidelberg is one of the few companies that can provide a long-term career in the graphic communications industry," says Gareth McEwen, technical support manager. "We want to afford the opportunity to learn and develop while supplying the industry with highly trained print instructors to train on the functionality of Heidelberg's state-of-the-art equipment."
This year Heidelberg USA will add an Apprentice Press Instructor to its growing team of trainees. The selected candidate will become well-acquainted with prepress, press, and postpress processes while also gaining in-depth knowledge of print theory, color management, and efficiency.
To be accepted into the program, candidates must possess a strong interest in operating the latest technology in offset equipment, as well as basic print knowledge and experience with color management. The goal of the program, the company says, is to fulfill the growing need for trained operators to meet the future demand of current and potential customers.
"As our industry evolves, it has become more difficult to find qualified technicians and skilled operators," says Paul Cavanaugh, skill service development manager. "While this may be a challenge for Heidelberg, we know that our customers are also experiencing difficulties when it comes to operating the latest equipment. We see a future opportunity to provide more supplementary training to our customers, and educate the next generation of operators."
The apprenticeship program begins with a comprehensive two-month introduction at Print Media Center Atlanta. During this time, the apprentice will learn print application basics and all operational functions on a Heidelberg press and peripheral equipment. He or she will also gain hands-on exposure through practical applications by working in the field with experienced instructors during customer installations.
This email address is being protected from spambots. You need JavaScript enabled to view it.