Published: July 13, 2016
WEIHERHAMMER, GERMANY and KYOTO, JAPAN | BHS Corrugated Maschinen und Anlagenbau and Screen Graphic and Precision Solutions Co. report an exclusive partnership to develop the BHS Corrugated Inline Digital Printing Solution for corrugated box plants. A new company, Screen GP IJC Ltd., has been established to develop the print engine technology that will be integrated into the new digital print solution. It is based near the UK manufacturing plant of Inca Digital, the Screen GP subsidiary.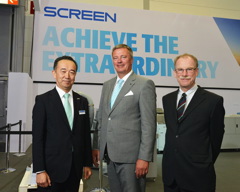 As a supplier of corrugators, BHS Corrugated reports an estimated turnover of $513 million in 2016 and says it has a 50% share of the global market. Screen GP reports it has considerable experience in color imaging and inkjet technology development, especially for the Truepress Jet range of digital presses for transpromo, direct mail, and label print production. Inca Digital is said to be a center of excellence, known as the pioneer of wide-format flatbed inkjet printing and manufacturer of the Inca Onset UV printer.
The new company will integrate the core competencies and expertise of all three in inkjet, engineering, web transport, and manufacturing to develop the new industrial in-line print engine. The alpha installation of the BHS Corrugated Inline Digital Printing Solution is planned at a customer site in 2018.
The BHS Corrugated Inline Digital Printing Solution reportedly will be the only real time roll-to-printed sheet process, which is an integral part of the corrugated board manufacturing process. The single-pass, aqueous inkjet system will print onto widths to approximately 9 ft wide at speeds to 984 fpm. It will be available as an option for new BHS Corrugators or as an upgrade to existing installations. Companies say integrating digital printing inline on the corrugator will bring two main value propositions: quick turnaround to enable fast and flexible order processing and saving on total cost of ownership.
"We are delighted to forge this cooperation with BHS," says Tsuneo Baba, president, Screen GP. "By combining our digital printing technologies with BHS's equally advanced technologies, we aim to trigger major innovation in the corrugated industry.
Christian Engel, CEO, BHS Corrugated, says, "Screen GP is a technology leader in digital print in a variety of markets. Our partnership will enable us to be well prepared for the digital decade that the corrugated industry is entering and one that will bring a revolution of print, processes, and machinery layout in box plants."
This email address is being protected from spambots. You need JavaScript enabled to view it.