Published: June 14, 2016
FREMONT, CA | Electronics for Imaging (EFI) announced a new development at the recent drupa 2016. The Nozomi single-pass LED technology can reach speeds to 75 linear mpm (246 linear ft). Company says the 1.8-m-wide Nozomi C18000 inkjet press will help corrugated manufacturers and brands access a wide color gamut and broader design options in corrugated board work with fast turnaround times, while maintaining low production costs.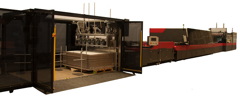 The sheet-fed, digital packaging press can print on boards to 1.8 x 3 m in size, and users reportedly will gain superior versatility thanks to a double-lane printing feature that enables full utilization of the press's speed and width and increases throughput up to 9,000 80-cm x 60-cm boards/hr. The press's LED imaging capabilities are said to provide brilliant, accurate color imaging on most board substrates.
"EFI's next generation of innovation brings to market the strongest combination of versatility, imaging quality, and production speeds at a total cost of ownership that is far below similar single-pass platforms," says Guy Gecht, EFI's CEO. "When commercially available next year, the Nozomi C18000 press will finally give the corrugated packaging market a unique solution to establish a profitable business around on-demand, customized digital printing."
Company also says the press will help redefine sustainability in corrugated board production, as it will allow customers to eliminate wasteful warehousing routines for analog-printed packaging with leaner, just-in-time inventory. Plus, the packaging produced with the press is fully recyclable, with printed output meeting a leading recyclability and repulpability certification standard.
The new Fiery DFE for the Nozomi C18000 press also will completely integrate with MES and ERP technologies in company's Packaging and Corrugated Packaging Suites as well as with Esko workflows, for streamlined management, including dynamic scheduling, shop-floor data collection and more.
This email address is being protected from spambots. You need JavaScript enabled to view it.