Published: May 25, 2016
TRELLEBORG, SWEDEN | Trelleborg will use drupa 2016 to launch several offset blankets and digital products as well as a new App that enables printers to select quickly and easily the most suitable blanket for the job or press.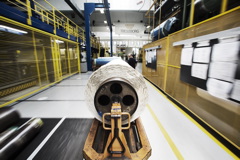 The new Vulcan Sunrise is a 1.95-mm blanket with a dedicated top compound and is designed for the latest UV applications, such as LE/HUV and LED UV. Said to provide excellent smash and edge mark resistance as well as better vibration absorption and to enable first-class solids and halftone reproduction, eliminating ink back-trapping.
The Vulcan F2016 has a fabric layout said to ensure excellent compressibility. Recently introduced for sheet-fed applications, the blanket also provides high quality printing of paper and cardboard packaging, company says, adding that machine is a 1.95-mm blanket that is easy to set up for a wide variety of sheet-fed and packaging jobs.
Vulcan Zenith is designed for general sheet-fed applications and offers very good halftone reproduction and overall printing quality, plus shock mark absorption and excellent paper smash resistance. The three-ply, 1.95-mm blanket is compatible with hybrid inks.
The Vulcan X-Coat Plus is a new polymer-surface coating plate that does not contain fabrics. It is said to be easy to strip, offering clear and visible lines. The reusable plate eliminates ink back-trapping and is interchangeable with most polymer-surfaced products, without the need to adjust packing or stripes.
The Vulcan X-Coat is a new rubber-surface coating plate that reportedly is easy to handle and can be reused. Prepress features include knock-out areas without strings, fast and accurate CAD cutting, plus easy stripping with clear and visible cut lines, company says.
This email address is being protected from spambots. You need JavaScript enabled to view it.