Published: February 05, 2016, By Claudia Hine
Power of the Past, Force of the Future: Theme highlights flexo and digital technologies working together.

The Flexographic Technical Assn. (FTA) will hold its 2016 Forum March 6-9 at the Omni Fort Worth in Fort Worth, TX. The companion INFO*FLEX show, featuring nearly 250 exhibitors, will take place March 7 and 8 at the Fort Worth Convention Center. Each Forum registration includes entrance onto the INFO*FLEX show floor highlighting equipment, products, and services for every market segment—wide web, tag and label, flexible packaging, corrugated, and folding carton.
More than 2,000 attendees are anticipated at this year's event. "The previous Forum and INFO*FLEX drew historic crowds," said Jennye Scott, Berry Plastics Corp., co-chair of the event along with Paul Teachout of Nilpeter. "The 2016 events will draw from the past success to provide a well-rounded Forum for each and every attendee. The sessions will cover new technologies and game changers, the FIRST methodology and how your customers view it, as well as shared knowledge for all groups from the Hall of Famers."

"Our goal was to create new and interactive sessions that engage the younger workforce and the challenges they face, as well as learning from the experts who helped form our industry," said Teachout. "We will seek out an international perspective to learn more about global trends and how we can benefit from its market influence. We have a lot in store and are very excited about the line up of speakers and the topics they will cover. As they say, everything is bigger in Texas, so come on out and join the fun!"
To review the forum sessions in detail, click here.
FTA will present its annual Excellence in Flexography Awards at a networking banquet on Sunday, March 6. Technical Innovation and Sustainability Excellence awards also will be presented, along with the President's Award and Hall of Fame Award. Forum registration also includes complimentary admission to the banquet.
WHAT'S NEW
New for 2016, show management has introduced an enhanced INFO*FLEX Solutions Theater, where 14 different presentations will be featured to help attendees stay in tune with the latest innovations to answer challenges and grow businesses. These 15-18 minute talks are complimentary for all registered attendees and no advance sign-up is required. For the complete lineup of topics, click here. Additionally, pre-scheduled demonstrations of running machinery will take place in key locations throughout the show floor during both afternoons.
Also new for 2016 is the FTA Emerging Leaders Golf Outing, which takes place March 5 at the Golf Course Fossil Creek in Ft. Worth. The event, sponsored by the FTA Hall of Fame, welcomes all levels of players, men and women, with proceeds going toward various initiatives to support to the association's young, aspiring leaders. Participants will enjoy lunch, 18 holes of golf with cart and greens fees included, hole contests, raffles, and a post-outing reception.
Phoenix Challenge Foundation
The 9th annual Phoenix Challenge will be held March 5 during the Forum and INFO*FLEX. The Phoenix Challenge is an academic and skills contest designed to support and expose university level graphic arts students to real-life business challenges and activities.
A panel of judges made up of industry professionals, business owners, and educators, will score live presentations solving a real-world business case. Student teams are given a challenging package and print-related business problem and are charged with developing the solution, the design, and most importantly, executing fully printed and produced packages and labels. With physically printed and converted work, the teams present their cases and business results to the panel of judges, vying for the top spot.
"The college challenge has proved to be an amazing extension of our mission. The ability to continue supporting education, specifically for those aiming for flexo industry careers, has been the most worthwhile cause. This unique program has proven itself by delivering quality workers into the industry," said Bettlylyn Krafft, chairman of the Phoenix Challenge Foundation.
Booth Descriptions
Anderson & Vreeland (Booth 427) will feature flexographic equipment, materials, and supplies.
Ashe Converting Equipment (Booth 532) will showcase its range of slitting/rewinding equipment. The company will launch new products, including the Diamond duplex turret centre winder, which will be a one-piece machine for compactness and budget limitations when considering turreting center winders. A new fully automatic knife positioning system also is available on the Sapphire S2 series (duplex or duplex turret).
Beta Industries (Booth 701) will show the BeaFlex Pro Flexo Plate & Image Analyzer. Also showing the new Beta Aniscope anilox and gravure USB microscope with multiple magnifications for cell inspection and volume analysis for inspection and cleaning programs.
Bobst (Booth 519) offers a line of web-fed CI flexographic presses as well as coating and laminating and other converting equipment.
DCM North America (Booth 432) will feature converting machinery including shrink sleeve (seaming, inspection/doctoring, cutting/perforation); coating and lamianting, including narrow web solventless lamination; and slitting/rewinding, including narrow web widths.
Domino (Booth 714) will showcase its K600i digital UV inkjet printer and N610I 7-color digital inkjet label press. Also presenting "Enhancing Flexography by Implementing Digital" in the Solutions Theater on Monday, March 7 at 3:55–4:15 p.m.
Eaglewood Technologies (Booth 219) will display the Sanilox 2.0 Anilox Roll Cleaning System, which features a sleek look, bi-lingual touchscreen, and illustrated tutorials. Said to make anilox roll cleaning totally automated in-line or off-line and will help monitor roll inventory and maintenance. Reported to be the most environmentally efficient method of keeping anilox rolls clean.
Enercon Industries Corp. (Booth 416) will show its latest surface treating innovations for traditional and digital flexographic printing operations.
Flexo Concepts (Booth 329) will promote the benefits of its TruPoint doctor blades in flexo printing applications. Visit booth to obtain a blade sample. President Kevin McLaughlin is one of five speakers at the "2016 Flexo Game Changers" Forum session on Monday, March 7. He will present "What's Next for Corrugated Printing."
Flint Group (Booth 415) wil show its newest plate for flexible packaging, nyloflex FTF Digital, a flat top dot plate with a textured surface said to require no additional surface screening and no additional steps, consumables, or equipment to process. Also presenting the rotec High Speed Sleeve, developed with a highly compressible surface that reduces press bounce and allows printers to increase press speeds as much as 30% to 80%. Also showing inks and coating for flexo printing.
GMG (Booth 618) will focus on its OpenColor 2.0 color management software, which is a recipient of an FTA Technical Innovation Award and an InterTech Technology Award. Also showing its FlexoProof proofing solution that allows users to create individual substrate structures such as paper fibers, embossed structures, or corrugated board for proof output.
Hamillroad Software (Booth 131) will debut its FTA award-winning Bellissima Digitally Modulated Screening for Flexo. Apart from the illusion of beautiful continuous tone images, DM screening has the ability to produce smooth flat tints in four colors, faster make ready, and easier handling on press.
Harper Corp. of America (Booth 500) will demonstrate the QD ink proofing system and showcase its HEX division and the HIVE - High Imaging Volume Engravings anilox roll series. The HEX division comprises plate sleeves and bridge sleeves that are manufactured in accordance with OEM specifications and feature notable characteristics, such as a patent-pending replacement notch system.
INX International (Booth 607) will focus on Innova lamination ink designed to work with a variety of solvent-based, water-based, and solventless adhesive systems; ShrinkPac F solvent ink for shrinkable film labels; INXFlex UV CLM II Low Migration ink for indirect food contact; and Mylex II water-based lamination ink that works with solventless, water-based, and UV adhesive systems.
IST (Booth 108) will exhibit UV and LED curing technology.
Kodak (Booth 601) will demonstrate how to reduce ink and substrate waste by 20%; run presses 10%-20% faster; and minimize changeovers with plates that last 2-5 times longer than traditional digital flexo plates. Business Development and Brand Manager Doug Weiss will present "Flexo Plates: Are You Paying Too Much?" on Monday, March 7, from 2:35 to 2:55 p.m. in the Solutions Theater.
Lohmann Tapes (Booth 609) will show DuploFLEX EB and DuploFLEX EBX plate mounting adhesive tapes and compressible substructures for quick, complex, and long flexo print jobs.
MacDermid Graphic Solutions (Booth 501) will preview its latest In-The-Plate (ITP) additions to the LUX ITP platform for flat-top dot technology. LUX ITP 50 is a 50 Shore A durometer plate well suited to paper substrates or where solid coverage is the first priority. LUX TIP C is a capped ITP platemaking option, providing a balance of low print gain and smooth solid ink coverage.
Martin Automatic (Booth 630) will show the benefits of patented Aimertia technology, which offers web transport rollers with reduced moment of inertia. Also showing MDR technology used on web transport rollers to reduce the effects of roller mass, bearing friction, web speed changes, and entrained (boundary layer) air. These technologies are said to allow Martin to continue offering reliable and creative zero-speed splicing automation.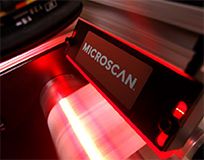 Microscan (Booth 110) will demonstrate LVS label verification and print quality inspection systems said to ensure standards compliance in a click, verify print quality in real time, and integrate into printing equipment to prevent labeling errors at the source. Barcode verifiers provide a consistent software environment that is scalable across a number of product configurations: the LVS-9510 Barcode Verifier for stationary desktop verification and the LVS-9580 Handheld Barcode Verifier for complete mobility in an ergonomic handheld design, which will both be on display at the booth. All barcode verifiers are 21 CFR Part 11 compliance-ready.
Pamarco (Booth 215) will feature its anilox roll, engraved with EFlo technology. Technical representatives will be available for one on one consultation throughout the show. Also displaying the Sanilox 2.0 Anilox Roll Cleaning System from Eaglewood Technologies.
PC Industries (Booth 333) will show automated vision inspection systems. Stop by the booth to be entered to win the super portable and extremely bright LED-1 strobe.
PFFC (Booth 226) will provide helpful technical advice by our printing, web handling, and coating experts. Sign up for our E-Clips newsletter and get listed in our online directories and Buyers Guide.
Roll-2-Roll Technologies LLC (Booth 911) will have live demonstrations of its web guiding technology.
RR Donnelley Packaging Solutions (Booth 302) offers a full range of packaging production services, including color management, Expanded Color Gamut technology and high definition flexo platemaking, and mockups and prototypes.
Ship & Shore Environmental (Booth 209) will showcase its clean-tech products and solutions and will answer questions on the EPA's new pollution emission and ozone guidelines.
Siegwerk (Booth 426) will feature its line of inks, varnishes, and primers. Dr. Scot Petersen will present "Improvements in Smear Resistance of Lamination Inks" on Tuesday, March 8, in the Solutions Theater from 3:55 to 4:15 p.m.
Sun Chemical (Booth 301) will show its range of inks, coatings, and HD plate technology. Inks include multi-purpose SunUno Solimax suitable for surface print on flexpack substrates; SunStrato Sunester laminating water- and solvent-based inks for high speed flexo printing on PP and PE; SunStrato water-based ink for flexible packaging; SunSpectro-Sunsharp HR water- and solvent-based inks for PE; and SunVisto water-based inks for paper and paperboard. Coatings include the SunInspire sensory line, which offers special effects, and SunBar oxygen barrier coatings designed to enable lightweighting of packaging by removing EVOH layers. SunGraphics high definition flexo plates allow for printing an image quality of up to 4,000 PPI. SunVisto-Anilox Renew and SunVisto Power Scrub are said toprovide a deep cleaning foam that bring heavily soiled plates and anilox rollers back to like new condition.
Sustainable Green Printing Partnership (Booth 833) certifies printing facilities' sustainability best practices, including and beyond regulatory compliance.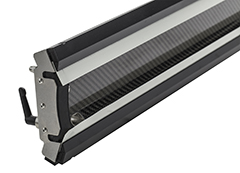 TRESU (Booth 708) presents its lightweight, corrosion-resistant Carbon Fiber Chamber (CFC) doctor blade along with its F10 iCon ink supply system. Together, these two products are said to provide a fully automated, closed loop ink supply solution for a host of wide-web printing situations up to widths of 236.2 in. (6000 mm).
Unilux (Booth 541) will show manual stroboscopic inspection. Stop by the booth to be entered to win the portable and extremely bright LED-1 strobe.
X-Rite Inc. and subsidiary Pantone LLC (Booth 107) will showcase color quality management solutions and professional color services. Products include ColorCert X-Rite Edition, a color reporting tool, and X-Rite eXact, a handheld spectrophotometer. The company will present two sessions at the Forum: "Color Communication across the Silos" on Sunday, March 6, and "How a Modern Color Workflow Can Benefit your Operation" on Monday, March 7.
SHOW HOURS
Monday, March 7: 1:30 – 6:00 p.m.
Tuesday, March 8: 1:30 – 6:00 p.m.
To learn more or to register, visit www.flexography.org.