Published: April 09, 2015, By Claudia Hine
Music City plays host to converters attending the Flexographic Technical Assn.'s annual conference and exhibition.
Nashville, TN, will set the stage for the Flexographic Technical Assn.'s 2015 Annual Forum and Info*Flex show. The Forum's conference sessions take place at the Omni Nashville Hotel May 3-6, while the INFO*FLEX exhibits will be staged across the street at the new Music City Center on May 4-5.
Winners of the Excellence in Flexography Awards will be unveiled at an awards banquet on Sunday, May 3. Winning entries also will be displayed on the INFO*FLEX show floor.
Download the mobile app here.
FTA Forum | Hitting the Perfect Harmony

The goal of this year's forum—chaired by Jessica Harrell, Anderson & Vreeland, and Jennye Scott, Berry Plastics—is to give attendees the tools and insight necessary to achieve the absolute highest level of quality.
"Gauging Your Flexo Vital Signs: A Basics Reality Check" will address this goal head-on by covering issues critical to the quality control process. According to session co-chair Andy Knapp, Flint Group, "The aim of this session is to provide audience members with the information they need to make sure that the right checks are in place. Once this is done, printers can be assured that high quality results are achieved on a regular basis."
The forum will open with a two-hour session entitled "Upside Down or Inside Out: What's Next in Packaging?" The session will explore new opportunities for converters to consider as they seek to diversify offerings, expand capabilities, and increase revenue streams. According to session co-chair Penny Holland, Sun Chemical Corp., "It's critical that flexo printers be familiar with what's new and hot in packaging design. Staying on top of current trends and up and coming technology can mean potentially new sources of revenue and new growth opportunities. Sharing these innovations with their customers can add a layer of credibility and customer loyalty."
TOOLBOX TUESDAY
In a four-part session offered on May 5, FTA debuts "Toolbox Tuesday." The first two are chaired by Alexander James, Harper Corp. of America, and Bob Hannum, DuPont Packaging Graphics.
The sessions include "Optimizing Flexo: The Decoders Guide to Process Control," the covers tips on platemaking, process control, workflow, and materials. Part II, "KISS My Anilox! Making the RIGHT Impression," attendees will learn the science behind anilox roll specifications.
The final two sessions are chaired by Kevin Bourquin, Cyber Graphics, and Bjorn Knutson, FTA. They include "From Color Mayhem to Color Control," a series of presentations that explore color management, and "It's Manufacturing NOT Magic," which will investigate defect detection, waste control, training programs and more.
For a complete schedule of presentations, click here.
Info*Flex | Imagine Tomorrow, Today

"Imagine Tomorrow, Today" is the theme of this year's Info*Flex, which will feature a 280-booth show floor and a record number of exhibitors. Attendees will be able to see the latest solutions from every segment of the package printing and converting industry, including the tag & label, flexible packaging, and folding carton market segments.
INFO*FLEX will take place on Monday, May 4, from 1:30– 6:00 p.m. and on Tuesday, May 5, from 1:00–5:30 p.m. Additionally, every participant is invited to attend the Monday Evening Social, which will be held on the outside terrace of the convention center from 6:00–8:00 p.m. It will feature cocktails, Nashville fare, and live music by Elio and the Hank Sinatra Band.
Jay Kaible, FTA's director of membership and business development, said, "With both the hours and footprint expanded, INFO*FLEX stands out as the only dedicated event this year for the package printing industry. Given its location, the new technologies and extended hours, we anticipate the 2015 event to be a resounding success."
INFO*FLEX SOLUTIONS THEATER
On Monday, May 4, and Tuesday, May 5, the INFO*FLEX Solutions Theater, located in aisle 600, will feature a variety of 10-12 minute presentations from industry suppliers. Topics include plate technology and platemaking, extended gamut printing, digital printing, and more. These presentations are complimentary for all registered attendees and no advance sign-up is required.
For a complete list of sessions, click here.
Booth Descriptions

Apex International (Booth 434) will introduce its Anilox Appraisal Program, a free service aimed at addressing costly and avoidable printing challenges. The company will provide a free, on-site appraisal and present troubleshooting options drawing on its global technical resources.
Atlas Converting (Booth 336) will showcase its range of Titan slitter/rewinders, including the new Titan SR9-DT Dual Turret slitter and the Titan ER610 compact slitter in 53- and 65-in. widths. The company recently launched the Titan SR800 duplex slitter.
CGS (Booth 108) will demonstate new features in the 3D design realization software IC3D Suite. Three new functions will be unveiled in the PDF Editor, Shape Modeller, and Shrink Undistort. Also showing ORIS Eco-Solvent proofing medias, including ORIS Flex Pack // Web for flexible packaging, and the new ORIS Clear Adhesive, Shrink Film, and Transfer Film medias. ORIS CxF communicates color data to every link in the supply chain.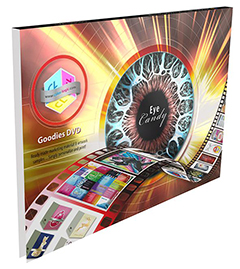 Color-Logic (Booth 719) will demonstrate how cold foil can be combined with the Color-Logic system to produce striking metallic labels and other printed materials. By printing white ink and CMYK inks on silver cold foil, Color-Logic provides a simple and low-cost alternative to expensive and time-consuming hot foil applications. Using only one silver foil rather than a variety of metallic foils significantly reduces inventory costs, and the fact that the metallic colors produced are unique to the printer makes it very difficult for customers to move jobs from printer to printer.
Domino (Booth 237) will present "How Changes in Packaging, Branding, and Identification Affect Labeling" in the Solutions Theater on Monday, May 4, at 4:00 p.m. The company offers the N610i digital UV inkjet label press with printing speeds to 246 fpm and 600 dpi native resolution. The K600i digital black plate UV inkjet mounts onto an existing flexo press to print sequential numbers, personalization, bar codes, and more. Bitjet+ is a solvent-based inkjet for printing on packaging at speeds to 1800 fpm.
DuPont Packaging Graphics (Booth 423) will announce a new Cyrel plate technology platform.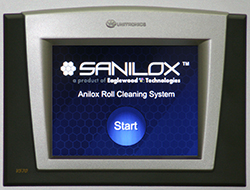 Eaglewood Technologies (Booth 608) will display the environmentally efficient Sanilox Anilox Roll Cleaning System, which features a new sleek look and bi-lingual touchscreen. It controls the cleaning of rolls in-line or off-line and helps monitor roll inventory and maintenance by entering roll information to the interface.
Flexo Concepts (Booth 232) will promote the benefits of its TruPoint doctor blades in flexo printing applications. Products are designed to improve print quality and reduce operational costs.
Harper Corp. of America (Booth 222) will host demonstrations of its QD ink proofing system. The company will showcase its HEX division, comprising plates sleeves and bridge sleeves manufactured in accordance with OEM specifications and patent-pending replacement notch system. Also showing the HIVE (high imaging volume engravings) anilox roll series, which includes LaserKote and XLT engravings.
INX Intl. Ink Co. (Booths 409/411) will showcase its range of water, solvent, UV-based flexo inks, and more. INX Infinity and Synergy III flexo lamination inks are formulated for high press speeds of 2,000 fpm. INXFlex UV Shrink inks provide minimal swell for flexographic printing. DuraINX is a solvent flexo ink system for outdoor bag applications on standard treated polyethylenes. AquaTech ION Label systems are water-based flexo inks for tag and label applications.
KECO Engineered Coatings Inc. (Booth 707) offers a variety of coatings for the printing and packaging industries, including flexible, folding carton, corrugated, tag and label, sheetfed and offset printing. KECO specializes in nonstick coatings for rollers, ink pans, molds, and other applications.
Pamarco (Booth 509) will have technical representatives available for consultation. The company engineers durable and high performance products that enable printers to increase efficiency without sacrificing quality. It will demonstrate the Sanilox Anilox Roll Cleaning System by Eaglewood Technologies.
PFFC | Paper Film & Foil Converter (Booth 712) will provide helpful technical advice by our printing, web handling, and coating experts. Sign up for our E-Clips e-mail newsletter and get listed in our online directories and Buyers Guide. Visitors also will receive a free web browsing tool!
Rogers Corp. (Booth 412) will show its line of R/back cushion mounting tapes that eliminate gear banding and offer improved print quality, improved adhesive properties, and longer plate life.
Sun Chemical (Booth 117) will show its SunUno Solimax multi-purpose ink system intended for surface printing and lamination for lidding materials, medical laminates, and confectionery and snack food packaging. SunSpectro Sunsharp HR solvent-based inks are developed for high speed flexo printing on PE film and are said to be an ideal choice for plastic bags, shampoo bottles, and milk containers. Also showing a wide range of coatings plus its SunInspire sensory line and SunLase laser marking solutions. Learn about SunVisto Anilox Renew and Power Scrub for care of anilox rolls. SunGraphics high-definition plate technology can create graphics that are sharper with more vibrant images and colors.
Sustainable Green Printing Partnership (Booth 714) will discuss its program and benefits for the entire print supply chain. SGP has certified a number of flexo printers that have all documented improvements in many areas of their facilities as they worked the the SGP criteria.
Techkon (Booth 123) will show its Graphic Vision Spectro System, which integrates a high-resolution camera with a precise spectrophotometer in a single unit. Online monitoring of a flexographic press with GVS enables print defect monitoring and brand color control.
3M (Booth 201) will show Cushion-Mount Plus Plate Mounting Tapes, L-Series, and Splittable Flying Splice Tape, 8387.
For a complete list of exhibitors, click here.