Published: June 30, 2014, By Debbie Donberg
Edwards Label sits at the end of a quiet street in the Chicago
suburb of Skokie, and inside the plant, past a small reception area, sits the company's most recent acquisition: a shiny new Mark Andy Versa Max press along with a new Rotoflex VLI 700 high-speed film rewinder.
Purchased to move the company into short-run flexible packaging, the 26-in.-wide flexo press has been running since March. (It is offered in a 22-in. version as well, but the manufacturer says the 26-in. model is definitely the most popular with converters looking for a mid-web press.)
The company specializes in expanded content labels, with a product line that includes prime labels, Peel N Seal, Triflex, Pentaflex, Dry Release, Dry Reseal, Hang & String tags, wine labels, and digital labels. Enhancements include variable data, development, embossing, foil stamping, scratch & sniff, and scratch and reveal.
Many of these labels and enhancements can be run on its Versa Max press, which has eight stations, with the last one used for a large, high-velocity tunnel dryer from FlexAir.
The press also includes an unwind and rewind from Martin Automatic, a Corotec Uni-Dyne corona treater; UV curing from GEW; a KTI automated laminator station; a web guide and Super Handyscan 4000 web inspection, both from BST; a Graymills ink pump; and a Rotoflex rewinder. An off-line Rotoflex inspection/rewinder for the mid-web press runs at 900 fpm.
Water-based inks from ACTEGA WIT run on the new servo-driven press, usually at 1,000 fpm, although the Versa Max is capable of speeds to 1,200 fpm. It also can be configured to run solvent-based and energy-cure (UV, EB, LED) inks. The press is designed with a fully automated registration system and moveable, easy access to anilox and doctor blade chambers. It features a 32-in. maximum repeat and 1-in. minimum repeat with a 40-in. unwind and rewind capacity.
Moving and Expanding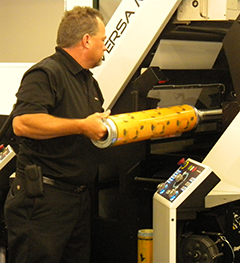 In the 1980s, company president John Edwards began his career in the printing industry brokering labels. In 1987 he started manufacturing labels for his clients, and in the spring of 1997 Edwards Label was born as, according to Edwards, a "Mom and Pop" print shop in a small warehouse in Los Angeles. Current CEO Joel Avila joined the team in 1998.
In 2001 the company moved to the Los Angeles suburb of Ventura and continued to grow, expanding to the Midwest in 2012 with the Skokie facility, which has cut lead times for shipments to the East Coast.
The facility now serves as a Mark Andy Demo Center for the new Versa Max, welcoming other converters who wish to see what it can do. (PFFC was fortunate to visit on a day when officials from a large Mexican printing company were there to view the new press in action.)
In addition, Mark Andy plans to bring visitors to the Skokie facility during the upcoming Labelexpo show to see its advanced print platform for film and flexible packaging and to witness what it boasts is best-in-industry job changeover times.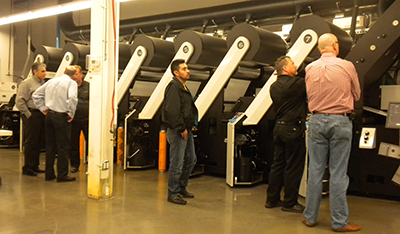 Mid-web printing continues to gain in popularity due to reduced plate and ink costs, quick changeovers, and the ability to add flexible packaging to the label mix. Management sees the Versa Max and VLI workflow as part of its path forward, and with the new press, Edwards Label is poised to find its way into new markets.
This email address is being protected from spambots. You need JavaScript enabled to view it.