Published: October 18, 2012, By Claudia Hine
Pack Expo International 2012 is coming to Chicago, IL, October 28-31. The show boasts more than 1,800 exhibitors who will cover 1.1 million sq ft of McCormick Place, offering integrated packaging and processing solutions for the 46,000 expected attendees from 127 countries. Daily show hours are 9:00 a.m. to 5:00 p.m.
This year's event will feature a little star power, too. On Sunday, October 28, comedian Dennis Miller and political consultant James Carville faceoff in the Grand Ballroom to discuss the upcoming elections and answer questions.
For tips to help you maximize your time at the show, click here
Show Floor
Organizer PMMI has created five industry-specific market areas to help buyers find what they need. The show floor will feature the following areas:
The Brand Zone | Find containers and materials in the Lower North Hall
The Pharmaceutical Pavilion | Systems to enhance operations and extend shelf life are in the South Hall
The Reusable Packaging Pavilion | Sustainable assets are located in the Upper Lakeside Hall
The Confectionery Pavilion | Solutions for confectioners, bakers, and snack producers are found in the South Hall
The Processing Zone | Upstream processing systems can be found in the Upper Lakeside Hall
Conference Tracks
The Conference at Pack Expo will run for three days, October 29-31. Sessions are divided into eight tracks and speakers include representatives from the following companies:
INX Intl., Schaumburg, IL, reports two of its executives, Kevin Facklam, director of regulatory affairs, and Jonathan Graunke, VP, energy curable technology, will address migration issues as part of a panel seminar on Tuesday, October 30. The session, "Chemical Migration & Migration Approaches," is scheduled for 11 a.m. to 12 p.m. and likely will explore best practices and issues and concerns regarding food packaging materials to assure regulatory compliance.
For more information on the conference program, click here:
Things to see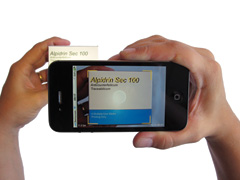 AlpVision (Booth S-3060) has developed an iPhone application capable of detecting Cryptoglyph—a digital invisible marking that is applied to cartons, leaflets, labels, and blister packs using regular visible ink and standard printing processes. The app is capable of detecting covert/invisible safety features. Working in real time, it determines the authenticity of a package or product within seconds. Product-specific and user-friendly, the application works with a variety of packaging materials (paper, board, plastic, and glass) and packaging types (flat and round surfaces).
Epson America Inc. (Booth 3957) is introducing its ColorWorks C831 Wide Label Printer with 10-min educational presentations. The GHS-compliant labeling technology is called ideal for high-volume, large-format color labels for drums and chemicals. It can produce labels up to 8.5 in. wide at speeds to 16.5 ppm. Also featured is the ColorWorks C3400 label printer with Just in Time Color Labeling that helps manufacturers with 5,000 SKUs or more take control of the chaos and reduce total label costs up to 50% through streamlined processing and reduced labor and waste. Ideally suited for high-mix, low-volume applications that require a large number of label varieties.
ExxonMobil (Booth E-8114) will exhibit Metallyte high barrier film with significant reductions in OTR and WVTR; Bicor film, which delivers lower weight; OPPalyte film, which improves operations and reduces total cost-of-use compared to film and paper currently being used to wrap frozen novelty products; and Label-Lyte TD shrink sleeve film, which facilitates flotation separation of labels from bottles to support PET bottle-to-bottle recycling.
H.B. Fuller (Booth S771) is introducing its solvent-free flexible packaging laminating adhesive, Flextra, for large format pouches. This new adhesive technology makes large pouches typically used for pet food, landscape materials, etc., much tougher so there is less splitting and tearing during distribution, on store shelves, or in home. The end result for converters is the ability to fortify their large pouches and reduce supply chain damage and potentially increase pouch size as customers such as big box stores require larger packaging of heavier goods.
Multisorb Technologies (Booth E-7918) is offering in-booth symposiums on active packaging solutions for food and beverage, electronics, and drug packaging.
Rollprint Packaging Products (Booth E-7662) is launching Chameleon Peel, a new proprietary color-changing sealant technology for heat-seal applications. The technology, a year in development, has been engineered to allow a film of one color to transfer a peel indicator of a different color providing strong visual indication that a package has been opened. The objective is to enhance product security and help deter counterfeiting, in a cost-effective manner.
Siemens Industry Inc. (Booth N4239) will have many new products and services to present, with the lead item being a new drives enhancement that allows various inputs, even those from non-Siemens drives and other devices, to be streamed onto EtherNet/IP.
Zebra Technologies (Booth N-3300) will show the ZE500 print engine, which simplifies maintenance, adds flexibility, and reduces downtime. This Print Engine is idea for box and pallet labeling in many industries including food and beverage, manufacturing, and others. Also showing the RP4T mobile thermal transfer printer and RFID encoder that prints and encodes long-lasting and durable labels for applications such as shipping and asset tracking and management.
For more printing, converting, and material innovations at Pack Expo, click here
For more information or to register, visit http://www.packexpo.com