Published: February 03, 2012, By Claudia Hine, Managing Editor
Packaging, printed electronics, and personalization with digital presses are called "the future of print" at drupa.
Germany's Dusseldorf Fairgrounds will welcome drupa 2012 and the world of print May 3–16. Show organizer Messe Dusseldorf expects more than 1,800 exhibitors and 375,000 visitors to fill Halls 1–17—plus an outside area—to see the future of print.
And what exactly is that? According to Dr. Markus Heering, managing director of the Assn. for Printing and Paper Technology within the German Engineering Federation, "The future of printing lies very clearly in the areas of packaging, printed electronics (RFID), and digital print with personalization. Especially package printing will play an ever-increasing role in the future," he says.
Exhibit categories at drupa will include prepress and premedia, print, postpress and paper converting, paper and substrates, as well as inks and consumables, components and infrastructure, and services and software.
New President Takes the Reigns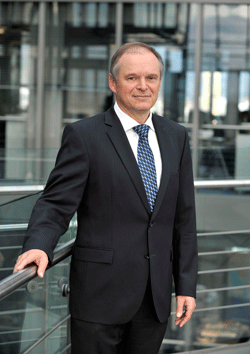 This year's drupa will be led by a new president and chairman of the Exhibitors' Advisory Board. Bernhard Schreier, chairman of the management board of Heidelberger Druckmaschinen AG, replaces Martin Weickenmeier, who had been head of the drupa executive committee since 2008.
"I am delighted to accept the role of drupa president at this particularly exciting and important time for our industry. Drupa 2012 is a really crucial initiator for the print media industry, and I will contribute significantly to its successful planning and organization," says Schreier.
E-Tickets Save Time, Money
Entrance passes, offered as eTickets for the first time, are available online at www.drupa.com. Attendees can print out their tickets and travel to the trade fair by bus and train free of charge. Online tickets are cheaper than onsite tickets; a four-day ticket costs €129 online versus €220 at the fairgrounds. Tickets printed at home will be converted into badges at the turnstiles on the show site.
Sustainability Exhibits
A special exhibit on sustainability, "Media Mundo @drupa," will cover 2,100 sq ft of exhibit space, information, live discussions, and presentations from experts. A range of topics includes:
Sustainable forestry and paper
Energy, energy efficiency, and climatic change
Recycling and material efficiency
Process optimization and sustainable corporate management
Sustainable product design
Print as a social medium
The lectures will be streamed live on the Internet and questions can be posted in real-time to the speakers using chat and Twitter functions.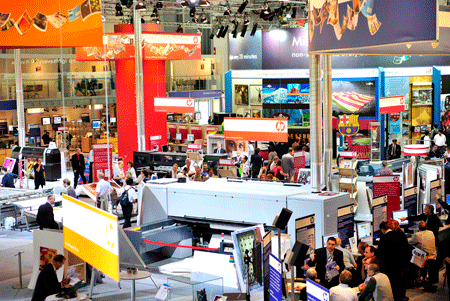 Take a Highlight Tour
To optimize your time, guided tours are offered once again. They will cover ten industry topics, leading visitors to the relevant exhibitors during the tour. In small groups (maximum of ten visitors), participants are brought to six to eight selected exhibitors. Advisors will explain the respective technology and will be available to answer questions.
Tour topics are as follows;
Creation and production
Workflow systems
Value added printing
Growth market digital printing
Large format printing & advertising technology
Printing post-production & logistics
Packaging and label production
Functional print products
The fee for participating in the Highlights Tours is €45 when booked before the start of drupa 2012.
US Pavilion Makes Exhibiting Easier
This year's drupa will feature a US pavilion co-sponsored by NPES–The Assn. for Suppliers of Printing, Publishing and Converting Technologies. This pavilion gives small- to medium-sized US companies a turnkey rental package that includes a fully furnished booth, access to a lounge area, and the service of a project manager, hostesses, and interpreters. All technical work, set up, and dismantling is included as well as assistance with export and licensing questions.
Exhibit Hours
The drupa show runs May 3–16. Hours are as follows:
Monday—Friday 10 a.m. – 6:00 p.m.
Saturday & Sunday 10:00 a.m. – 5 p.m.
For more information, visit www.drupa.com, and for a handy guide of 13 Helpful Tips to navigating Germany and the fairgrounds, click here.