Published: December 08, 2011
Atlas Converting (UK) will install two additional Titan ER610 compact slitters to Converplast Embalagens Ltda.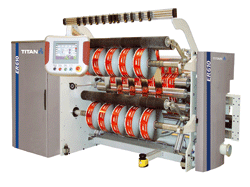 Brazilian flexible packaging producer Converplast Embalagens Ltda. plans to add two new 1350-mm-wide Titan ER610 compact slitter/rewinders from Atlas Converting to its plant in Guarulhos, close to Sao Paulo. This is the result of a successful installation of another Titan ER610 toward the end of last year. The reliability and performance of Converplast's first Titan slitter/rewinder, an SR6 model installed nearly 20 years ago, gave the company every confidence to invest in the new models.
"When we considered our recent program of investment, we wanted a slitting solution that would provide high quality product and operating efficiency," explains Mauro Murer, industrial director at Converplast. "We were so impressed with the demonstration of the ER610 slitter that we had no hesitation in placing the order with Titan. It's compact design, high performance, and advanced technology was a perfect solution for us."
A Wide Range of Capabilities
Founded in 1983, Converplast is a private company owned and managed by its president, Victorio Murer, and his son, Mauro. Their business has expanded rapidly in recent years with the production of flexible packaging materials predominantly for the domestic confectionery sector. Operations include coextrusion of film up to five layers, metallization, ten-color gravure printing, eight-color flexographic and letterpress printing, laminating, and slitting/rewinding. The company has become one of the leading converters of flexible packaging materials in Brazil, supplying many large customers in the food, pharmaceutical, personal care, and home care industries.
"The Titan ER610 slitter has enabled us to achieve very high slitting quality for our customers," says Victorio Murer. "In fact, we decided to further modernize our slitting operations this year and increase our capacity further with the addition of two more 1350-mm-wide Titan ER610 slitters, which will be installed before the end of this year."
The Titan ER610 machine is available in two web widths--1350 mm (53 in.) and 1650 mm (65 in.)--with a maximum rewind diameter of 610 mm (24 in.). It features a 10-in. touchscreen control system and an integral edge-trim extraction system. The pneumatically controlled braking system provides accurate web tension control, and a digital edge-guide system controls lateral movement of the unwind roll to +/- 50 mm (2 in.).
Slitting systems available include shear knives, rotary razor (burst), or razor slitting in air or groove. Optional features include an antistatic control system, laser (line) core positioning, and a new option for shaftless unwind roll pickup from floor.
The Titan ER610 slitter can process a range of flexible materials, including plain, printed, coated, or metallized film from 20-200 micron, a wide range of laminates, and paper from 30-200 gsm at speeds up to 450 mpm (1,500 fpm). The minimum slit width can be as narrow as 25 mm (approximately 1 in.).