Published: November 22, 2011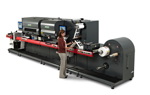 FOSTER CITY, CA | The Jetrion 4900 UV inkjet digital label press from EFI offers high quality with in-line laser finishing that's reportedly suited for more efficient and profitable short-runs. Set-up time is said eliminated along with substrate waste and inventory requirements while accommodating a diversity of substrates.
No additional plates, dies, changeovers, and make-ready labor is required, says the company. The system prints four-colors and highly opaque white UV inks in one pass, delivering what is described as flexo-quality labels that are heat, cold, and chemical resistant, and UL-certified on select substrates.
The finishing system features advanced, high-powered dual lasers from SEI Laser Converting that can die-cut, slit, and backscore on paper, film, and foil as well as speciality stock. Standard flexo rolls can run on the system, and both in-line and off-line modes are offered for special jobs.
System users, it is said, can benefit from EFI integrated workflow and color management software along with the company's infrastructure for customer training and rapid-response support.