Published: October 21, 2011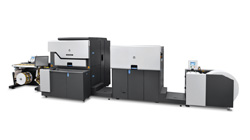 Alpharetta, GA | The HP Indigo WS6600 digital press for labels and packaging is said to push the crossover point of digital vs conventional processes by up to 50%.
Offers a printing speed of 130 fpm and a maximum speed of 196 fpm in one- or two-color mode. Press supports a white ink mode that provides high opacity and continued productivity, allowing user to print at standard multicolor throughput levels. Advanced level of automation lowers the need for operator intervention and increases uptime. Print server is fully integrated with EskoArtWorks Automation Engine, enabling the efficient streamlining of hundreds of SKUs/day.
Finishing connectivity interface allows user to quickly and easily switch between printing directly to the finishing line or to the press rewinder. New converting solutions from AB Graphic Intl., a member of the HP Graphics Solution Partner Program, are also available.