Published: October 28, 2011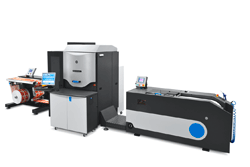 ALPHARETTA, GA | The HP Indigo WS4600 digital press is said to offer a full ecosystem solution for label production. The press is designed for high-volume, 24/7 printing, with fully automated workflow from job submission to final product, and seamless job switching, company reports.
HP ElectroInk liquid ink technology is said to offer gravure-matching print quality and the widest digital on-press color gamut, as well as spot colors for accurate brand and corporate color matching. All color separations are laid down simultaneously in a single pass on the substrate, reportedly preventing registration issues, enabling printing on a broad variety of substrates, and ensuring repeatable and accurate colors.