Published: November 17, 2011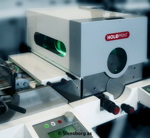 SUNBURY, UK | The Intl. Hologram Mfrs. Assn. (IHMA) announces the winner in the Innovation in Holographic Technology category at the association's 2011 edition of the 19th annual Excellence Holography Awards.
HoloPrint, from Stensborg A/S, is claimed the first successful in-line hologram production process (pioneered by Jan Stensborg, founder and proprietor of specialist research company Stensborg A/S) for printing press producer Nilpeter.
The HoloPrint unit is an additional station which can be supplied with new presses or retrofitted to existing presses. It spot-applies a UV-curing lacquer to the printed material, then immediately molds the holographic surface-relief pattern in to this lacquer from a master mounted on to a cylinder.
Reportedly, a notable aspect of the invention is that the UV light source is mounted within the molding cylinder, and both the cylinder and the masters carrying the surface-relief pattern are UV transparent, so that curing and hardening the production hologram takes place simultaneously.
German hologram company Rako was commended in the same category for its holo-inlay in shrink sleeves, as was Optaglio, Czech Republic, for its achromatic hologram with color shift effect.
The award, given for innovation in the way holograms are made, was presented at Holopack•Holo-print, The Holography Conference, at the Aria Resort & Casino in Las Vegas, NV, on November 10th. The awards are sponsored by industry newsletter Holography News, and the event was attended by delegates from the worldwide holography community.