Published: March 02, 2010
MIDDLETON, MA | Bostik Inc. has installed a new Nordmeccanica Labo Combi 400 coater and laminator as well as a state-of-the-art World Mixer for two-component, solvent-free adhesives. The installations were made for the Flexible Laminations Global Business unit (GBU) that concentrates on laminations and coating for food packaging applications. The coater is intended for use to test adhesive performance on structures, but it also will be open to customer trials and demonstrations upon request.
The Labo Combi 400 is lab sized  at 17 in. wide and is suited to research and development applications. It's said to accommodate a wide variety of coatings—such as solventless, solvent-based, and water-based—facilitated by cart-mounted interchangeable coating heads. A three-zone dryer with independent air supply reportedly guarantees performance at high speeds with low solvent retention.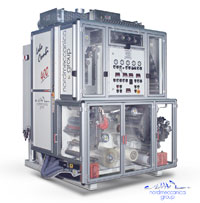 Bostik is a worldwide supplier of adhesives to industries that include flexible packaging, nonwovens, aerospace, transportation, construction, and do-it-yourself. For more information and trial scheduling, contact Christos Karadimas at 978-750-7205.